Starbucks co-founder Zev Siegl visited Bengaluru and tried the famous dose and filter coffee at the Vidyarthi Bhavan. Here's what he had to say.
Full Story 
The images of this famed visit were shared by Vidyarthi Bhavan on their Instagram and Twitter handles where Zev Siegl was seen enjoying the delicacy along with some people and the owners.
Siegl is in Bengaluru for the Global Investors Meet 2022 happening at the Bangalore Palace. He also wrote a note for the restaurant in its guest book. It read, "My friend, it is an honor to enjoy your famous food, coffee, and warm welcome. I will take this wonderful experience with me back to Seattle. Thank you." Siegl also added three stars to his note.
After they posted the pictures, the same went viral on the internet. Here's what the netizens had to say.
We were happy & proud to have Mr. Zev Siegl, #Cofounder of #Starbucks at #VidyarthiBhavan today evening. He enjoyed our #MasaleDose & #Coffee. He is now in #Bengaluru as a participant in the #GlobalInvestorsMeet2022 to share his entrepreneurship insights.

#GIM2022 #Karnataka pic.twitter.com/JXgFBDUde7

— Vidyarthi Bhavan (@VidyarthiBhavan) November 3, 2022
Soon #Starbucks will either start serving crisp rice pancakes or reduce #coffee prices. @AnilRajeUrs3

— Anil Budur Lulla (@anil_lulla) November 4, 2022
I hope you are not selling off to Starbucks

— Venkat_Vibgyor (@vibgyor_pmc) November 3, 2022
Any chance of tie up with StarBucks ? Take VB global 👍

— NGR (@NGR_blr) November 4, 2022
The age-old Eatery 
Venkataramana Ural, from Udupi, set this up in early 1943-44. He Passed on to the hands of his brother Parameshwara Ural, the restaurant bloomed to its demand.
In 1970, Vidyarthi Bhavan was taken over by Ramakrishna Adiga. What changed was just the management, but the name, tradition, and recipes remained the same so were the services of many of the employees.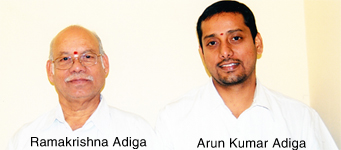 Currently, his son, Arun Adiga heads this place.
ALSO READ –