Yati Narsinghanand Sarawasti, the controversial Hindu seer has been booked for calling for the demolition of madrasas and the Aligarh Muslim University (AMU).  Narsinghanand made the remarks after attending an event organized by the Hindu Mahasabha in Aligarh on Sunday.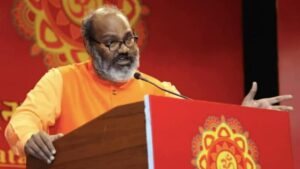 He was responding to a question on the Uttar Pradesh government's decision to conduct a survey of unrecognized madrassas in the state.
"They should be blown up with gunpowder or we should practice the policy of China and send the students of the madrassas to detention camps," he said, as quoted by another media portal. Yati Narsinghanand further said that just like the madrasas, the Aligarh Muslim University (AMU) should also be blown up and its students should be sent to detention centers and their brains should be treated.
According to reports, Narsinghanand has been booked under Sections 188 (disobedience to order duly promulgated by public servant), 295 (deliberate and malicious acts intended to outrage religious feelings), 298 (uttering words to hurt religious feelings), 505(2) (statements conducing to public mischief) and 506 (criminal intimidation).
Speaking at the program in Aligarh, Yati Narsinghanand also hit out at the Congress's Bharat Jodo Yatra and called it a joke. "Rahul Gandhi backs jihadis. He fought from Wayanad as he knew he could not win from Uttar Pradesh," said Yati Narsinghanand, adding that people will only join him if he marches for the reunification of India, Pakistan and Bangladesh.
Amid the ongoing controversy over the survey of unregistered Islamic educational institutions in Uttar Pradesh, Narsinghanand said that such institutions should not exist in the country in the first place. Narsinghanand also described Aligarh as the place from where the "seed of India's partition" was sown and said that the Aligarh Muslim University should be demolished using bombs. 
Last year, the Dharam Sansad organised by Narasinghanand witnessed a spate of anti-Muslim hate speech, with participants openly inciting violence against the minority community. The seer allegedly called for the arming of Hindus 'with bigger and better weapons' against the threat of Muslims.
This is not the first time Narsinghanand has delivered a hate speech. Narsinghanand was arrested on January 15 after he called for the genocide of Muslims at a religious conclave in Haridwar. He got bail in the case on February 7, on the condition that he would not participate in any gathering "which aims towards creating differences between communities".