It's been a long day in Telangana. After Raja Singh triggered a massive row over his remarks on prophet Muhammad last night, the state has been brimming with turmoil, like the calm before a storm. Protesters thronged the streets, the numbers swelling by the hour, demanding the arrest of the BJP MLA.
Meanwhile, #ProphetMuhammad has been trending on Twitter with netizens pouring over the platform to assert their respective views on the issue.
Amidst this ongoing controversy, a question screams for the limelight. How did it all begin?
Munawar Faruqui and his tryst with controversy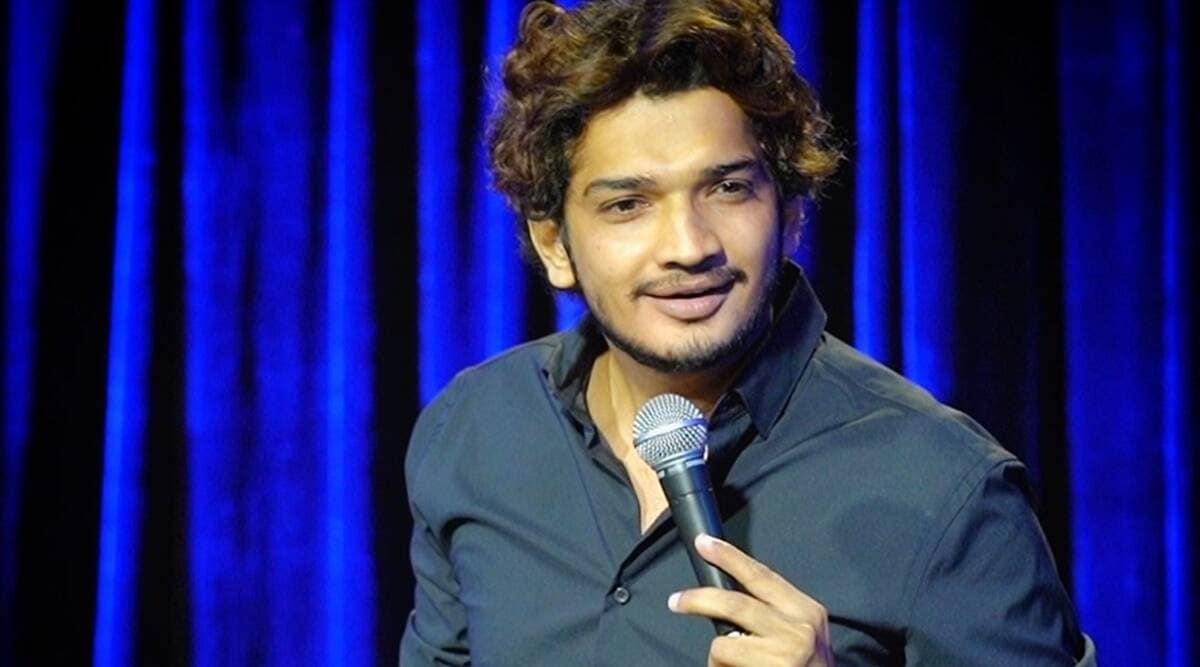 Munawar Faruqui is not new to online hate. The comedian was first arrested on January 1 2021 following a complaint by a BJP MLA's son that objectionable remarks about Hindu deities were passed by him in one of his shows in a cafe in Indore on New Year's day. The FIR also mentioned that he had made remarks against Home Minister Amit Shah in the same show thereby hurting religious sentiments. After languishing in jail for more than a month, he was then released from Indore central jail on February 7 after the Supreme Court intervened. Although he was released, the brutal trolling and threats to his life did not stop.
Fast forward to 2022 and after canceling more than a dozen shows, the lock-up winner inched to normalcy, performing in shows which were earlier targetted by right-wing groups.
Raja Singh's threats on the comedian
Last week, Telangana BJP MLA Raja Singh objected to Munawar's show in Hyderabad.
He stated, "In the past too, our idiot Minister KTR offered police protection and invited him, saying his event will be a great success. But even then, when Hindu groups across Telangana united to threaten him, they got scared and canceled the event."
"See what will happen if they invite him (Munawar). Wherever the program is, we will go and beat him up. Whoever offers him a venue, we will burn it down. If something goes wrong, KTR and the government and police are responsible. We will definitely beat him up and send him back if he comes to Telangana, this is a challenge," Raja Singh said.
Two days after the comedian's show was held in Hyderabad, the furious MLA released a video on youtube passing derogatory comments on the Prophet. Terming the video 'comedy' in retaliation to Munawar's show, he also hurled abuses at the comedian and his mother.
….I thought to myself, 'He is abusing Lord Ram and Sita' so I should research about the almighty of his and people who wear round caps (Muslims). The moment I did it, I found something very shocking in the video. The video said it s about a 53-year-old man. In that, it says that the man married a six-year-old (referring to the Prophet Muhammad)," said the MLA.
How did people react to the video?
After the 10 min, 27-sec video was released, the situation in Telangana grew chaotic. A massive protest took place against Raja Singh in front of the Hyderabad police commissioners' office at Basheerbagh. People took to the streets chanting Rajas' name, demanding the State government arrest the BJP MLA and ensure strict action against the accused. Police personnel were kept on high vigil, especially in sensitive areas in and around Hyderabad to control the crowd and maintain law and order. Police personnel in Telangana were kept on high alert in the districts of Adilabad, Karimnagar, Nizamabad, Vikarabad, and Mahbubnagar. Security has been increased around Mangalhat and Dhoolpet.
All India Majlis-e-Ittehadul Muslimeen (AIMIM) legislators and corporators of Greater Hyderabad Municipal Corporation filled the police stations, protesting against the MLA.
Police had to resort to baton charges to disperse the two groups who were raising slogans against each other.
#ProphetMuhammad trended on Twitter with netizens calling out rising intolerance in the country. Comments flooded the site, with Twitterati giving out their own opinions, the good, the bad, and the ugly.
Here's what netizens had to say:
Yaar please avoid RW …
Politics and Religion pe bahas avoid hi karo

Positive tweets hi karo munawar k ht pe. #MunawarFaruqui pic.twitter.com/XvUeqtPrOE

— Bazu (👑) (@Bazu1060) August 23, 2022
Dear #Hyderabad CP Sir If #RajaSingh is not arrested till today we will call for Indefinite Hunger-Strike. We want him to get arrested by today. He should be charged under various sections of 153, 153-A, 188, 295-A, 298, 505 (1) (B) (C), 505 (2) and 506 of IPC.
@syedKashaf95 pic.twitter.com/E418x3pNN6

— Imran Khan عمران خان (@iquadri51) August 22, 2022
This person who saved cow slaughtêr…. Person who was a dedicated vigilante… And BJP suspended him… Not done @JPNadda !! #IStandWithRajaSingh #RajaSingh pic.twitter.com/IGOgwL5KOL

— CS Vineeta Singh 🇮🇳 (@biharigurl) August 23, 2022
I support you @TigerRajaSingh #RajaSingh 🚩🙏#Telangana #MunawarFaruqui 😡 pic.twitter.com/vQInRno5gK

— Pardeep Kurdiya (@KurdiyaPardeep) August 20, 2022
#SarTanSeJuda #ProphetMohammad
Amazing Work sir. We stand with you pic.twitter.com/kRrXeiu1IU

— SS (@shishir74816883) August 23, 2022
Example of Pseudo Secularism :

Telangana Government provides security for Munawar Faruqi to conduct his show in Hyderabad who insulted Mata Sita & Lord Rama.

Same Government arrested Rajasingh who commented on Prophet Mohammad.

— 𝕊𝕂𝕋🇮🇳 (@skt_Bharatwasi) August 23, 2022
Telangana BJP MLA #RajaSingh arrested for his disrespectful comments against #ProphetMohammad (Peace be upon Final Messenger of God)#ProphetMuhammad #BharatJodoYatrahttps://t.co/UoCP1j01eB

— Mohd Abdul Sattar 20 k (@SattarFarooqui) August 23, 2022
BJP suspends T Raja Singh from party after #ProphetMohammad controversy,I am sorry
I support Raja Singh and Nupur Sharma#NupurSharma :A fearless Hindu woman who single-handedly shook the entire Muslim world.!#RajaSingh :A fearless Hindu warrior
Release Raja Singh
"राजा सिंह" pic.twitter.com/e7bNlZpIh9

— Saurabh Tiwari (शांडिल्य) (@subhamt356) August 23, 2022
The aftermath
After the outrage, the Telangana unit of the BJP distanced itself from the politician. He was arrested on Tuesday morning and was presented at Nampally Criminal Court amidst tight security.
In a letter addressed to the Goshamahal MLA, member secretary of the BJP's central disciplinary committee Om Pathak stated: "You have expressed views contrary to the party's position on various matters which is a clear violation of Rule XXV 10 (a) of the constitution of BJP. I have been directed to convey to you that pending further inquiry, you are suspended from the party and from your responsibilities with immediate effect. Please also show cause within 10 days as to why should you not be expelled from the party"
Breaking: BJP suspends Telangana MLA T Raja Singh for his alleged derogatory comments against Prophet Mohammad. pic.twitter.com/2UfmsiyRaS

— Rajgopal (@rajgopal88) August 23, 2022
An FIR was lodged against Raja Singh under various sections of the IPC pertaining to promoting enmity between different groups on the grounds of religion, deliberate and malicious acts, intended to outrage religious feelings of any class by insulting its religion or religious beliefs, and criminal intimidation among others. He was booked under Sections 295(a), 153(a), 505 (1) (b), and 505 (2) of the Indian Penal Code.
Fourteenth Additional Metropolitan Magistrate had remanded Raja Singh to judicial custody for two weeks. He was likely to be shifted to Chanchalguda Central Prison.
However, in a shocking u-turn, the court granted bail to the MLA just hours after he was arrested. 

Protests erupt again against suspended BJP MLA Raja Singh after he was given bail post his arrest today for comments on #ProphetMohammad.#Hyderabad #RajaSingh pic.twitter.com/IE21nILU8d

— Mister J. (@Angryoldman_J) August 23, 2022
The defense counsel had moved a bail petition before the court raising several irregularities in the procedure of the MLA's arrest. The court ordered his release after it noted that section 41 of the Code Of Criminal Procedure (CrPC) was not followed during the arrest. Some protestors who turned up in the court were lathi-charged by the police.