Andrea D'souza | January 27, 2021
The two months of peaceful protests by the farmers took an ugly, violent turn as the farmers marched with their tractors towards Delhi on Republic Day. As soon as the protestors entered the Red Fort, Delhi, a flag was hoisted. A war of words was exchanged between Netizens on the nature of this flag.
Videos and images went viral stating that the Indian tricolour was lowered and that the Khalistani flag had been hoisted at Delhi's Red fort. Condemning this act, a war of words initiated on social media.
It was not long ago that on January 18, 2021, the Delhi Police identified over 308 fake Twitter handles that were responsible for misleading the tractor rally.
Facebook posts such as "Delhi burns as Sikhs hoist Khalistan Flag on Red Fort." sent out a wave of wrath amongst many against the protesting farmers. 
However, the claim was not supported by evidence and was merely a false accusation. 
First of all, the claim that the Indian flag was lowered was false. In a video shared by ANI, a protesting farmer appears to climb the pole and hoist a flag. There is no visual evidence that the Indian flag was lowered or removed. Second of all, the Khalistan flag and the Nishan Sahib, look quite similar. This was the reason the confusion about the nature of the flag occurred. 
How was it not a Khalistani Flag?
In a visual released by the ANI, we see that a light yellow coloured flag with the print of a Khanda is being hoisted. A Khanda is an emblem that reflects Sikhism. The Khanda comprises a double-edged sword, chakra, and two single-edged swords. The Khanda was introduced during Guru Gobind Singh's time as he fought against the Mughal Emperor Shah Jahan.  
The Flag that was hoisted
The flag that was hoisted was the Nishan Sahib. Like the Khalistan Flag, this flag too bears the emblem of the Khanda. The Nishan Sahib flag is believed to bear a message of unity in diversity. This flag is hoisted in every gurudwara and is a light yellow coloured flag. Also, the colour of the Nishan Sahib can be either blue or saffron.
Just like the Nishan Sahib, the Khalistan flag as well uses the emblem in its flag. The most important feature to distinguish the two would be that the Khalistan flag bears the word Khalistan on it.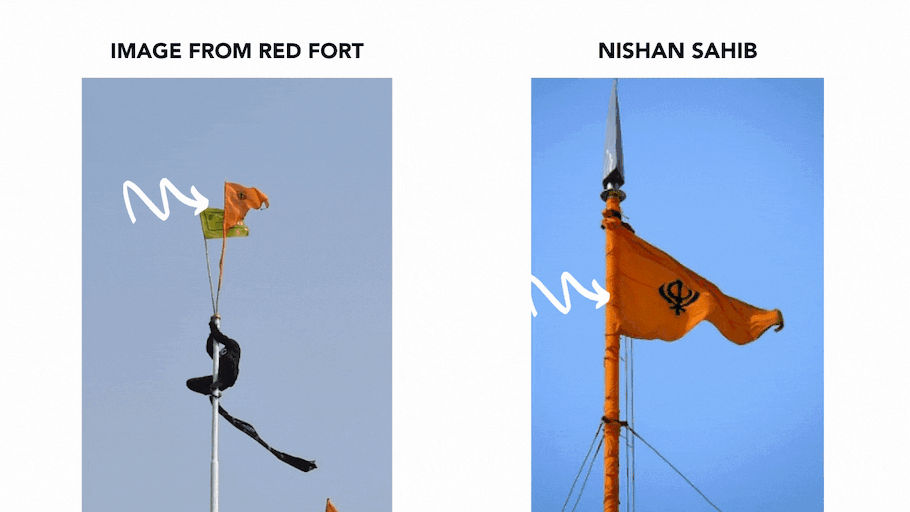 The fact that these two flags share a lot in common identically and visually, misled many and fueled dissent against the protesting farmers. In conclusion, the Khalistani Flag was not hoisted at the Red Fort, Delhi.
Sources: ANI, Quint, India Today.