If the title seems hard to digest then don't stop reading, if it doesn't then don't stop either.
UPSC is often referred to as one of the toughest exams in India and as any competitive exam, it provides equal opportunity to all – Hindu, Muslim, Buddhists, Christians, Sikhs, Gay, Lesbian, physically handicapped so on and so forth.
But Muslims in India, according to the Suresh Chavhanke (Chairman, managing director and Editor in chief of Sudarshan news), have a different perspective of this exam. It is a part of their Jihad (Holy war), to crack the exam and become District Collectors and spread Jihad!
First of all, hats off to this creativity and ability to hammer Jihadi content from the most 'irrelevant source' but how good does this allegation stand? How many instances in the past have we seen of 'Muslim' district collectors or any other post they hold bring out Jihad as part of their administration or governance…? If this was the case then why has UPSC, a Govt body, not refrained from selecting and bringing forward Muslim candidates? Why has a Muslim candidate 4 years in a row secured one among the top 30 ranks? 2nd rank in 2016 was bagged by a Muslim and 3rd rank in 2018 was bagged by a Muslim and these candidates have flared as successful IAS officers and not Jihadis.
In 2019 maintaining the streak, over 40 candidates have cracked the examination. Let's all observe them right from their period of training if they will turn out be Jihadi administrators and or capable of steel frame of the nation.
This abominable allegation hails from the fact that an array of students from Jamia Millia and such 'Khan Market' universities have cracked the exam.
Let's assume there are 100 Muslim students in Jamia, out of which 50 were a part of any protest and 25 wrote the civil service exam and 15 out of this 25 made it to the final list, it still leaves us with 25 students who didn't do either and a probable 30 or so who have nothing to do with either of the things.
Then this simply stems from stereotype, bigotry, hatred that some individuals like Mr. Chavhanke and news channel like Sudarshan news carry though they claim their work is in 'national interest' and they are 'nationalist news reporters'. A simple thing done in the name of 'national interest' is spreading hateful information, generalizing all people of a community or just scapegoating one.
If Muslims are uneducated, they are called 'puncturewalas, if they are mildly educated, they are simple 'zameen jihadis' as Mr. Sudhir Chaudhry called them and if they are educated enough to crack an exam like UPSC, it becomes UPSC Jihad. Spare a thought on the number of competitive exams in the country and the number of Muslims cracking those, what varieties of Jihad will we bring forward?
The Delhi High Court has stayed the broadcast of this show on television, the channel has been served a notice by the court. The IPS Association has strongly condemned this but Mr. Chavhanke wouldn't budge. Have a look.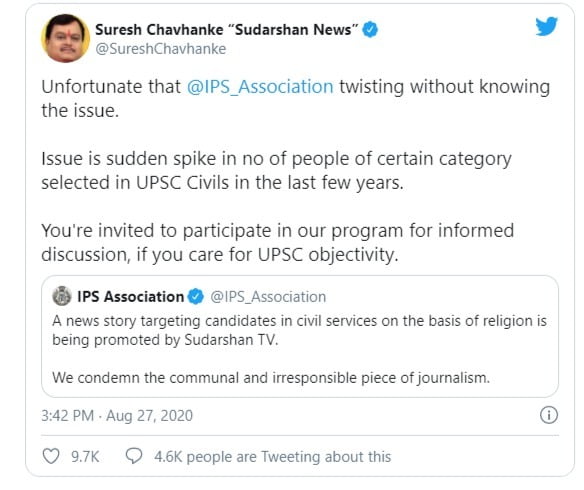 He also argued about the involvement of Zakir Naik in this 'conspiracy'
Jamia Millia university has written to the education ministry to take action against such allegations, several bureaucrats and leaders from across the country have raised their voice against this.
It is arguable if this show was produced with ulterior motives but its ramifications were, – blaming a constitutional body like UPSC – Inciting hate against a community among the people of the nation – It violates the principle upheld in Article 51A of the Indian constitution which says that every citizen is duty bound to uphold and protect the sovereignty, unity and integrity of India and to promote harmony and the spirit of common brotherhood among all the people of the country, transcending religious or sectional diversities. – It can be charged under Section 124A of IPC for sedition which is done by challenging the involvement of the Govt in such a conspiracy to defame other citizens. – Under Section 295A gives punitive action in cases of deliberate and malicious acts, intended to outrage religious feelings of any class by insulting its beliefs. – Section 153A prescribes punishment for promoting enmity between different groups on grounds of religion and doing acts prejudicial to maintenance of harmony. – The channel is also liable to explain its conduct under the Cable TV Networks Regulation Act where Section 19 says that in order to protect public interest the authorised officer is duty bound to prohibit transmission of certain programme if it is not in conformity with the Programme Code (Sec 5, Rule 6) or Advertising Code (Sec 6, Rule 7) or if it is likely to promote hatred or ill-will between different religious communities or which is likely to disturb public tranquillity.
Let's hope that the law takes its course. Jai Hind.
Md Saqlain Jameel Bengaluru