An $8 million yacht belonging to a Russian billionaire was attempted to be sunk by his Ukrainian sailor. The said sailor stated that he tried to sink the yacht because he wanted to take revenge against the Russian invasion of Ukraine and he had no regrets.
According to Business Insider, the 55-year-old sailor was known as D.Taras.O. and worked on the yacht for ten years. After seeing a Russian helicopter attack a civilian building in Kyiv on Saturday, he attempted to sink the yacht as a form of retaliation.
The yacht, named Lady Anastasia, was docked in Port Adriano, a Spanish superyacht port. Alexander Mijeev, a Russian billionaire and CEO of Rosoboronexport, owns the yacht. The firm is a subsidiary of Rostec, a state-owned military weapons manufacturer. Putin founded Rostech, Russia's biggest defence conglomerate, in 2007. Although it is not clear if Rostech or Rosoboronexport had a role in the recent invasion but Rostech was sanctioned by the US and the UK last week.
The sailor had opened one valve in the engine room and another in the sailors' quarters to sink the yacht. The sailor soon told other sailors (who were Ukrainians) to abandon the yacht. The yacht's engine room was soon damaged, and it was partially sunk. The sailor had handed himself to the local law enforcement.
Upon his arrest, he told the Spanish authorities that the owner of the boat is a criminal who makes his living by making and selling weapons. According to the court record, the sailor did not regret anything and he would do it again.
The sailor was charged and was later released by the court judge. However, it is unknown what he was charged with.
Team News Hamster certainly does have a meme for this as well!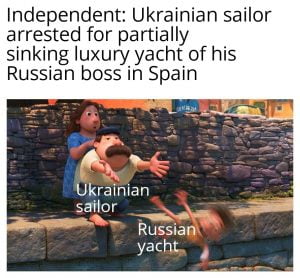 References: Business Insider and the Independent.