This small stationery shop located on Avenue Road, Bengaluru is the most crowded shop in the city during the time of Deepawali. It's so crowded that a queue is formed. Call it a firm belief, superstition, or experience, the store stands as the testimony of time.
What store is this?
This shop is the 'Sha Jasraj Jain store' which is 47 years old and witnesses a long line of waiting customers on Sunday which is Dhanteras day and then on Monday the day of Deepavali. The reason is the customers, who are mostly traders, in particular, believe that 'Bahi Khata' or ledger books, account books, and pens purchased from the shop will be their lucky charm and bring them good luck and prosperity. The shop witnesses a long queue as the customers wait for the 'Rahu Kala' to pass and the auspicious occasion to come on which they can buy the Bahi Khata.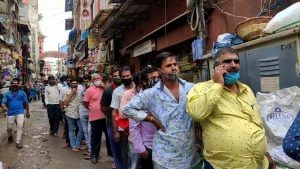 J Uttam Chand, owner of the shop told The New Indian Express, "This is a tradition which started during my father Jasraj Jain's time and continues till today. Though most businesses use computers to keep their accounts, they still throng my shop to buy these paper notebooks. From Dasara to Diwali, footfalls to my small shop spirals, and this time, at least 6,000 traders came over. Yesterday (Sunday) alone, we had 650 customers and had to open our shop at 6 am and shut at 10 pm. Some of them just buy a pen or a Jain calendar," he said.
The shop has become popular mostly through word-of-mouth publicity and traders from all over the country who are settled in Bengaluru come here to make the purchase. Certain businessmen have been buying the ledger, calendar, and Day Book from here for the last 15 years. For many, it is also a family tradition that they are taking forward fearing that if they do not do it, they might lose out on revenue.
Have you seen this store yet?