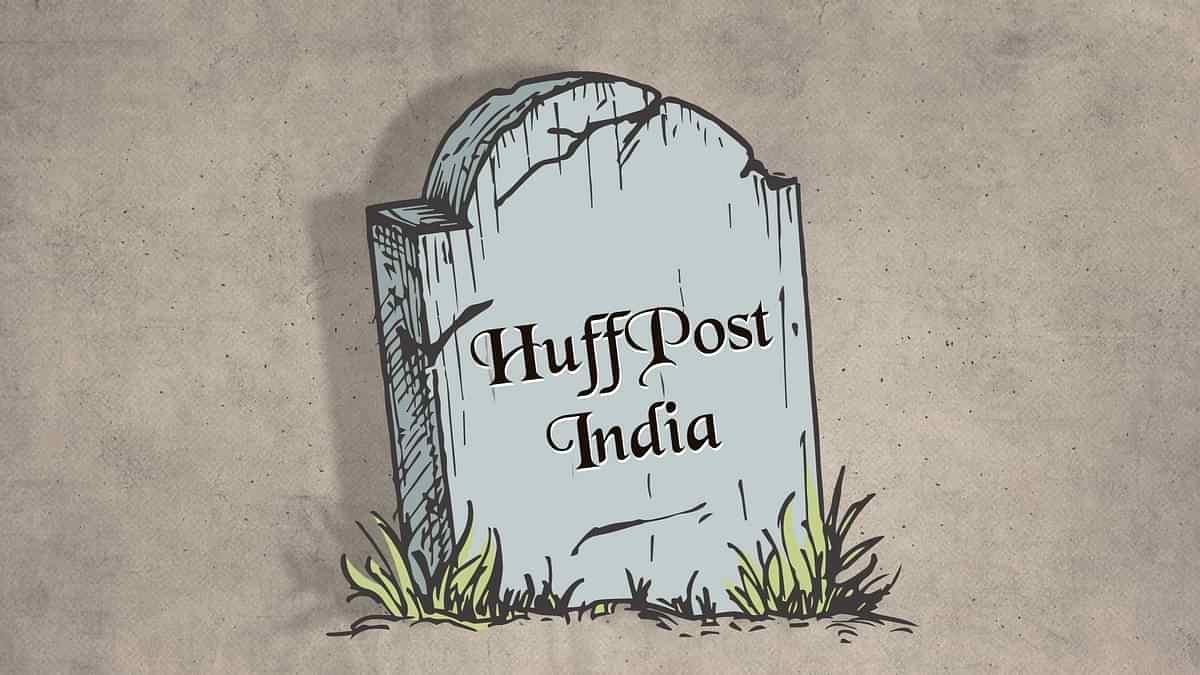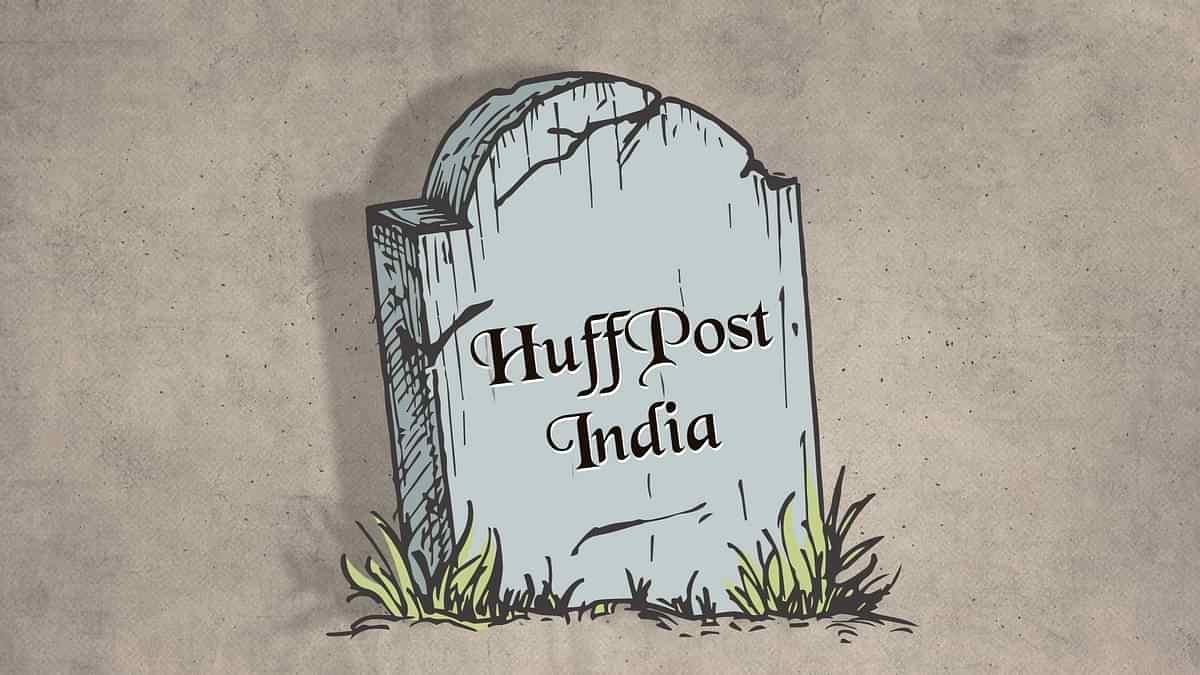 HuffPostIndia, the Indian web publication of the United States- based digital media company 'HuffPost' has shut down on Tuesday after its six years of viable operation. None of the articles published in HuffPost are currently accessible, but expected to be available on the main HuffPost.com site. 
The sudden move was followed after the website posted: "As of November 24 HuffPost India will no longer be publishing content. For more great global content, please visit HuffPost.com. We thank you for your support and readership."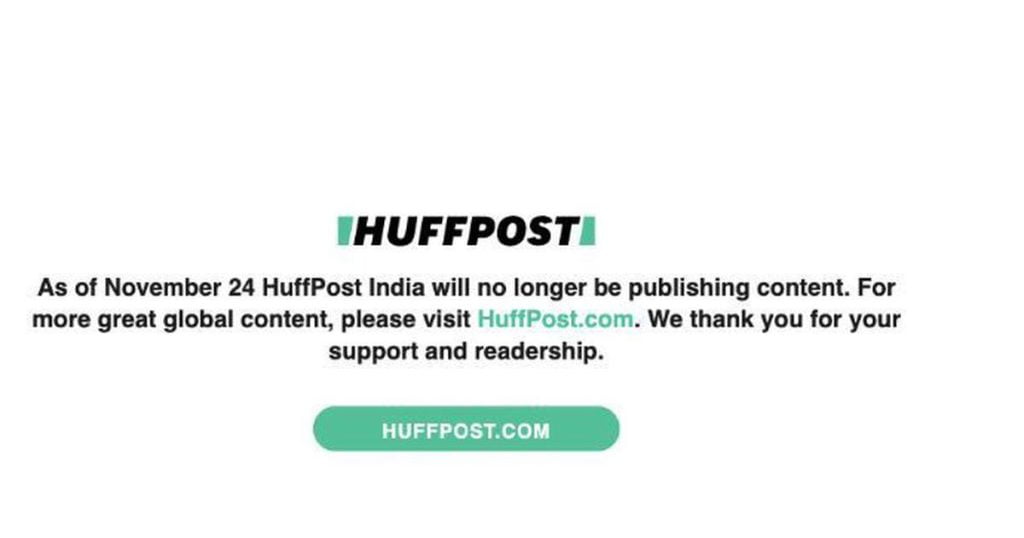 Almost 12 staffers working in the HuffPost India find themselves unemployed now. However, Newslaundry reported that they have been given their salaries, offered 'satisfactory' severance packages, and promised assistance to move to greener pastures.
While it is still not clear as to what factors have driven this sudden closure of a successful arm, The Wire speculated that it is the first direct impact of the Modi Government's new policy limiting foreign investment in digital media publications.  An unidentified official from American media company Buzzfeed, which recently acquired HuffPost told The Wire that, "It would be #impossible to operate in India given the new FDI regulations". This major decision might also be a beginning phase of the closure of digital media news platforms in India.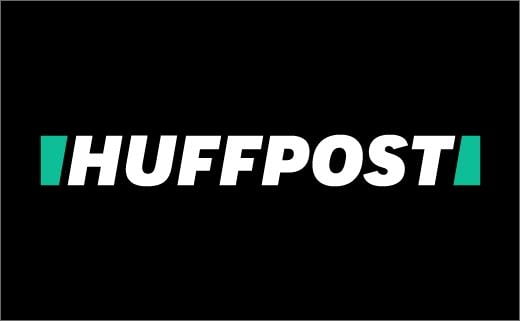 Among the major stories that HuffPost.in broke was a series on the lack of #transparency in the Modi government's decision to launch Electoral Bonds as a means of Political Financing and how the concerns of the Reserve Bank of India were overruled.
On Tuesday, HuffPost's Brazil site displayed a big thank you to its readers, along with its editor's note highlighting the site's most important stories. The CEO of Buzzfeed, Jonah Perreti explains that the closure of HuffPost's Brazil site was linked to BuzzfFed's prior decision to license out BuzzFeed Brazil to a local company and a no-compete commitment that went along with that license.
HuffPost India Editor-in-Chief AmanSethi took to Twitter to announce that the website had closed down. "Today [Tuesday] is HuffPost India's last day. Pound for pound, story for story, reporter for reporter, this is the greatest newsroom I have worked for; (and I still can't quite believe I had the privilege to lead) Thank you everyone for reading our stories and supporting our journalism."
He also clarified that HuffPost India's content has not been wiped out and will be migrated soon. Several journalists were saddened by this sudden move and expressed the loss in Twitter. Aruna Chandrasekhar, an independent journalist and writer from India tweeted that, "Thank you Aman Sethi and all the brilliant reporters and contributors to Huff Post India. This is a shock to the system. It was a privilege to write and learn from you."
Columnist Rituparna Chatterjee, who was one of the website's founding editors, said the closure felt like a personal loss to her- "I quit HuffPost in 2018. But found extraordinary love and friendships here," she said. "Hope everyone in the team finds work. And yes, everyone's bylines are restored, migrated."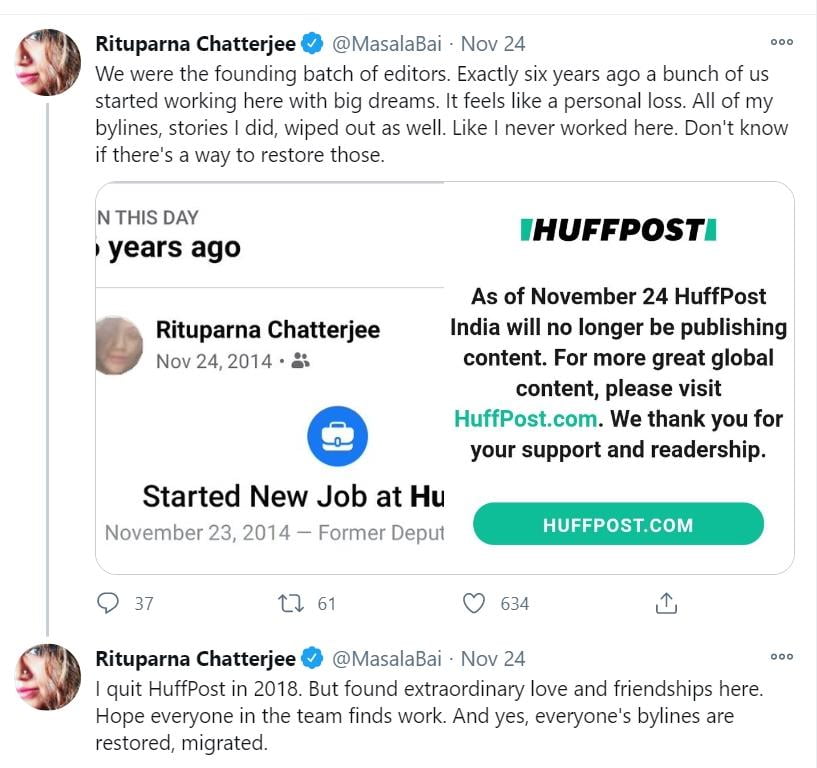 "Thank you for the journalism," news anchor FayeD'Souza tweeted.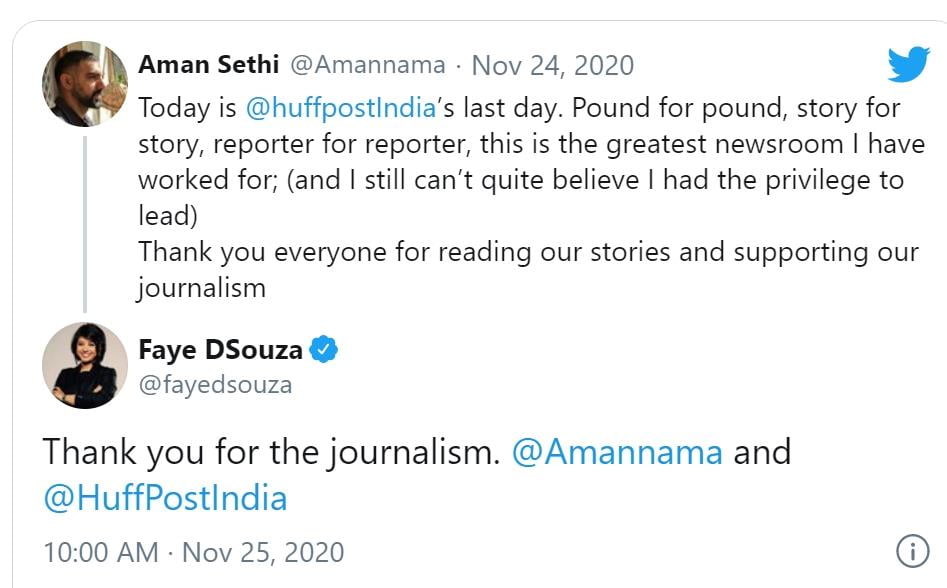 The Daily Beast's #MaxwellTani tweeted that, "Foreign companies aren't allowed to own news organizations" in India, while BuzzFeed cannot operate in Brazil as one of the conditions of selling BuzzFeed Brazil.
Sources:
Picture Sources:
News Laundry
Scroll
OpIndia
Twitter