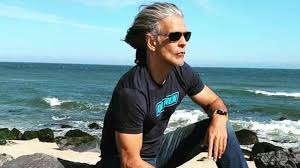 The fight and the occasional lack thereof freedom for expressing has been such a two sided sword hanging above and amidst the whole system of democracy for a while now.
While some argue that individuals must always be permitted to express freely and not be reprimanded, some argue against the blatant and hurtful usage of such a form of freedom.
However, two individuals, nay public figures who often get themselves into the never settling labyrinth of freedom of expression are #PoonamPandey and #MilindSoman. Milind Soman, the Indian Supermodel, actor, film producer and fitness promoter was charged for "an obscene act" by the Goa Police on the 7th of November 2020.
Infamously, Milind Soman had previously ruffled some feathers in the department of controversies. He and his then girlfriend Madhu Sapre got into trouble once before in 1995 while they posed nude for an ad campaign for Tuffs Shoes. The ad campaign had them pose nude while they wore shoes from the before mentioned company and bore a python wrapped around them and nothing else. This incident resulted in a case filed against them by the social service branch of Mumbai police. Additionally, the ad agency that planned for this campaign was filed a case against under the Wildlife Protection Act. The case lasted for 14 years after which the accused were acquitted.
On Friday, he was booked by the Goa police for "obscenity and publishing and transmitting obscene material in electronic form". This happened as a result of him posting a picture of him running "in his birthday suit" on the occasion of his 55th birthday which he chose to post on the social media platform Instagram. He also posted the same on Twitter. The picture was captured by his wife Ankita Konwar and he wrote "Happy birthday to me. 55 and running," underneath the post. The photo was recognized by netizens to have been taken on a beach in Goa. Fans and social media enthusiasts immediately took to twitter and used up all their creativity to come up with catchy memes and phrases so as to retweet the post. While some opined that this is the amount of sane content that the world had to see in order to get out of the chaos of #USElections and #Arnab'sCase, some used the picture to humour and criticise their own body image issues. A lot of parallels regarding the 1995 shoot and the present available photo was also put up for discussion. While some commented that the only person to go to jail was the snake in the former ad, some opined that the freedom of expression has increased in folds and that everything is going well.
However, a case has been booked based on the complaint of Goa Suraksha Manch, a political outfit. Sameer Khutwalker, president of the party opined that the actor used Goa for cheap publicity and commented that this act was rather foolish. Further talking about the complaint, Khutwalker said, "his wife had clicked the photograph without any official permission. In official permissions, the law doesn't permit such acts. How does one just run naked on a beach?" Talking about the complaint, he further said that he was unaware of the location of the photo-shoot initially and only after being informed by a follower on the Instagram, he was able to locate the incident back to Goa and that is precisely when he decided to lodge a complaint. "Please understand, Goa's image gets tainted (by such action). When these things become public, people will imagine that 'anything is possible in Goa'… when will all this stop?" he said.
While a lot of comparisons are being made between a similar issue faced by #PoonamPandey, Khutwalker has expressed that "One of the reasons I spontaneously went to the police station yesterday was also because I found no objection was coming against (Soman) from anybody. When a lady did it, she (Pandey) got arrested. But if a man did it, he was not. That was not right." Poonam and her husband were also booked for obscenity a day prior to this as they got involved in a controversial photo-shoot at a restricted dam site. They applied and received bail the same evening. The court opined that since that was a part of commercial artwork, individuals involved cannot be sent to jail.
However, Milind Soman has been registered at Colva police station under IPC section 294 (obscene acts and songs) and Section 67 of IT Act (publishing and transmitting obscene material in electronic form). This has been informed by South Goa SP Pankaj Singh.
– Ananya N K
– Bengaluru
References:
https://indianexpress.com/article/india/milind-soman-poonam-pandey-goa-6985072/
https://indianexpress.com/article/trending/trending-in-india/milind-soman-nude-birthday-post-memes-jokes-6942707/
http://articles.timesofindia.indiatimes.com/2004-10-29/mumbai/27147932_1_framing-charges-tuff-shoes-magistrate
https://web.archive.org/web/20110811064030/http://articles.timesofindia.indiatimes.com/2009-12-01/news-interviews/28087742_1_obscenity-case-milind-soman-madhu-sapre
Image credits:
indiatoday.in