As per an article published in the Indian Express on November 22, the government has issued a notification that sanctions post-graduate practitioners from certain streams of Ayurveda to be trained to perform a limited set of surgical procedures. These procedures include excisions of benign tumors, amputation of gangrene, nasal and cataract surgeries. This notification was given by the Central Council of Indian Medicine (CCIM), which is a statutory body under the AYUSH Ministry to regulate the Indian systems of medicine. This council listed 39 general surgery procedures and about 19 procedures involving the ear, eye, nose and throat by amending the Indian Medicine Central Council (Post Graduate Ayurveda Education) Regulations, 2016.
Vaidya Rajesh Kotecha, the AYUSH Ministry Secretary stated that this amendment does not open up the entire field of surgery to Ayurveda practitioners and specifies a limited set of surgical procedures. It states that only those specialized in Shalya (general surgery) and Shalakya (ear, nose, eye, head and throat surgeries) are allowed to perform these procedures. The amendments to the 2016 regulations have been put in place to set boundaries by specifying the list of procedures that practitioners are meant to restrict themselves to. The CCIM also stated that surgeries have been conducted in Ayurveda institutes and hospitals for the last 25 years, and this move merely clarifies its legality.
This amendment shook the medical community and came with some backlash. The Indian Medical Association (IMA) slammed the Central Council of Indian Medicine for allowing post-graduate Ayurveda practitioners to perform surgical ophthalmology procedures and dental procedures. The IMA issued a statement calling this move "retrograde", "uncivil" and termed it "foul play", as reported by the Indian Express. The IMA also has urged the Council to develop its own surgical disciplines from ancient texts and not claim surgical disciplines of modern medicine as its own.
The statement issued by the IMA stated, "Corrupting Modern Medicine by mixing with other systems and poaching the disciplines of Modern Medicine through back door means is certainly foul play of first order."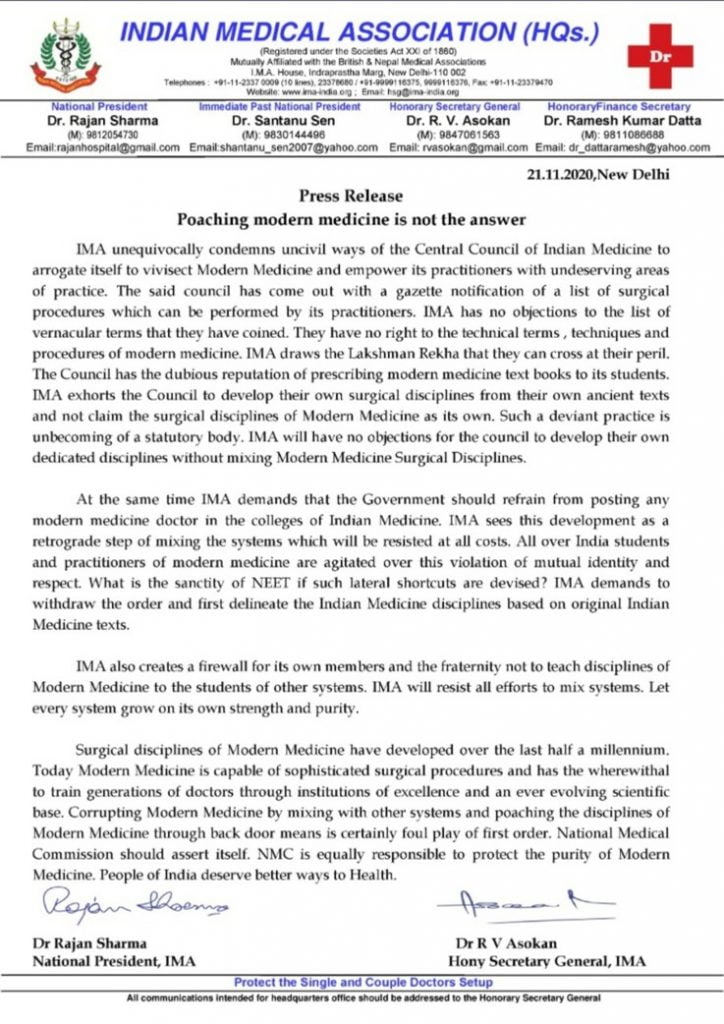 Dr. P Raghu Ram, the President of the Association of Surgeons of India stated that, "general surgery is a part and parcel of modern medical science which cannot be mainstreamed with Ayurveda. Introducing training modules to the postgraduate curriculum of Ayurvedic studies leading to titles such as MS (Ayurved) can potentially jeopardize the basic standards of care and safety of patients."
Although the Central Council of Indian Medicine has issued clarifications about its sudden move, it is still getting mixed reactions from the public. Let us know your take on the issue in the comments below.
By : Adelle Fernandes
References
https://indianexpress.com/article/cities/pune/after-govt-nod-for-ayurveda-doctors-to-do-surgeries-ima-slams-decision-7061736/
https://indianexpress.com/article/india/retrograde-ima-slams-move-to-allow-ayurveda-practitioners-to-perform-surgery-7061711/
https://indianexpress.com/article/india/ayurveda-doctors-surgery-7061292/
Picture credits
1. The Indian Express
2. Twitter