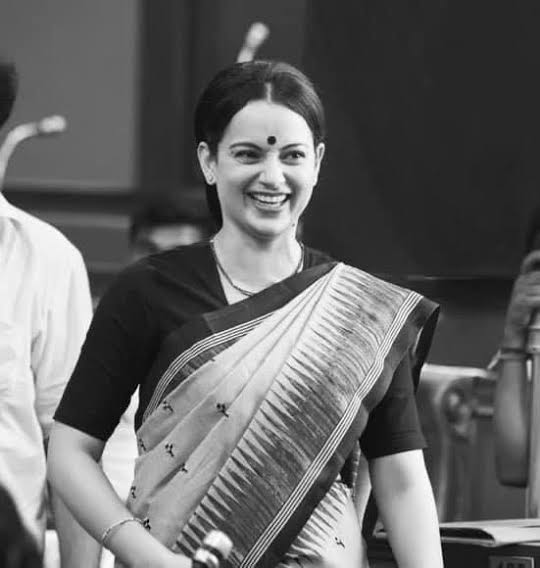 The Kangana Ranaut starrer "Thalaivii" hit theaters on Friday, amidst the ongoing pandemic. Thalaivii charts the journey of Jayalalithaa from a young actor to a political veteran in Tamil Nadu.
The film opened up to mixed reviews and Ranaut as Jayalalitha received great appreciation as well as a massive amount of criticism. The film, though shorter than expected in length and seemingly incomplete and abruptly ending, managed to capture the hearts of the audience through its engaging storytelling.
The film never really attempts to dig deeper into how the former CM of Tamil Nadu paved her way in politics. The screenplay mostly skirts around incidents and leaves a lot to the interpretation of the audience. From MGR and Jayalalithaa's mid-day meal schemes to their alliance with Congress to her campaigning while still recovering from a serious accident- all are shown but none in great detail.
Aravind Swami's portrayal of MGR, former actor and Tamil Nadu Chief Minister, is the one aspect of the movie that is being widely talked about and appreciated. Though the film is about Jayalalitha's transformation from the naive woman she was to the "Amma" of millions, the core of the movie remains to be her and MGR's admiration and loyalty towards each other and how this helped them grow, both in life and in politics.
Directed by Vijay and written by KV Vijayendra Prasad, Thalaivii also stars Madhoo, Prakash Raj, Jisshu Sengupta, Bhagyashree, and Poorna.
Actor Simi Garewal, who was invited to a screening of Thalaivii by actor Kangana Ranaut on Friday, wrote on her Twitter, "Although I do not support Kangana Ranaut's radical comments, I do support her acting talent. In Thalaivii she gives it her heart and soul! Jaya-ji wanted Aishwarya (Rai) to play her… my hunch is JJ wud have approved of Kangana's portrayal. As for Arvind Swami, he is MGR reincarnate."
The opposition AIADMK in Tamil Nadu on Friday objected to certain references about party stalwarts–the late MGR and J Jayalalithaa– and wanted the scenes deleted.
For instance, one scene showed MGR seeking a Minister post in the first DMK government and being denied by the late M Karunanidhi. Jayakumar said and asserted the yesteryear matinee idol-turned-politician was never after such posts.
The former Assembly speaker, Jayakumar, recalled he had "travelled" with Jayalalithaa since 1982 and had turned nostalgic after watching the film.
"This is a well-made film and if some of the scenes are addressed (deleted), it will become a big hit," Jayakumar added.
Thalaivii was released in cinemas on September 10 in Hindi, Tamil, and Telugu languages. It was earlier scheduled to release in April but was pushed due to the second wave of the coronavirus pandemic.
Reference:
Image Credits: