Like his alleged Master's degree has been scrutinised for irregularities, just like PM Modi's enrollment record that Gujarat University earlier made public. Roshan Shah, an RTI activist based in Ahmedabad, claimed that the new alleged certificate had complicated the situation.
Mr Shah said, "It is a duplicate certificate. RTI means you should be given copy of the original. It says verified which means GU has copy of his certificate. Modi's major is "ENTIRE POLITICAL SCIENCE" – probably the only university in the world to use word ENTIRE before a major. His father's name is DAMODERDAS and not DAMODARDAS.  This is 4th incarnation of Modi after original one, one with date of birth, one who went concurrently in 1967 to Himalayas while doing pre-science at M N College and this one with different middle name."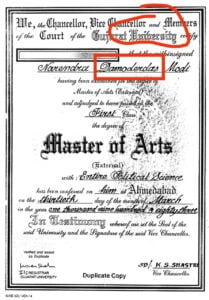 He added, "Also the certificate has date of 01.04.2016 – April Fool's date. The question is that the CIC did not order any copy of certificate before 01.04.2016  and University in the past refused RTI Activists to give them copy of his certificates. So who requested a duplicate certificate from Gujarat University and who approved it? The plot has thickened now."
The Gujarat University is also accused of leaking Modi's enrolment record, which included the prime minister's incorrect birthdate and had him listed as one year older than his actual age.
Additionally, activists have noted that the VC, whose signature can be seen on Modi's certificate, was once detained alongside his son on suspicion of forgery and other corruption-related offences. Both KS  Shashtri and his son were reportedly detained in November 2003 on suspicion of corruption, fraud, and cheating, police said on Sunday.
Ajay Tomar, Deputy Commissioner of Police (zone 1), told PTI, "Gujarat University's former vice chancellor K S Shastri and his son Pragnesh Shastri were arrested around midnight following complaints that he used to charge fees excess than that prescribed by the state government and the University Grants Commission, from students studying in the Somlalit Institute of Management Studies (SLIMS),"
The DCP added, "The former vice chancellor has been booked under sections of forgery, cheating and Prevention of Corruption Act and further investigation is being conducted."
The arrest of Shastri was significant after the incumbent vice chancellor A U Patel blew the whistle on a major mark sheet printing scam involving the long-serving registrar M P Jadia and controller of exams Satish Bhatt. Minesh Shah, the other signatory on Modi's MA degree, was also charged with fraud in 2012.
According to an Indian Express story from 2012, Gujarat University Vice-Chancellor Dr Parimal Trivedi was allegedly involved in the theft of millions of rupees from the institution and Minesh Shah, the university's in-charge registrar, and development officer Vaishali Padhiyar.
Trivedi and the other three were later charged with offences under the Indian Criminal Code (IPC), including forgery, cheating, and breaches of trust by public employees under sections 409, 420, and 465. An RTI activist claims the administration desperately tried to cover up the degree scam to protect the Prime Minister's reputation. However, it ended up damaging it even more. The activist further