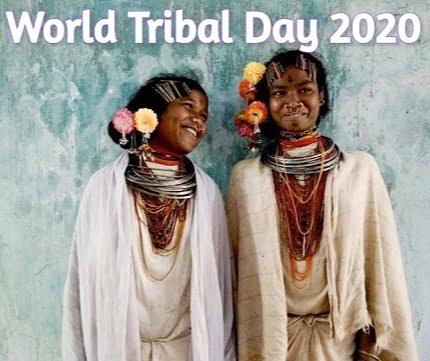 9th August is celebrated as International Day of World's Indigenous Peoples Day or World Tribal Day, every year since 1982. The day marks the first meeting of the United Nations Working Group of Indigenous Population in Geneva. The day is observed in order to promote and protect the rights of tribal population also also to acknowledge their contributions to world issues. The UN's theme for this year's Tribal Day is 'COVID 19 and Indigenous people's resilience'.
Tribal communities have always had a beautiful relationship with nature and even while fighting the pandemic, they have put their knowledge of nature into use. They are also practicing voluntary isolation and seal downs. The UN has also organised a virtual event where there will be a panel discussion to discuss the innovative ways indigenous people are demonstrating resilience in their fight against pandemic while conforming to serious threats to their survival. The seminar will take place tomorrow.
Some of the common problems faced by Indigenous communities are poor access to healthcare facilities, higher rates of diseases, lack of access to essential services, sanitation etc. right now, with the pandemic situation they are also facing problems such as lack of clean water, soap, disinfectant, sanitizer and other preventive measures required to fight the disease. Their healthcare centres are understaffed and even when they gain access to these places, they are treated with significant discrimination, according to UN. In addition to this, they are also facing the issues of food insecurity, loss of traditional lands and jobs, climate changes, etc.
In India, tribal communities or Adivasis as we call them make up 8.6% of the population which is over 104 millions. They are largely situated in a belt called 'tribal belt' which stretches from eastern Gujarat and Rajasthan in the west to West Bengal in the east. The eastern belt centred around the Chota Nagpur Plateau and spread across Chattisgarh, Jharkand,Orissa and West Bengal is home to 75% of Indian tribal population. In some of the north eastern states tribal peoples constitute about 90% of total population. In southern states, the largest tribal establishments are located in the Nilgiri districts of Tamil Nadu, Wayanad district of Kerala and hilly regions of Chamarajanagar and Mysuru in Karnataka.
Netizens this year are appealing to PM Modi to declare 9th August as a national holiday to recognise India's rich and diverse tribal communities. #09Augustnationalholiday is trending on twitter. Although the demand has been in place since a long time, it has increased this year as the state governments of Rajasthan and Jharkhand declared a state holiday. The netizens are also of the opinion that by declaring a holiday we will improve as a nation and spread more awareness about tribal communities and educate the major population which is unaware of the lifestyle and traditions of the tribal communities.
There people also feel that the tribal peoples have been side lined for too long and their demands aren't being met effectively. They are struggling constantly to safeguard their faith, customs, practices, language and culture. They have become very vulnerable in this age of industrialization. They are also facing a lot of problems due to commercialization and climate changes. Dedicating a day completely for Indigenous peoples will be of great help in tackling these issues, according to activists.
Another reason to stress upon the protection and recognition of tribal communities is due to their role in protection of ecology and environment. Their symbiotic relationship with their environment leads them to protect nature like a mother which is the need of the hour, especially since global warming is higher than ever and leading to climate emergencies. So far, there has been no word from the Central government about the declaration of holiday. We all sure have a lot of lessons to pick up from the indigenous communities to lead a better, environment friendly lives.
– Jahnavi TR
– Bengaluru
References – https://www.news18.com/news/world/world-tribal-day-2019-facts-about-indigenous-tribes-that-will-leave-you-astonished-2264355.html
https://www.un.org/en/observances/indigenous-day
https://edtimes.in/why-india-is-asking-for-9th-august-to-be-declared-a-national-holiday/