Most of us don't realise this, but an unsung hero can impact each individual's life in a very large way and one of them was Shri Aithappa G. Karkera. Through their work or how they carry themselves forward in spite of all the hurdles and challenges, they do create a huge impact.
Whenever one reads about India's Freedom Struggle Movement, most of them remember the prominent leaders. But there's someone who's not as prominent a leader as others but was one among the brave freedom fighters belonging to the Mogaveera community of Mangalore, Karnataka. Shri Aithappa G. Karkera was a radical freedom fighter, a union leader at Bank Of India and a social worker. He was born on 23rd June 1924 in a place named Yermal Bada, In Dakshina Kannada (then, now in Udupi District).
In order to start a new life, Shri Aithappa G. Karkera shifted to Mumbai, Maharashtra. In the morning he would go to his workplace and at night he would go to his night school to study. He wished to study more but due to circumstances and situations he couldn't fulfil his wish, but he never stopped encouraging others when it came to pursuing education. Well, this was, at those times and hence things were different back then. While studying, he had a sense of respect and expressed his feeling of being proud of the country.
Shri Aithappa G. Karkera was a very strong patriot. It was at that time during the British rule, that he once went to attend the speech of Netaji Subash Chandra Bose at Gowalia Tank Maidan (officially renamed August Kranti Maidan), which is a park in central Mumbai. Seeing this crowd that was created, the British officers called for a lathi charge and threw tear gas at the crowd because of which he fell unconscious and was admitted to Bhatia Hospital which was at Tardeo in Mumbai. When he gained consciousness and saw the police, he immediately escaped from the hospital.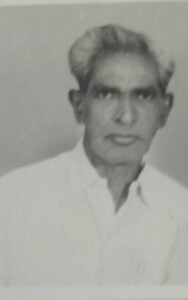 That was where the whole thought of going against the British came to his mind and that's how he emerged as a freedom fighter. He was the most wanted person in the eyes of the British officers. Those days, if there were any meetings organized or any message that had to be sent from one person to another, he made sure it was planned well so that he would not be caught by the British.
He kept exchanging messages secretly and if there were any places where the British gathered, he would secretly go to that place and throw the bomb. In the office of the share markets the important documents that belonged to the British, he would secretly steal and burn them. He used to bomb the cars that belonged to the British and also bomb the tram (a low four-wheeled cart or barrow used in coal mines). There were a lot of narrow small roads and in those days to escape from the police, he used to jump from one terrace to another.
In the Bank of India, Shri Aithappa G. Karkera was the union leader and helped the labour with a lot of hard work for their good. The bank management offered him several better posts to leave the Union leader post, but he refused to do so and continued being the union leader for the labourers. For his contribution, the Government Of India was planning to grant him 5 acres of land, but he was busy with the Union and also he did not take interest in that.
Shri Aithappa G. Karkera's main priority was to help people around him and he was the president of Shri Mahalakshmi Co-Operative Sahakari Sangha. Even if he was not financially strong and stable, still he would help others and give them hope and motivate them. It has helped a lot of people. He helped so many people with their education and marriage.
In 2007 when he was 83 years old, he passed away. There were so many freedom fighters who gave up on everything and dedicated their entire life to the freedom of our country. They never even thought about their own family or their children or their future. Their main priority was to serve the country and sacrifice their life for the nation. On every Independence Day, He used to bring so many badges of the Indian Flag and distribute them to all the kids in the colony.
There are so many unsung heroes in so many families across India, whom we have never heard of nor do most of them remember. Those days there was no proof to document what work they have done or their pictures of them taking part. Our elders share all this through a conversation with their friends and that's how the story circulates a small known circle.