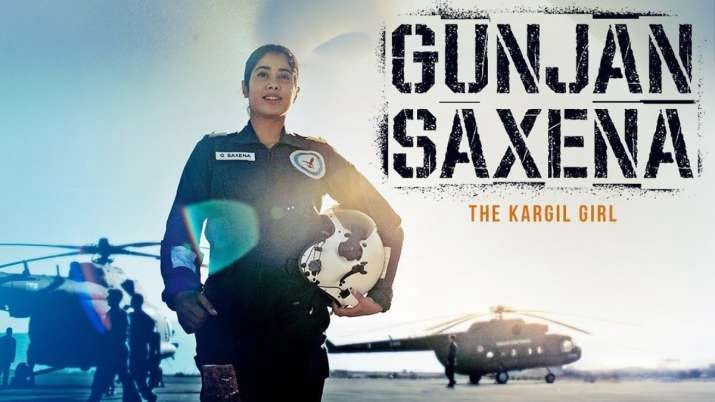 Gunjan Saxena -The Kargil girl is a film that chronicles the life of the only female airforce officer to fight in the Kargil war. The film also stages a war between Jahnvi's dreams and the systemic sexism that plagues the airforce and serves as a hindrance to her career. In the biopic, Gunjan is portrayed by Jahanvi Kapoor who does an excellent job of seamlessly transitioning from a young girl with her head in the clouds (no pun intended) to a sincere young woman fighting hard to work for her dreams throughout the course of the film. Jahnvi Kapoor excels at portraying someone who is both human and heroic at the same time. She strikes a chord with the naive, wide eyed girl but also effortlessly carries the feminist essence that the film intends.
Although the film has been written by male writers, it manages to accurately depict the casual sexism in workplaces and the constant need to prove yourself when you are a woman in a male dominated workplace. It doesn't oversimplify or unnecessarily villanise the male characters in this pursuit either. Managing to empathise with them and give them a moment of redemption in the film.
The film doesn't stray from it's heroine's ambitions – making her journey of being in the air force the central struggle and conflict of the film. It doesn't distract from this and is as resolute in seeing this through just as our heroine is.
Pankaj Tripathi as Gunjan's father is a pleasant presence on screen. He is supportive, calm and Gunjan's emotional rock, when things go awry. Angad Bedi plays an army man who is concerned about his sister's safety and often wary of how the world will treat Gunjan as a woman in the Air force. He is a real character and perhaps a representation of what most of us have learnt or unconsciously imbibed from growing up in a patriarchal society.
While the build up to the Kargil scenes is intense, the scenes portraying the war itself are short and crisp. Sharan Sharma does a good job showcasing Gunjan's competence and abilities rather than a dramatization of the events of the war. While the film is straightforward in it's message and ambition, it doesn't reduce Gunjan to a one dimensional character and does not sideline any of the other characters.
The biopic fulfills what it sets out to do- accurately portraying the story of a young woman with the odds stacked against her. It is compelling and thoughtful, with it's gentle tone, uncluttered storyline and performances.
– Nikhita Raaj
– Bengaluru