Recently, an Instagram user shared disturbing details of harassment faced by her friend when opted for a ride with Rapido bike taxi which is comparatively new to the business of pick-up and drop rides. What is more absurd is the manner in which the customer care services responded when she made a complaint against the rider. She was assured of strict action being taken against the rider, but is that enough? Will that compensate for the trauma and anxiety faced by the victim? 
Full Story
According to the Instagram post, the rider constantly kept touching the woman inappropriately against her will and kept asking for her personal details which made her obviously uncomfortable. The fact that he was doing all of this under the pretext of 'service' is most disgusting. People with such a mentality find nothing wrong in doing such things, no amount of education can turn this mentality around. They deserve stringent punishment and it's important to teach them a proper lesson. 
Following are the screenshots shared by the Instagram user of the conversation between the victim and the customer care executives which described the complete incident.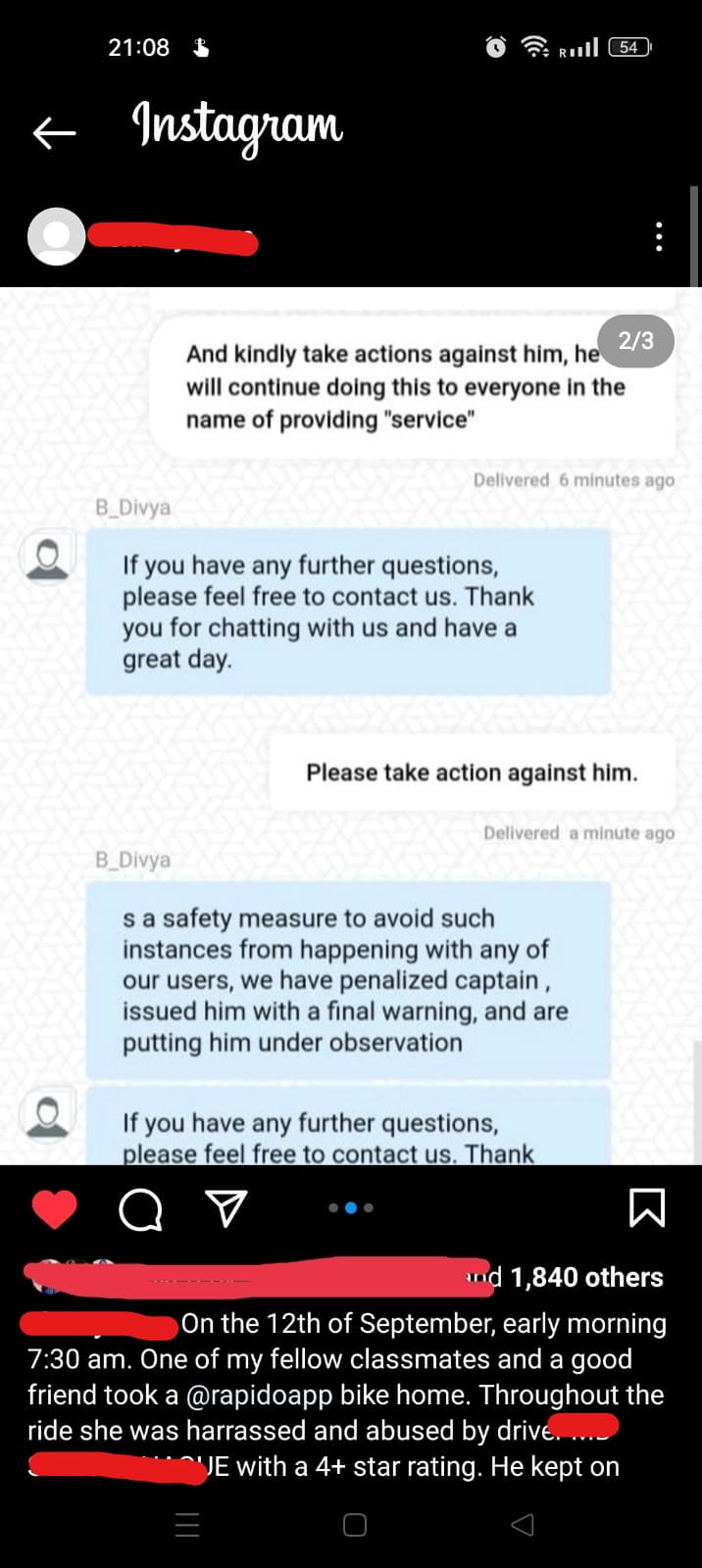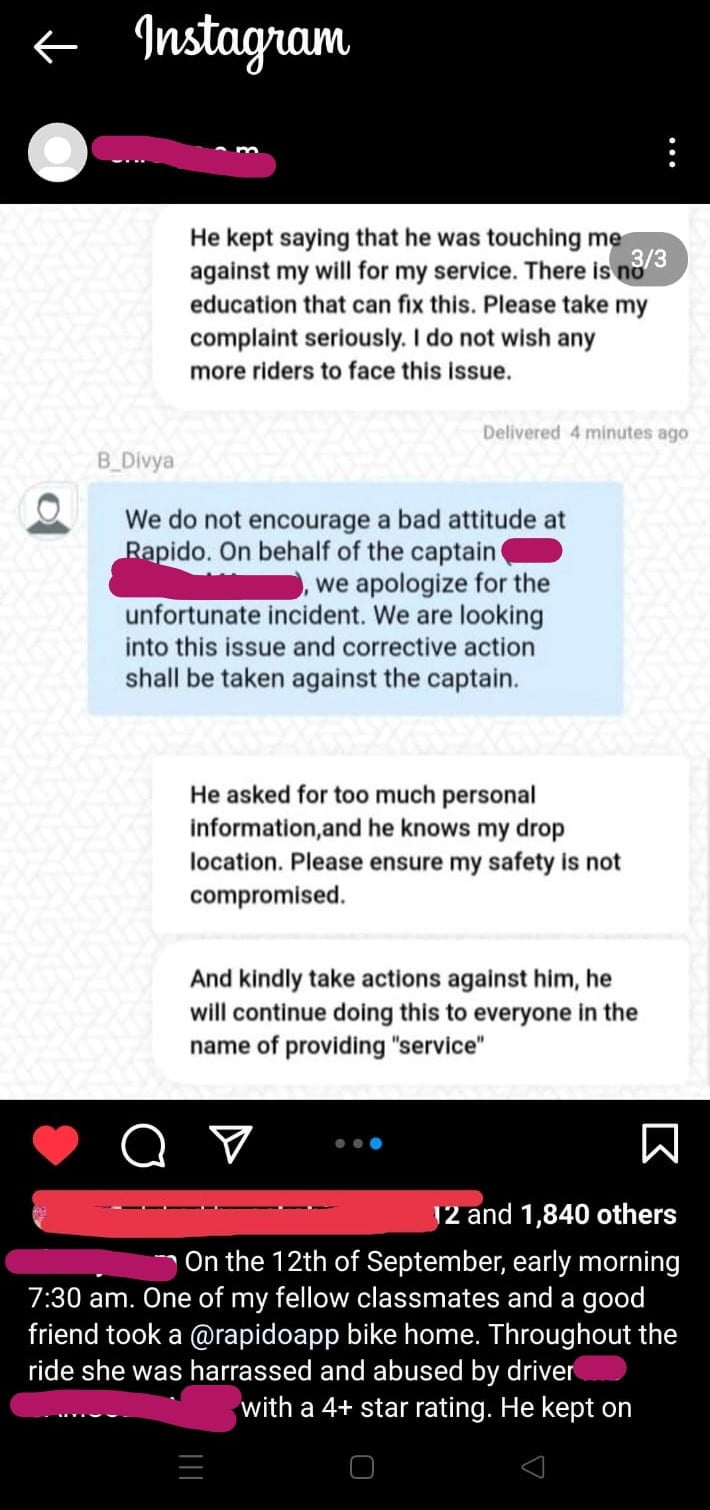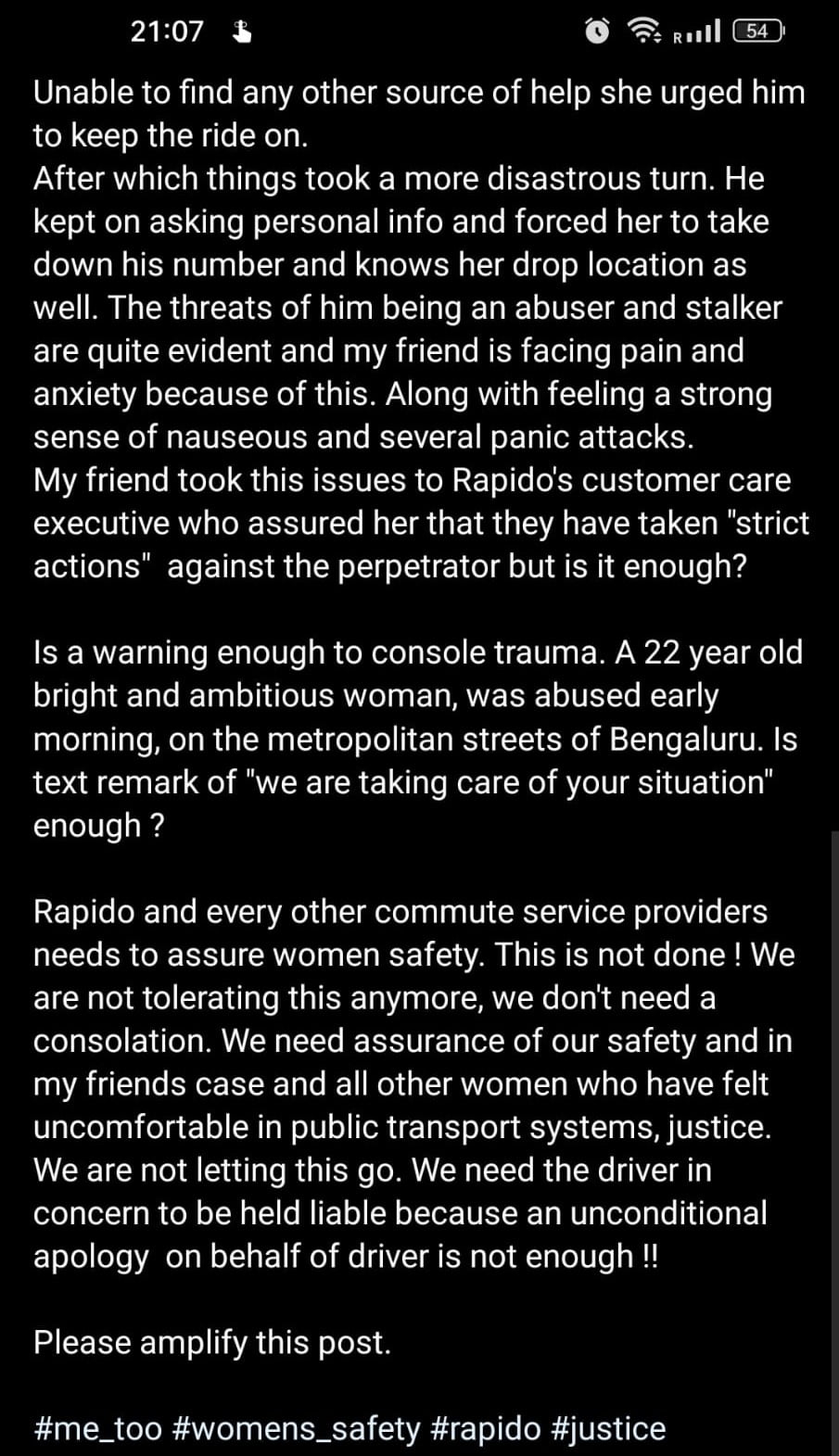 The rider apparently tried to force the victim to lean on to him and hug him from behind for the sake of "safety" of course. When she denied, he forcefully took her hand and tried to do the same. He also kept touching her thighs inappropriately, and when she protested he threatened to drop her at a deserted place instead of her drop location which further terrified her. She complied with him as she did not wish to be delayed any further or to be dropped off at an unknown location. He also asked her to note down his phone number and threatened her by saying that he is aware of her drop location. The rider continued his objectionable behavior throughout the ride. If this does not qualify as harassment then what does? 
The threats of the man being a stalker and abuser are very evident. The victim is under severe panic attacks and is facing anxiety following the incident. Is this the cost one has to pay for a simple ride? Is issuing a warning solution for the trauma faced by a bright young woman early morning on the streets of Bengaluru?
Every commute service provider has to be more cautious and needs to prioritize the safety of women to provide them with a safe and comfortable experience.
Update on this incident:
After the perpetrator was held guilty of his actions, the victim was quoted saying, "I'd not want companies hiring molesters in the near future, I hope this aspect of them hiring the right kind of people after a thorough background check is emphasized upon :,)"