Throughout the weekend, as PM Narendra Modi interacted with world leaders invited to the G7 Summit in Germany, he gave them a variety of artwork and handicrafts crafted throughout the nation, many of which came from Uttar Pradesh.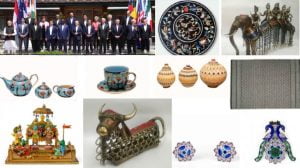 US President Joe Biden received a gulabi meenakari brooch and cufflink set from the prime minister. The President's cufflinks and the First Lady's matching brooch were created specifically for him. Varanasi, in Uttar Pradesh is known for its Gulabi Meenakari art form. The desired design is imprinted in the pure silver once it has been formed into a base form.
For each of the G7 leaders, he had brought along a huge array of these exquisite gifts.
Italian Prime Minister Mario Draghi received a marble inlay table top from Agra, while Senegal President Macky Sall received a variety of moonj baskets and cotton durries that were sourced from Prayagraj, Amethi, and Sultanpur in Uttar Pradesh.
French President Emmanuel Macron received a selection of ittar bottles from UP's Kannauj that were packaged in a specially made zardozi box. Justin Trudeau, the prime minister of Canada, received a hand-knotted silk carpet from Kashmir, and German Chancellor Olaf Scholz received a metal matka with a marodi sculpture from Moradabad.
Black pottery from Nizamabad was presented to the Prime Minister of Japan, Kishida Fumio, a dokra art piece with a Nandi motif was given to the President of Argentina, Alberto Fernandez, and a hand-painted tea set from Bulandshahr in Uttar Pradesh was given to the British Prime Minister, Boris Johnson.
There was an intent to highlight shared customs and identify synergies behind the choice. For instance, the PM presented a lacquerware gift to commemorate the common Ramayana connections between India and Indonesia.
According to a source who was involved in the selection process of the gifts, "The gifts celebrated India's diversity; what made the choice significant was that these were not particularly expensive items but a celebration of the craft traditions of India."