Nestled in the vast tracts of the Western Ghats, Neelakurinji never fails to intrigue travelers who wish to witness the majestic bloom at least once in their lifetimes.
Drawing botanists  from all around the world, the endangered shrub is endemic to the Shola forests of the Western Ghats, flowering once in 12-year-long years.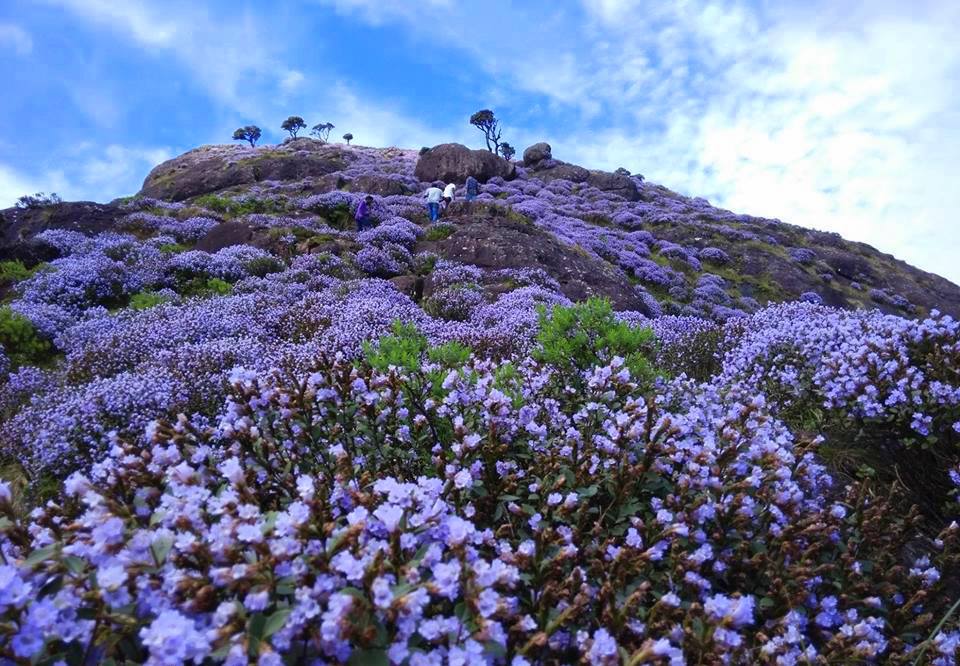 Recently, a social media user took to Twitter to document the blooming of the flowers on the hills of Chandra Dhrona hill ranges in Chikkamangaluru.
Neelakurinji blooms again at Chandra Dhrona Hill Ranges in Chikkamagaluru after 12 years 😍🌸 pic.twitter.com/94I5Ua0CsR

— Gautam (@gautyou) September 17, 2022
Twitterati was glued to the screen, probably planning their next trip to the Nilgiris!
Facts about our beloved Kurunji
Monocarpic in nature, the flowers bloom gregariously after a definite period of time ie. around 12 years. A product of a fascinating phenomenon called masting, these shrubs grow collectively, reproduce once in their lifetime and die, just like bamboo.
Interestingly, the Nilgiris (the blue mountains) derives its name from the flowering phenomenon, which transforms the misty hills into a sea of blue during the blooming season.
Another species of the high-altitude shrub Strobilanthes cuspidatus blooms once every seven years as opposed to Strobilanthes kunthianus and then dies. The seeds left behind germinate and the life cycle begins again.
Carpeting the hills in hues of blue, the flower show pulls in visitors like a magnet, especially in places like Kodaikanal, Kodagu, Chikkamangaluru, and Munnar, a massive boost for tourism.
Local residents enjoy the scenic beauty around them, recalling the symbolism the flower holds: love.
Known as 'Gargi' in villages around Mandalpatti, the blooming also signifies the optimal balance of the elements in nature, as said and revered by elders of the village.
Talking to Deccan Herald, forest department officials describe the blooming season of "Strobilanthes kunthianus:
"The flower has several varieties and they flower at different intervals. There are nearly 250 varieties of Neelakurinji flowers. Among these, 46 are found in India. Some bloom once in five years, in seven years, 12 years, and 14 years."
A sneak peek into Twitter's nature enthusiasts reveling in the beauty of the scenery
Rarest of the rare!🌺
Our #PicOftheDay 📸 is of #Neelakurinji flowers that blossom once every 12 years in the states of Karnataka, Tamil Nadu & Kerala and mesmerize the visitors with its beauty.#AmritMahotsav #MainBharathoon #IncredibleIndia pic.twitter.com/EUtz6hiORz

— Amrit Mahotsav (@AmritMahotsav) April 25, 2022
#Neelakurinji flowers that blossom once every 12 years had mesmerized thousands of tourists at Mandalpatti and Kote Betta in Kodagu District not long ago.

Neelakurinji now blooms at Biligiri Ranganathaswamy Temple (BRT) Tiger Reserve, in Chamarajanagara district.

A rare sight! pic.twitter.com/otXw6kWXuT

— P C Mohan (@PCMohanMP) December 8, 2021
The Neelakurinji 🌸#Neelakurinji #munnar #Kolukumalai #mountains #Kerala #travel #travelblogger #traveler #Wanderlust #ourbackpacktales #oncein12years pic.twitter.com/M5I1CBNEkt

— Neethu Nair (@neethu_athul) November 2, 2018
The next time you blossom, so much would have changed !! #kurinji #flower #oncein12years #kodaikanal #Strobilantheskunthianus #plietesials pic.twitter.com/8c1TV9nb2X

— Deepak Ramesh Kumar (@DeepakRameshKmr) October 29, 2018
#neelakurinji #wondersofnature #oncein12years #chikmagalur pic.twitter.com/TlIdNRXnmg

— ujjawal bhimwal (@ujjawalbhimwal) September 11, 2022
குன்னூர் சாலையில் பூத்துக் குலுங்கும் குறிஞ்சி மலர்கள்https://t.co/dOhpKmTZlH#KurinjiFlowers #Kotagiri #Nilgiris #OnceIn12Years #HillFlowers pic.twitter.com/3Ebq4Z5tQ1

— JustOut தமிழில் (@JustOutTamil) October 2, 2018
The vanishing landscape
Once covering large areas of the Nilgiris, the Cardamom hills, Annamalai hills, and Kudremuh, most of which now have been wiped off due to plantations and dwellings occupying these areas.
Celebrated in classical Tamil literature, numerous efforts have been made to conserve the highly vulnerable landscape, notably the Kurinjimala sanctuary in the Idukki district of Kerala.
So what are you waiting for?