The Marvel Cinematic Universe never fails to mesmerize us with its action-packed fantasy world, growing into cult status, weaving lifelike superheroes, multidimensional plots, and magic that have enthralled kids and adults alike.
They have now announced the release of 'Secret Invasion'- a six-part sci-fi series arriving on Disney+  in 2023 sending fans into a frenzy.
The best part?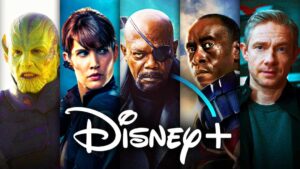 Image Credits: The Direct
The upcoming series offers a glimpse of a new world, boasting an impressive A-list cast, our beloved Khaleesi Emilia Clark marking her debut in Marvel's fifth phase multiverse saga.
Here's all the tea you need to know
Disney unveiled a trailer for the upcoming series at D23, starring Samuel L. Jackson and Ben Mendelsohn, creating a new wave of excitement among die-hard marvel fans!
The official trailer for Marvel's 'Secret Invasion' has been released. pic.twitter.com/kaqNxTjHYj

— Film Updates (@FilmUpdates) September 10, 2022
The series follows the infiltration of planet earth by a disruptive group of alien shapeshifters, Skrulls, who pretend as imposters, secretly replacing superheroes, protecting the planet.
Nick Fury, who interestingly showed himself as the shapeshifting Skrull in 'Spiderman- Far From Home' will be seen again in Secret Invasion.
The Skrulls, who were first introduced in MCU's 2019 Captain Marvel as villains, shocked viewers when they end up being portrayed as misunderstood funny beings. 'Secret Invasion' will therefore share a peek of them seeking to find refuge on earth, disguised as humans, trying for a possible takeover!
Written by Kyle Bradstreet, the film will catch a glimpse of Emilia Clark as an incognito Skrull, Kingsley Ben Adir as Gravik, the Skrull leader, and Olivia Coleman as special agent Sonya Falsworth.
Twitter exploded with a promise of a marvel crossover that fans believe will be the addition of another golden feather in the brilliance of the multiverse.
Kingsley Ben-Adir is confirmed to play Rebel Skrull leader Gravik in #SecretInvasion pic.twitter.com/srdi2sewQR

— Culture Crave 🍿 (@CultureCrave) September 12, 2022
secret invasion gonna be good as hell… a fullblown spy thriller filled with high stakes and blended into an alien invasion… ITS GOING DOWN IN THE HISTORY BOOKS

— ceo of kory (@korysverse) September 10, 2022
Marvel's Secret Invasion is scheduled to be released in spring 2023 on Disney+