After Uttar Pradesh, it's now Madhya Pradesh who has passed the 'love jihad' Bill. The Madhya Pradesh Freedom of Religion Bill, 2021 has been passed in the Assembly on Monday, 8 March.
Earlier, in December, the bill was approved by the state Cabinet in a special meeting presided by Chief Minister Shivraj Singh Chouhan. Madhya Pradesh CM has said, "We won't allow forced conversions in Madhya Pradesh. Under the new bill, anyone who does it will face jail term up to 10 yrs and minimum Rs. 50,000 fine. Many incidents came to light where minor girls were converted, married & made to contest Panchayat polls."
Furthermore, the state Cabinet Minister Narottam Mishra added,
"Under the new Bill, forcing religious conversion on someone will attract one to five years of imprisonment and a minimum Rs. 25,000 fine." "Under the new MP Freedom of Religion Bill 2020, forced conversion of a minor, woman or person from Scheduled Caste or Scheduled Tribe, would draw a minimum jail term of 2-10 years with a minimum penalty of Rs. 50,000."
This is not the first state to impose anti-conversion laws. Prior to this, UP Government, headed by Chief Minister Yogi Adityanath has passed a similar ordinance named "UP Prohibition of Unlawful Religious Conversion Ordinance". Under this, a maximum of 10 years of punishment will be bestowed upon a person who is involved in any 'love jihad' offences. As per what the Home Minister has said, around 23 cases were reported within a month of the ordinance coming into force. Seven cases were reported in the Bhopal division, followed by five in Indore, four each in Jabalpur and Rewa, and three in the Gwalior division.
The term 'love jihad' is apparently a narrative used by some Hindu activists to define the relationship between any Muslim men and any Hindu women. According to this narrative, Muslim men marry women of other castes (predominantly Hindu women) only for the sake of conversion.
"Any love that leads towards jihad, we will oppose it, any love that offends our sentiments, we will oppose it. Any love who will make our daughters and sisters suffer, we will oppose it," Narottam Mishra has said.
Provisions of the MP Freedom of Religion Bill and that of the UP anti-conversion ordinance is relevantly similar. Apparently both are BJP-ruled states. Anyone found guilty of committing an offence under this law will be punished for 10 years and it is an non-bailable offence.
The ordinance barred religious conversion by "misrepresentation, allurement, use of threat of force, undue influence, coercion, marriage or by any other fraudulent means".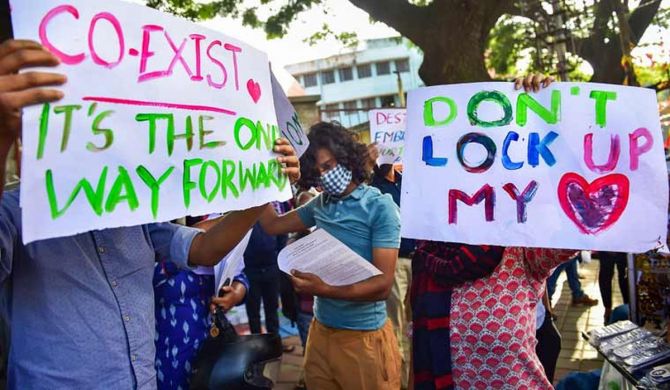 The ordinance was passed in the Assembly by a voice vote. It replaced an ordinance promulgated by the BJP government on January 9. The opposition, Congress, questioned the requirement for this new law, however it was unheard. Mishra, as a reply to the debate with the Congress leaders has also stated, "Rafiq becoming Ravi" for "Love Jihad". Senior Congress leader, Govind Singh has remarked this bill as useless and is a 'political stunt'.
References:
https://thewire.in/communalism/madhya-pradesh-assembly-passes-love-jihad-bill
https://www.newindianexpress.com/nation/2021/mar/08/madhya-pradesh-freedom-of-religion-bill-2021-passed-in-assembly-2273864.html
Image sources:
• BBC
• The Hindu
• Rediffmail
• India Today
• Free Press Journal