The Congress presidential election scheduled for October 17  will be a close contest between Shashi Tharoor, Mallikarjun Kharge. The window for filing nominations closed at 3 pm on Friday.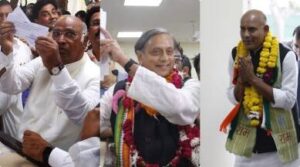 The Karnataka leader garnered the backing of both loyalists of the Gandhi family and the G23 group of leaders who pushed for internal reforms. The Thiruvananthapuram MP, on the other hand, refused to make the names of his backers public, and one of the leaders supporting his candidature said they were being pressured to change their mind. Former Jharkhand Minister K.N. Tripathi was the third candidate but his nomination got rejected.
In an interview with news agency ANI, Senior Congress leader and MP Shashi Tharoor said that ordinary workers told him to contest and that he wants the party to strengthen and also wants to become a "voice of change" within the party.
To fight in the October 17 poll, a candidate needs 10 proposers. Kharge, 80, filed 14 pages of proposers that included some of the Congress's senior most leaders. This included Gandhi family loyalists AK Antony and Ambika Soni, Rajasthan chief minister Ashok Gehlot – who bowed out of the race after a rebellion by his supporters last week – and former Madhya Pradesh chief minister Digvijaya Singh, who withdrew his candidature after Kharge's name became public on Friday. Also on Kharge's side were many of the G23 leaders – Mukul Wasnik, Bhupinder Singh Hooda, Anand Sharma, Prithviraj Chavan, and Manish Tewari.
"After that several people, ordinary workers told me to contest the poll. I started thinking and talking to people…I just want the party to strengthen and that I become a voice of the changes within the party and show its different face to people," Tharoor said.
Officially, the Congress has said that the Gandhi family is not favouring any particular candidate and want a free-and-fair election. "They (Gandhis) are very clear that they do not support A, B or C candidate,'' said party's poll in-charge Madhusudhan Mistry. But it was clear that Gandhi family loyalists were on Kharge's side.
"It is a friendly contest that is going to happen. We are not enemies or rivals. No disrespect to him but I will represent my ideas," the Lok Sabha member from Thiruvananthapuram told reporters.
Friday was the last day for filing nomination papers. Over 9,100 delegates are eligible to cast their votes in the elections. The grand old party is all set to get a non-Gandhi president after over 25 years. The polling will take place on October 17 and the result will be announced on October 19.