Kangana Ranaut suffered an embarrassing blunder on Wednesday after slamming Qatar Airways CEO Akbar Al Baker for 'bullying' a Twitter user, only to learn afterwards that he never said those things and the footage she posted was a fake.
Kangana had written a lengthy message about the incident on her Instagram account criticising Al Baker, even calling him an "idiot of a man," which she later removed upon realising that the video was doctored.

On Instagram Stories, Kangana shared a snapshot of the fake footage, which appeared to show the Qatar Airways CEO making a mockery of a twitter user named Vashudev who called for a boycott of the airlines.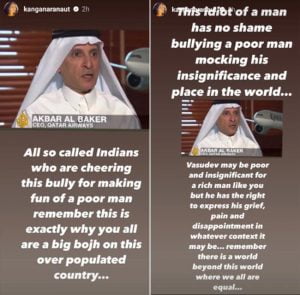 Vashudev's statements were regarding the offical statements issued by several nations including Qatar, condemning BJP spokeswoman Nupur Sharma's derogatory comments regarding the Prophet.
Nupur's remarks triggered a Twitter craze in the Arab world, with several advocating for a boycott of Indian products.

Vashudev, a Twitter user, replied to the trend by posting a video calling for a boycott of Qatari products and Qatar Airways, claiming that the country had already begun laying off Indian employees. "I'm against Qatar Airways," he wrote beside the hashtag #BycottQatarAirways.
The fake video of Qatar Airways' CEO asking Vashudev to rescind his boycott quickly went viral, as did a hashtag with the incorrect spelling of boycott.
Kangana Ranaut fell for a parody video of Qatar Airways CEO Akbar Al Baker pic.twitter.com/F1Rf7DDSu4

— Hindustan Times (@htTweets) June 8, 2022

The edited video shows Akbar Al Baker speaking to Al Jazeera, saying that "Vashudev is our biggest shareholder with a total investment of 634 rupees and 50 paise. And we don't know how to operate anymore and we have grounded all the flights… we are requesting Vashudev to take this call for boycott back."
"This is a special kind of boycott because it is b-y-c-o-t-t. Vashudev habibi, we are willing to give you one whole plane to make your TikTok videos, or maybe we can give you two litres of petrol free. Once you come back from the railway track, please consider our offer and take the boycott back," the video continued.
Kangana seems to have fallen for this parody video and took to instagram to express her displeasure very passionately, going viral on Twitter for her blunder.
She wrote, "This idiot of a man has no shame bullying a poor man, mocking his insignificance and place in the world…Vasudev may be poor and insignificant for a rich man like you but he has the right to express his grief, pain, and disappointment in whatever context it may be. Remember there is a world beyond this world where we all are equal."
She put up multiple stories, with another one saying that "All so-called Indians who are cheering this bully for making fun of a poor man, remember this is exactly why you all are a big 'bojh' (burden) on this overpopulated country."
These statements were on Kangana's instagram stories for over two hours before they were deleted.
After hundreds of netizens mocked and poked fun at her mistake, she deleted her stories, but they had already been posted all over social media.
Kangana had previously extended her support to Nupur Sharma, saying that the she is 'entitled to her opinions.'
In another series of Instagram stories, Kangana had said that "I see all kinds of threats targeted at her, when Hindu Gods are insulted which they are almost every day we go to court, pls do that no need to play dons yourself. This is not Afghanistan, we have a proper functioning government which is chosen with a process called democracy… just a reminder for those who keep forgetting."
Kangana seems to be making headlines very frequently in the past few weeks. Very recently, she caused a stir for her film Dhadak, which only managed to sell 20 tickets and earn Rs 4000 on the eighth day of its theatrical release.
The action film, which also stars Arjun Rampal and Divya Dutta, debuted with a collection of Rs 50 lakhs and went on to make around Rs 3 crore.