The government holds the trust of the masses in a democracy and should not violate it. In the case of politicians, people can dethrone corrupt leaders from power. But when it comes to the steel frame of India, it is already expected that they show ethical behavior.
However, these seven examples show how the Civil Services has failed to deliver:
1. 19 crore rupees seized in cash from aides of IAS officer in Jharkhand
The Enforcement Directorate recovered crores of cash from the house of a Ranchi-based CA, who was serving as the Mining and Geology Secretary of Jharkhand's IAS officer Pooja Singhal.
Credits: ScoopWhoop
2. When Chhattisgarh IAS Officer was caught slapping a man on camera
Raipur District Collector Ranbir Sharma was seen slapping a man who tried to show him a piece of paper explaining why he was out during lockdown. It was shocking to see the officer's lack of empathy in the difficult times of the COVID pandemic.
3. When IAS Shishir Singh said a hoarding that showed how Uttar Pradesh is number one in the country didn't exist in Karnataka when people could spot it in Bangalore
Shishir Kumar, an IAS officer from UP sparred with a lawyer over Yogi Adityanath's hoarding in Bengaluru. Singh made a false statement that he has no information of any such hoarding being put up in Karnataka when everybody could literally see it in Bangalore. The matter turned worse when he also gave legal threats to the man who brought this case to light.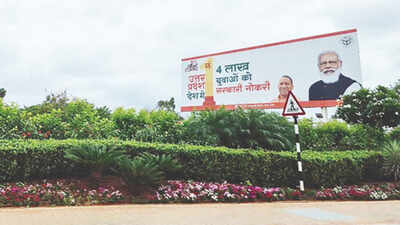 Credits: TOI
4. Former IAS officer Babulal Agrawal from Chhattisgarh arrested in a money laundering case
Two years ago, the Enforcement Directorate (ED) attached assets worth ₹27.86 crores linked to former IAS officer Babulal Agrawal was detained for "laundering the profits of criminal offenses through shell companies and integrating them into the businesses of his family members."
5. Maharashtra's senior IAS officer's chat with a Real Estate agent on taking a bribe was leaked. 
In an audio clip, Maharashtra's senior IAS Radheshyam Mopalwar is heard advising the builder to construct 50 flats, each of 1,000 square feet, and sell them for one crore each to make a net profit of ₹ 10 crores.
Nobody will take less than a crore: Leaked chat costs Maharashtra officer https://t.co/3nAN4Ke8hJ pic.twitter.com/RppavqRSFJ

— NDTV (@ndtv) August 3, 2017
6. Young IAS officer was suspended by the government for violating quarantine orders 
Anupam Mishra, a young Kerala cadre IAS official, was arrested by the state police and sacked by the government in March 2020 for breaking quarantine regulations and rushing to his hometown of Kanpur after returning from Singapore with his wife. However, the suspended officer was quietly reinstated.
7. When athletes were forced to finish training early so an IAS officer could walk his dog in an empty stadium. 
Recently, there was a furore over social media when the Thayagraj Stadium of Delhi was vacated by 7 PM for the 'dog walk' of an IAS couple, though the state's guidelines allowed athletes to train till 10 PM.
It's not a dog's life if you are the dog of an IAS officer. https://t.co/QnIFpu37AR

— Harsh (@harsh8848) May 26, 2022
References: Times of India, The Hindu, SchoopWoop, News18, DeccanHerald
Featured Image Source: Deshabhimani