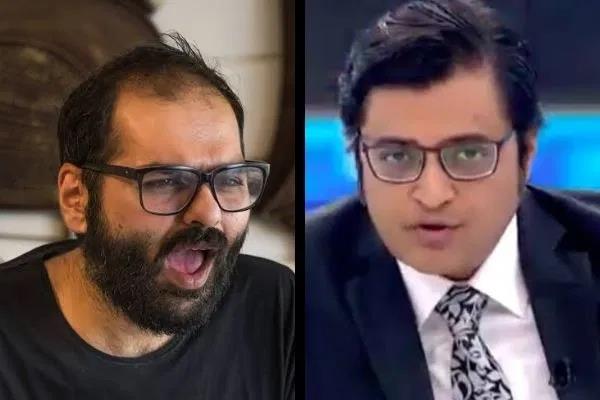 Stand-up #comedian #KunalKamra is charged with contempt of court over a series of #tweets criticizing the #SupremeCourt for granting TV anchor #ArnabGoswami interim bail on Wednesday. Attorney General, K. #Venugopal on November 12 granted consent to eight people who wanted to sue Kamra and initiated criminal proceedings against him. As a response to their request, Venugopal said that,
"It is time that people understand attacking the Supreme Court #unjustifiably and #brazenly will lead to #punishment."
Highlighting to Kamra's tweets he also said about the comedian crossing line between #humour and #contempt.
India's top law officer gave his consent in less than 24 hours after Law student Shirang Katneshwarkar and two lawyers wrote to him about the comic's fiery tweet storm. To which Venugopal said that,
"Apart from this, there is a picture of the Supreme Court building dressed in #saffron colour with a flag of the ruling political party, namely the #BJP, having replaced the tricolour. This is a #GrossInsinuation against the entirety of the Supreme Court of India that the SC is not an #independent and #impartial institution and so too its judges, but on the other hand is a court of the ruling party, BJP… All this, in my opinion, constitutes #criminal contempt of court."
However, it is crucial for us to remember that this is not the first time when Indian comedians have put themselves in trouble based on their allegedly 'offensive' comedy. To read more on these lines, check out the link:
https://www.thenewshamster.com/post/10-times-when-the-comedians-attempt-to-generate-laughs-turned-into-frowns
Kunal Kamra has posted several tweets to express his rage over the Supreme Court granting interim bail to Republic TV's Arnab Goswami a week after his arrest over the suicide of an architect, Anvay Naik, and his mother in 2018. A two-judge bench of Justices DY Chandrachud and Indira Banerjee responded to the Maharashtra government over the journalist's arrest and said: "If we as a #Constitutionalcourt do not lay down law and protect liberty, then who will?
Many #SocialMedia users expressed their disdain over the '#Ironical' measures that have been taken by the authorities, as similar treatment of providing #Interim bail was not given to other journalists or activists who have been jailed by the '#BJP-helmed' governments.
Kamra was previously #banned by several airlines in January after he posted a video showing him throwing questions at Mr Goswami, who did not respond at all. Since then, he has been reportedly running a feud with the anchor on social media as well.
PrashantBhushan, who was recently found in contempt of the court over a tweet, has criticised the AG's legal move and called it as 'counter-productive'.
According to LiveLaw, Advocate #RizwanSiddiquee's letter says that during the course of the proceedings and also subsequent to the verdict, Kamra's "#unruly and #salacious" tweets, if allowed to go unchecked, would allow influencers having millions of social media followers to start making "#RecklessAllegations and #DiabolicalStatements against the judges and the courts who do not decide cases in their favour or in accordance to their liking". This trend would soon "spell the #DeathKnell of an #IndependentJudiciary", the letter says.
Reacting to these letters, Kamra posted another tweet, which said, "Don't even call it contempt of court call it #contemptoffuture #RajyaSabhaSeat", thus referring to the former Chief Justice of India- Ranjan Gogoi being nominated to the upper house of parliament by the government.
This judicial decision has spurred mixed reactions among the masses, with one section accusing Kunal Kamra of crossing lines and going beyond 'Comedy', whereas the other section, like the Trinamool Congress MP Mahua Moitra questions, "Is it #ContemptofCourt to suggest that the SC should be tried for #ContemptofJustice ?".
Arishmita Aditya
Silchar
Sources:
1) https://www.ndtv.com/india-news/comedian-kunal-kamra-faces-contempt-charges-over-supreme-court-tweets-2324412
2) https://timesofindia.indiatimes.com/india/ag-nod-for-contempt-case-against-kunal-kamra-for-tweets-against-sc/articleshow/79201406.cms
3) https://thewire.in/law/kunal-kamra-supreme-court-contempt-arnab-goswami-bail
4) https://www.hindustantimes.com/videos/india-news/kunal-kamra-scvideo/video-ZmOxc6K8Wk9ojfZDEo8rqK.html
Picture Source:
1) OpIndia
2) Times of India
3) Twitter