Source: The Hindu
The world has been witnessing brutal military dictatorship in Myanmar in terms of killing of peaceful protesters, terrorizing the communities have been and detained them for the past few weeks. The situation in Myanmar is terrible and the people of Myanmar have been insisting to the international community to support in their need. Though many people in India have shown support to the protest for democracy but the government of India has been always double speaking.
India engaging in double speaking
India has made strong statements as a part of the UN Security Council and at the UN Human Right Council in Geneva in support of the people in Myanmar, but on the other hand the government is continuously preparing to deport Rohingya refugees to Myanmar. The Ministry of Home Affairs also issued a diktat to the Border States to ensure the entry of illegal immigrants from Myanmar. The Ministry labels them as "infiltrators" saying that they are not considered as refugees as the government did not sign the UN Refugee Convention. From 1st February when the coup in Myanmar started, approximately 300 Myanmar nationals including many policemen have come to India and these individuals will fall under refugees, like those who have a well founded fear of maltreatment and the usual international law of non refoulement is lawfully binding for them. This means that no state can send individuals back to danger which in case of Myanmar falls true. Non refoulement is applied to those countries who have signed and as well as to those who haven't signed.
Independent Investigative Mechanism for Myanmar (IIMM)
Orders have been passed from the UN and from other states to investigate the actions of the security personals in the course of the Myanmar protest and it should be investigated as possible crime against humanity. Independent Investigative Mechanism for Myanmar (IIMM), an UN recognized body to investigate and construct case files for international crime committed in Myanmar since 2011, which has issued a public call to the security personals to provide information's regarding the illegal policies and orders. Mizoram Chief Minister, Zoramthanga held a virtual meeting with the Foreign Ministers of Myanmar, Zin Mar Aung in the middle of the ongoing military crackdown, even though India has sealed border with the Southeast Asian neighbor and is monitoring to stop any Myanmar nationals to enter the country. In a letter dated on 18th March Mr. Zoramthanga said "the people residing on both sides have close linkages. India cannot turn a blind eye to the humanitarian crisis unfolding in front of us in our own backyard." India should show willingness to cooperate in these investigations and give shelter to individuals and allow access to IIMM.
Rohingya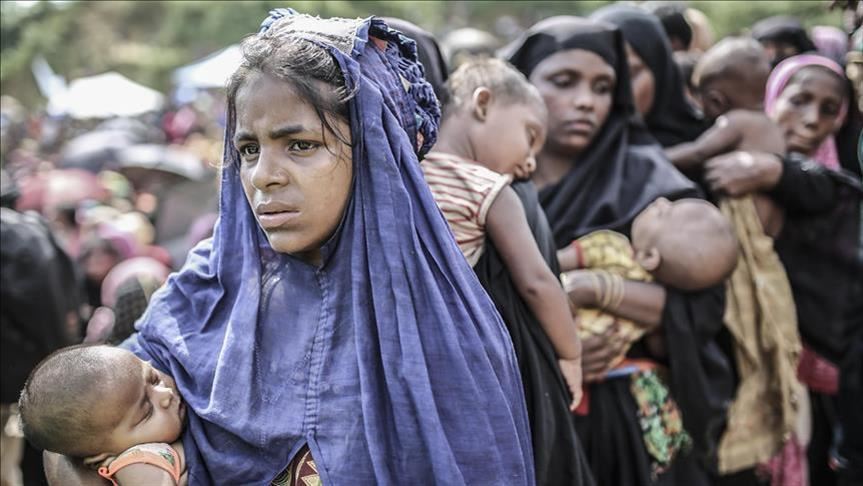 The Rohingya people are a state less Indo- Aryan ethnic group and they reside in Rakhine State, Myanmar. Before the displacement crisis in the year 2017, when approximately 740,000 fled to Bangladesh, an estimate of 1.4 million Rohingya lived in Myanmar. On 6th March 2021 the authorities in Jammu and Kashmir, sent 170 Rohingya to a holding center as a part of verification process and plans to send them back to Myanmar. Myanmar authorities have asked the Indian government to return eight police officers who are with their families and have taken refuge in India after the crackdown in Myanmar. The recent detention of the Rohingya in Jammu and Kashmir is due to the announcement made by the Indian government in 2017 that they would deport all Rohingya whom they consider illegal immigrants, 12 Rohingya have been deported since October 2018. Many Rohingya in Jammu and Kashmir says that they have identity documents issued by the United Nations High Commissioner for Refugees (UNHCR) and that they are afraidas Myanmar is not safe at this point of time.
International legal proceedings are continuing in relation to the Rohingya; a case before the International Court of justice relates to violation of the Genocide Convention by Myanmar has been brought against by The Gambia, with Netherlands, Maldives and Canada joining the case. The Prosecutor of the International Criminal Court is investigating international crimes against the Rohingya. These legal proceedings are demonstrating the seriousness of the crimes against the Rohingya. It is reported that Rohingya refugees are being gathered and detained and they are to be send back to Myanmar.
In the current situation, India should not deport Rohingya or others, including the police officers and their families, to Myanmar until the Indian government can appropriately decide whether they are seeking refuge.
Reference
https://www.thehindu.com/news/national/morning-digest-march-22-2021/article34126203.ece
https://en.wikipedia.org/wiki/Rohingya_people#:~:text=The%20Rohingya%20people%20(%2Fro%CA%8A,million%20Rohingya%20lived%20in%20Myanmar.
https://www.thehindu.com/news/national/other-states/india-seals-myanmar-border-amid-strains-over-refugee-crisis/article34123590.ece?utm_source=other-states&utm_medium=sticky_footer
https://www.hrw.org/news/2021/03/10/india-halt-all-forced-returns-myanmar#:~:text=On%20March%206%2C%202021%2C%20the,they%20plan%20to%20deport%20them.&text=Since%20October%202018%2C%20the%20Indian,claiming%20that%20they%20left%20voluntarily.
Picture
https://www.thehindu.com/news/national/other-states/india-seals-myanmar-border-amid-strains-over-refugee-crisis/article34123590.ece
https://www.aa.com.tr/en/asia-pacific/rohingya-reject-myanmars-foreign-citizen-offer/1544425