Special Economic Zones(SEZs) are created by the government to attract investment, stimulate growth and generate mass employment. These zones are equipped with world-class facilities and provide tax and duty-free investment options to both domestic and foreign players. Recently, the Department of Commerce has notified a new rule-43A  in Special Economic Zones Rules, 2006.
Centre issues new rule for work from home for SEZ units.#sez #SpecialEconomicZonehttps://t.co/fn1ihY0aGC

— The Theorist (@thetheorist_in) July 20, 2022

These are WFH(Work From Home) rules for employees working in SEZs. The WFH is allowed for a maximum period of one year. It can be extended up to 50% of employees in the SEZ units. Also, the rules apply only to a certain category of employees: those working in IT (Information Technology) and ITES (Information Technology Enabled Services);  employees who are temporarily incapacitated; employees who are traveling; employees who are working offsite.
The government has also empowered the Development Commissioner of the SEZ to extend the number of employees eligible for WFH beyond 50%, for any bonafide reason to be recorded in writing. As for employees who are already working from home, the government has provided a transition period of 90 days to seek approval. SEZs would also be providing the equipment and secure connectivity for those working from home.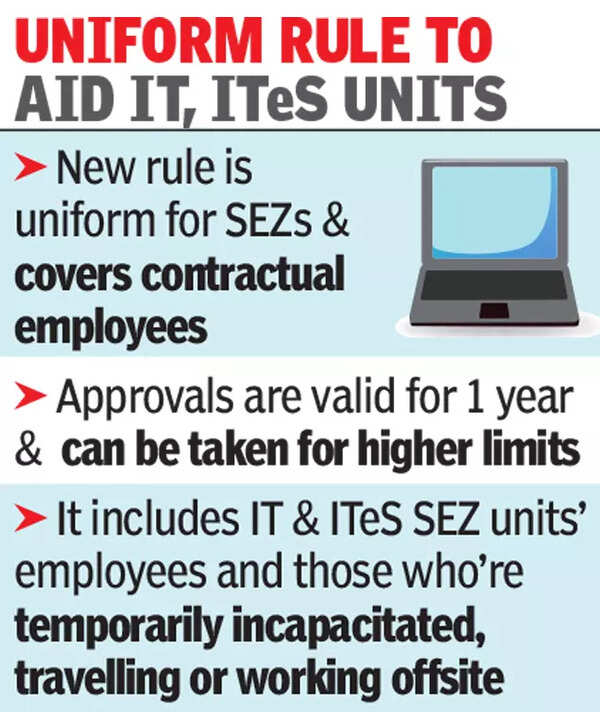 Credits: Times of India

The Ministry said the notification was issued on demand from the industry to make a uniform WFH policy across all Special Economic Zones (SEZs) in the country. The government's decision is a major step forward as it provides flexibility to both the employers and the employees. It can also contribute in increasing workers' productivity as they can work comfortably from their homes.
Well done to the Government of India for taking the bold step to officially recognize and legislate "Work from Home".
🇮🇳#india #workfromhome #legislation #43a #wurkr #startups #news #sez #futureofwork #flexibility #governmentofindiahttps://t.co/m955GWYkeC

— Annil Chandel (@Annilc) July 21, 2022
This is also in line with the 'remote working' trend seen across the world. According to Forbes, by 2025, a total of 70 percent of the workforce will be working remotely at least five days per month. A study indicates that the number of global job listings that mention remote work has nearly tripled since the onset of the pandemic, up from an average of just 2.5 per cent in January 2020 to almost 7.5 per cent in September 2021, with countries like Ireland, Spain and the UK seeing the greatest increases.
References: The Hindu, India Today
Featured Image Source: Times of India