Microsoft-backed Open AI's Chat GPT based on the GPT-3 (Generative Pre-trained Transformer) platform boosted the AI world and inspired giant techs to join the AI battle. As Chat GPT crossed 100 million active users, it was pretty evident for the battle to elongate further. Not just giant techs but there are hundreds of startups trying to jump on the AI bandwagon.
It's said that soon the GPT-4 platform will go online as the giant Google, who was closely following the disruption created by Chat GPT and now it's very near to the release of its own experimental conversation AI 'Bard'. Various GPT-3 have emerged online. The unique one among them is Gita GPT.
What's Gita GPT?
Gita GPT, developed by Sukuru Sai Vineet is an AI chatbot inspired by the Bhagavad Gita. It allows people to ask questions or problems that the AI chatbot answers by consulting the Bhagavad Gita. As we know that the Gita is a Hindu scripture that follows the dialogue between Arjun and Lord Krishna. It covers a broad range of topics, from the ethicality of war to the nature of God and self, from philosophical debates to the meaning of 'dharma' and a lot more…
Gita GPT 🦚
Find solace in the wisdom of Lord Krishnahttps://t.co/hxxXnIWhlC

Built with @OpenAI @vercel @nextjs @framer pic.twitter.com/bUbACxrvMW

— Kishan 🦚 (@jst_kishan) January 29, 2023
A Little About Gita GPT's Creator
Sukuru Sai Vineet works for Google in Bengaluru as a software engineer. Previously he was an investment analyst for Info Edge Ventures for six months, according to his LinkedIn profile. In 2022, he graduated with a bachelor's degree in Computer Science from Pilani's Birla Institute of Technology and Science. He also workedseveralr of internships beginning in his second year of college in 2019 before joining Google as a full-time employee. You can connect with him through LinkedIn: https://www.linkedin.com/in/saivineet/
Where Did This Spiritual Idea Initiate?
Well, we believe it to have apparently started with a tweet from Shashank Yalamanchi on January 27. "Imagine a BhagwadGitaGPT. You put your situation in words and the model gives out the relevant verse from Bhagwad Gita," he wrote. Shashank's tweet went viral with over 2 lakh views and several apps using the teachings of the Gita cropped up soon afterwards.
Imagine a BhagwadGitaGPT.

You put your situation in words and the model gives out the relevant verse from Bhagwad Gita.

— mr.y (@mryalamanchi) January 27, 2023
Your Life Problems Aided By Gita GPT
Users of Gita GPT may "consult the Gita" for everyday situations. For example, suppose a person asks the chatbot for help on how to deal with a breakup, it will analyse the content of the scripture and deliver the most relevant verses, but in a language and parlance that is more easy to understand today and much more easily comprehensible.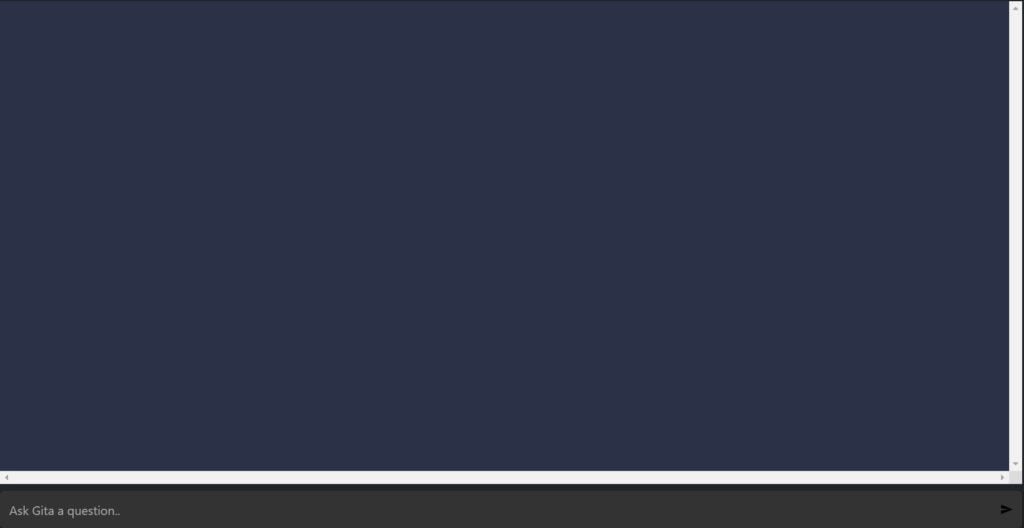 The chatbot asks you to "Find solace in the wisdom of Shree Krishna." The app calls the advice it provides "updesh." According to the website, it has answered over 1,20,766 questions.
Gita GPT is capable of answering questions ranging from "What is the meaning of life?" to "Should I continue to hate my boss?"
To the latter, the chatbot answered, "No, hatred is not the path to peace and contentment. Instead, strive to cultivate feelings of love and compassion for all beings, including your boss."
Gita GPT's Rivals
Gita GPT isn't the only AI-generator bot that has been trained on the holy scripture. There is Gita-Kishans GPT, on gita.kishans.in, in which the bot assumes the role of Lord Krishna while answering questions. There's, bhagavadgita.ai
To get the solutions to your life problems, visit: https://gitagpt.org/#
ALSO READ:-
Here's All You Need To Know About Bard, Google's Response To Rival ChatGPT AI