Secondary School Leaving Certificate exams (SSLC; or class 10 board exams) started in the state of Karnataka on Monday, March 28 following the Karnataka high court's order to enforce the state government's ban on hijabs in educational institutions. Authorities at an examination centre in Hubballi district refused to let Muslim females wearing hijab into the exam hall, citing a recent High Court ruling. Muslim pupils were also denied access to the SSLC Class 10 test hall in a government school in Ilkal, Bagalkote district.
One Muslim girl student from Hubballi district turned up for the exam wearing a burkha and was sent away. She was finally permitted to sit for her exams, but only after she had changed out of the outfit.
"She had come for her exams in civil dress,"  Dharwad Mohan Kumar, a senior Karnataka government official, told NDTV. "She did not follow the uniform dress code and was wearing burkha. We convinced her that she has to follow the high court order. She changed and she is taking her exams now."
Ahead of the exams beginning, Home Minister Araga Jnanendra had stated that anyone who violated the rules would face action. "Whoever violates the rule will face the action. We will not compromise on it. Everyone should obey the high court order. Students have to remove hijab and write the exam."
The Karnataka High Court's full bench has declared that hijab is not a mandatory religious practise and that everyone should follow the uniform dress code. The Karnataka administration has responded by stating that everyone must adhere to the High Court's judgement or they would be denied the opportunity to take the examination. A Muslim supervisor in Bengaluru was also fired for wearing the hijab on duty.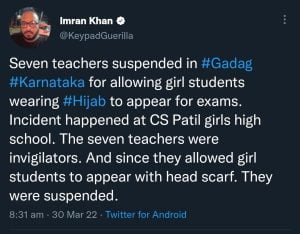 Over 8.69 lakh students registered for the exam, according to the Karnataka Secondary Education Examination Board (KSEEB), however 20,994 pupils did not show up.
BC Nagesh, the Minister of Primary and Secondary Education of Karnataka, claimed the test went smoothly. "After two years, full-scale SSLC exams took place. Children came to the exam centres excited and wrote the exam. Parents too happily sent their children to write the exam while teachers were too happy to conduct the exam," Nagesh said. He added, "Police will naturally take action against anyone violating the government rules. I am confident that no child will give opportunity for such things."
Former chief minister H D Kumaraswamy also added, saying that "Students of all faiths should write the exam by keeping their feelings aside. Do not skip the exam for any reason," the JD(S) leader said.