A slew of assaults by Hindutva foot soldiers on Muslim men during Navratri celebrations in Indore, Madhya Pradesh, Ahmedabad, Gujarat, and Akola, Maharashtra, have been making headlines.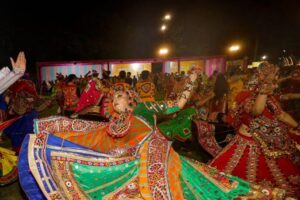 Three Muslim youth were taken from a garba event in Ujjain and beaten by a right-wing mob. Seven Muslim youths attempted to perform garba inside a pandal in Indore before being caught by a right-wing mob.
In the past week in Indore, the police have detained at least 14 Muslim males after Bajrang Dal vigilantes turned them over because they had approached locations where Garba was being performed as part of the celebrations for Navratri.
Muslim men have been beaten up by Hindutva vigilantes, nearly all of whom have been identified as Bajrang Dal or VHP cadres, and booked under various criminal provisions.
They are being accused of breaking into garba venues and catcalling at Hindu women in order to engage in "love jihad."
This recent violence follows statements made by Usha Thakur, the state's minister of cultural affairs, that the garba pandal has turned into a venue for "love jihad" and instructions from the BJP government of Madhya Pradesh ordering garba organisers to check the identities of attendees.
Interestingly, Ahmedabad is the only place where a FIR has officially been filed against Hindutva mobs thus far.
Usha Thakur was supported by BJP MP Pragya Thakur and former chief minister Uma Bharti, who both said that Garba is a religious dance and that heretics shouldn't be permitted in places where it is practised.