Astroport Sariska: The Star-Gazing Resort, Rajasthan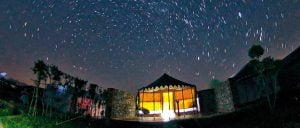 For those who enjoy astronomy and the outdoors, there is Astroport Sariska. It is regarded to be the first resort and activity centre in South Asia and India with a space and astronomy theme. Sachin Bhahmba, an astronomer and wildlife enthusiast, established the resort.

They conduct a variety of workshops and educational programmes to teach people more about the cosmos. You can expect lessons in astro-photography, DIY telescopes, sundials, and even zodiac signs because this is an astro-port where learning and entertainment go hand in hand. There are also treks, birdwatching, rock climbing, jungle safaris, village tours, yoga, and aerobics lessons among the other amenities.
Channapatna Dog Temple, Karnataka
Dogs are a man's best friend. Our favourite animal is honoured at this temple in Karnataka. The Dog Temple is located in Channapatna's Agrahara Valagerehalli area, popularly referred to as the "town of toys."
Not only is the temple dedicated to dogs, but they also hold an annual festival to celebrate them.
Legend has it that Goddess Kempamma appeared in a villager's dream and told him to construct a temple for two dogs that had disappeared from the village. She said that they would defend the locals and the village by driving out the negativity from the area.
Bullet Baba, Rajasthan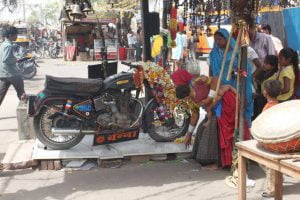 Rajasthan's Bullet Baba is one of the most extraordinary locations in India, with a truly spectacular deity and an even more astounding story. A Bullet Bike serves as the temple's God. Located in the Pali district of Jodhpur in Rajasthan, devotees travel here before embarking on a journey in order to be safeguarded from accidents and obstacles that may arise. According to legend, a man named Om Baba, who was killed in an accident and died on the spot where the temple now stands, was the owner of this bullet bike. Since then, each time the police have attempted to move the bike away from that spot, it has somehow makes it's way back there. The bike is now worshipped by travellers and a shrine has been established.
Skeleton Lake of Roopkund, Chamoli 
Roopkund Lake is located at an altitude of around 16,500 feet in the Indian Himalayas. For most of the year, it is frozen. On warm days, however, the ice melts and hundreds of human skeletons—some of which still have flesh attached—emerge from what is now infamous as the Skeleton Lake.
Five skeletons were examined, and a study conducted several years ago by anthropologists who estimated the age of the skeletons to be 1,200 years old.
Nobody knows how each of these people died. However, this lake's mystery draws hundreds of curious travellers each year.
Karni Mata Temple, Bikaner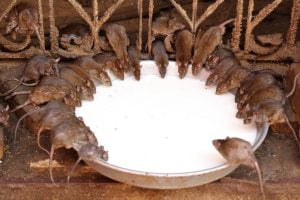 Rats, which are worshipped by the locals and many devoted followers at this temple, are the main attraction at the shrine of Mata Karni. It is believed that there are almost 20,000 rats present here.
It is believed that the goddess manifests herself in the form of rat-like creatures known as kabbas. Rats here taste the prasad before it is consumed by worshippers. Killing or trampling on the rats is forbidden and if someone steps on a rat, they must purchase a statue of a rat made of silver or gold and offer it to the temple as atonement. Rats are everywhere in the temple, even drinking milk from bowls.