India will be celebrating 75 years of Independence on Monday. It's a joyous day, full of gratitude and splendor. Schools fill with kids singing the National anthem, bazaars glow with tiny flags fluttering in the wind, Indian families scramble to the living room, switch on to Doordarshan to witness The Prime Minister hoist the Flag at the Red Fort and address the nation, the whole country stands with pride and unity.
 It is also an important day to pay homage to our freedom fighters without whom, none of this would've been possible. Some are remembered and cherished, others still wait to be acknowledged for their bravery.
We walk you through 5 Bravehearts whose contributions have been lost in time.
1.Maulana Abul Kalam Azad ( 1888-1958)
Azad, Patel and Gandhi at an AICC meeting in Bombay, 1940.
Affectionally called Maulana Azad, the maestro was the first Minister of Indian Education post Independence. He was an Indian freedom fighter, a theologian, a poet, and a senior leader of the Indian National Congress. He rose to prominence as an acclaimed journalist, producing work critical of the British and evolving the nuances of Indian nationalism. An avid supporter of Mahatma Gandhi, Maulana Azad helped to organize the Non-Cooperation movement in protest of the draconian 1919 Rowlatt Acts.
Azad on a 1988 stamp of India.
In his early days, he had established a weekly Urdu newsletter called Al-Hilal and later Al- Balagh to empower young Muslims to fight for Independence and restore communal harmony. In 1923 he became the youngest man to be elected as president of the congress. This led him to travel all around the country and with it extensively promoted Gandhi's vision, education, and social reform. He was a prominent leader of the 'Quit India Movement' working relentlessly among other Indian revolutionaries to unify Indians against the British. Post- Independence, he played an important role in framing national policies and spent the final years of his life writing his book India Wins Freedom. For his massive contributions to education in India, his birthday is celebrated as National Education Day across India.
2. Mukhtar Ahmed Ansari (1880-1936)
M.A Ansari was an Indian nationalist and political leader, former president of the Indian National Congress and the Muslim league He was also a surgeon, and a writer whose work 'The Regeneration of Man' was admired globally.
He played an important role in the negotiation of the 1916 Lucknow Pact and served as the Muslim League's President in 1918 and 1920. Ansari served several terms as the AICC General Secretary, as well as the President of the Indian National Congress during its 1927 session. He was an outspoken supporter of the Khilafat movement and led the Indian medical mission to treat the wounded Turkish soldiers during the Balkan Wars.
One of the founders of the Jamia Millia Islamia University he remained its chancellor from 1928 to 1936. For his contributions in the field of surgery Charing Cross Hospital London named a ward after him in India 'Ansari Road' in Daryaganj, old Delhi is named after him. 'Ansari Nagar' near AIIMS, New Delhi has also been named after him.
3.Maulana Hazrat Mohani (1875-1951)
Syed Fazl-ul-Hasan also known by his pen name Hasrat Mohani was an eminent Indian activist, freedom fighter, and poet. He was famously known for coining the slogan Inquilab Zindabad! ( long live the revolution ) in 1921. He had a  humble beginning, hailing from Unnao in Uttar Pradesh. A fearless activist, he was the first person to demand complete independence for India in 1921 at the Ahmedabad Session of Congress. He had also fiercely opposed the partition of India. Post-independence, He became a member of the Constituent Assembly of India which drafted the Indian Constitution. Unlike some Urdu poets like Josh Malihabadi and many Muslim leaders, he chose to live in India rather than move to Pakistan after independence (1947) to represent the remaining Indian Muslims on various platforms.
B. R. Ambedkar and Mohani (left) at Vallabhbhai Patel's reception
He was among the founders of the Communist Party of India at Kanpur in 1925, after being deeply inspired by the Russian revolution.
his legacy and his simplicity were unmatched among other freedom fighters. He has many places and roads in India and Pakistan named after him.
4. Abadi Bano Begum ( 1850-1924)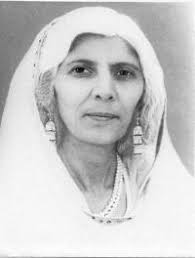 Also known as Bi Amma, she was a prominent figure in the Indian Independence Movement. She was one of the first woman freedom fighters in the country.
A widower from Amroha, she took it to herself to raise her six children after her husband's untimely death.
Her sons, Maulana Mohammad Ali Jouhar and Maulana Shaukat Ali went on to become leading figures of the Khilafat Movement and the Indian Independence Movement, sharing important roles in the Non-Cooperation movement against the British. In 1917, Bi amma fought to release Besant and her two sons from prison. Abadi Bano Begum played an important part in fundraising for the Khilafat movement. She attended the Indian National Congress and the All India Muslim League sessions in 1917, held at Calcutta. in her speeches, she emphasized that complete freedom could be achieved through unity between Hindus and Muslims.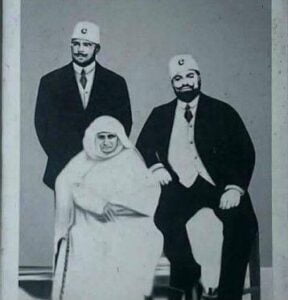 Mahatma Gandhi who called her Ammi Jan, encouraged her to speak, to mobilize women like her to join the freedom movement which propelled her to travel across India to raise support for the Khilafat movement. She along with Sarojini Naidu, Begum Hasrat Mohani Basanti Devi addressed women's only gathering and mobilized women to donate to the 'Tilak Swaraj Fund; which was set up by Bal Gangadhar Tilak for the Indian freedom movement. She strived for freedom until she breathed her last on 13 November 1924. Some scholars today fondly remember her as the forgotten 'Mother India'.
5. Abdul Gaffar khan (1890-1988)
Also known as the 'Frontier Gandhi', Abdul Gaffar Khan was an Indian freedom fighter and founder of the Khudai Khidmatgar Resistance Movement against British colonial rule in India. He was a devote follower of Gandhi and his ideals. However, the success of his movement made Khudai Khidmatgar experience some of the most severe repression of the entire Indian Independence Movement.
He strongly opposed the proposal for the Partition of India and consequently sided with the pro-union Indian National Congress and All-India Azad Muslim Conference against the pro-partition All-India Muslim League. When the Indian National Congress reluctantly declared its acceptance of the partition plan without consulting the Khudai Khidmatgar leaders, he felt deeply betrayed, telling the Congress leaders "you have thrown us to the wolves".
After the partition, however, he pledged allegiance to Pakistan. Not long after, he was arrested and imprisoned for opposing the 'One Unit' Program in Pakistan. In 1962, Bacha Khan was named an "Amnesty International Prisoner of the Year". Amnesty's statement about him said, "His example symbolizes the suffering of upward of a million people all over the world who are prisoners of conscience."
Bacha Khan died in Peshawar under house arrest in 1988 from complications of a stroke and was buried in his house at Jalalabad, Afghanistan.
There are countless other fighters whose bravery deserves to be heard and celebrated. This Independence Day may we remember our forefathers and teach our young to be like them.