Vignesh Acharya from Kotekar Beeri, Mangalore is an all-round multitasker. He currently is working as a freelancing interior designer at his own firm " Acharya Interiors". He also rescues animals, He sculpts Ganesh Idols for the occasion of Ganesh Chaturthi, he is a motorcyclist as well as a bicyclist.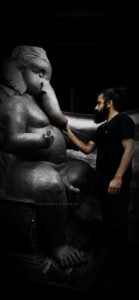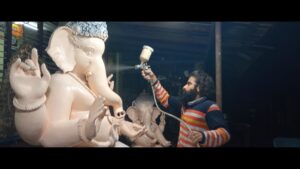 Sculpting Ganesh Idols is something that he learnt from his dad. "As a kid, I used to help Appa to make the clay soft, and also I used to help clean the Ganesh idols. Looking at his work I got the hang of how to sculpt ", said Vignesh. He does it as a Social Service, so they don't have fixed rates they receive the amount how much ever they receive from their customers. This time he received 15 orders, and he also conducted a workshop on how to sculpt Ganesh idols in August 2022. He only uses Clay to sculpt the idols as it is eco-friendly and leaves back no waste and paints them with watercolor which is far better than enamel paints. With the help of Namo Moyar Global Foundation, Vignesh conducted a Ganesh sculpting workshop, which was held on August 21st, 2022.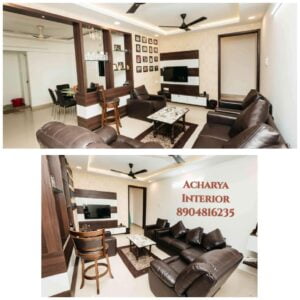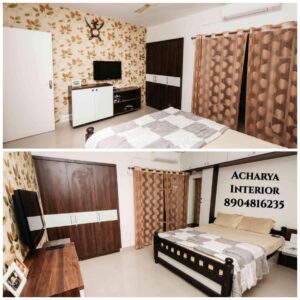 "I love designing and arts, so that is why I chose Interior designing as it was an interesting field. I get to learn new things each and every time. While we design we must be thinking from both technical as well as designing aspects so this part of my work makes it more interesting.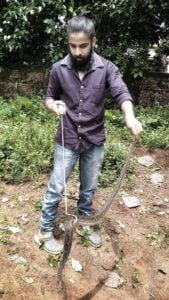 He is been rescuing animals for four years. He rescues animals, especially snakes, alongside he does rescue dogs and cats but he does receive rescue calls for wild animals as well as birds too. Vignesh says "I think I was in 5th or 6th Standard when a Python had entered my neighbor's house! and that day was the first time I saw my dad rescuing the snake for the first time. Later on, people began calling my dad to rescue snakes so I used to troll along with him and help him catch the snake while he held the head of the snake, but my love for animals and birds existed way long back. But my dad only used to rescue python and rat snakes that were entangled in nets. Later on, I started to learn about the behavior of snakes by watching videos online posted by the rescuers.
Now he is an independent rescuer who hasn't joined any rescue team as of now but they do call him if they need their help and vice versa". Whenever he is busy with his freelancing work if he receives a rescue call and can't go on it he makes sure to send another rescuer. As he receives a lot of snake rescue calls he says" One must keep the surrounding of the house clean in order to avoid the snake from entering or taking shelter in between the items that's kept. Use torch light in the night". Animal Care Trust in Shakthinagar is an animal shelter that has also helped him with treating his rescue cases and Dr. Yashashwi who has his own clinic too has helped him a lot in cases of emergency. Whenever he goes for rescue he makes sure to give awareness about snakes and try to prevent human-animal conflicts.
Vignesh says." Actually, anyone can help animals or nature itself, its easy. If people can't help it's ok but no one should harm nature nor the animals/birds. Don't throw plastics on the road, just use dustbins. Don't use mouse trap glue pads". Because it's not just rats getting stuck but also snakes, birds, and other animals too.
https://www.instagram.com/tv/CMqvXh-nhDq/?igshid=YmMyMTA2M2Y=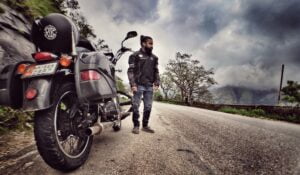 As he loves riding a bicycle as well as motorcycles, he once saw "Mangalore Bulls" in an event and eventually, he joined the club and has gone for rides with the club members but also has gone in for a solo ride when he has got free time sometimes in bike or in his cycle. "As usual one day, in the morning I was cycling towards Ullala endpoint and once I reached I was shocked to see the beach filled with plastic bottles, tires, and other garbage items. And I thought I should do something about this and I ended up cleaning the one side of the beach by myself " said Vignesh. Other than this he had also joined with people to get the beach clean.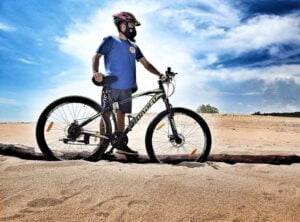 Vignesh Acharya
+918904816235/ 8310447244
https://instagram.com/vignesh_vishwakarma?igshid=YmMyMTA2M2Y=