IIFA (International Indian Film Academy) Awards 22 featured some of Bollywood's biggest names. From Aishwarya Rai to Sara Ali Khan to Ananya Pandey the celebs walked the red carpet in glitzy ensembles for the star-studded event. The film industry's leading females arrived in breathtaking costumes that screamed elegance and wealth. The male actors, on the other hand, were the night's huge attraction. Here's a look at what all of these stars wore to the awards show. Take a glimpse at what's ahead
As Indian stars streamed into the Abu Dhabi venue of IIFA Awards 22, the green carpet served strong fashion throughout the night. From traditional outfits and inspiration to full-on ball gowns and structured pieces, the awards night saw stars pull out all the stops to look and feel their best. Here are some notable looks from the night.

A Look at Bollywood Celebrities Stunning outfits at IIFA Awards 22: 
Ananya Pandey 


In a lovely shimmering white saree, Ananya Panday was one of the first stars to walk the green carpet. She said "my first sari moment and it has to be in my favorite Manish Malhotra".
Wearing a sequined six-yard drape for the first time at a gala night, 'Liger' actress Ananya Panday looked a vision in white in a Manish Malhotra saree. She told Gulf News that she had always wanted to wear one to such an event. Saturday night also showcased a performance by Panday.
Jacqueline Fernandez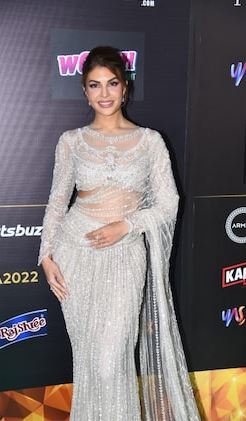 Jacqueline wore a silver embroidered pre-draped saree and a matching full-sleeved blouse on the IIFA Awards 22 green carpet. 
Kriti Sanon 
Kriti Sanon wore a sleeveless gold and lemon-yellow gown at the IIFA Awards ceremony. A host of Bollywood celebs opted to wear Michael Cinco, the Dubai-based designer to the stars. 'Mimi' actress, Kriti Sanon turned heads in a strapless gold and lemon-yellow Michael Cinco creation. Her ensemble featured a corseted top with a vibrant lemon yellow trail, which made for the perfect combination. The star also won big during the night's awards function. 
Nargis Fakhri
Yet another star wearing the designer was 'Rockstar' star Nargis Fakhri. She wore a gown that featured shades of green all over as her gown cascaded from a structured top to a full-bodied skirt, along with embellished strappy sleeves and an embroidered plunging neckline.
Sara Ali Khan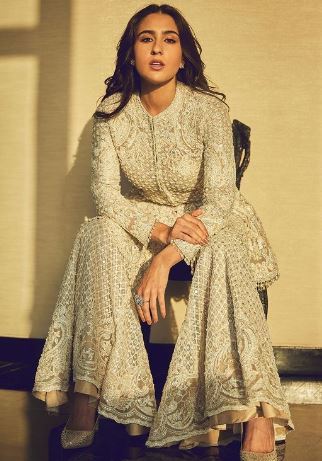 Sara Ali Khan looked radiant and graceful in Faraz Manan's traditional ensemble with intricate embroidery all over. Matching heels and accessories completed the inspired look on the star. 
Abhishek Bachchan and Aishwarya Rai Bachchan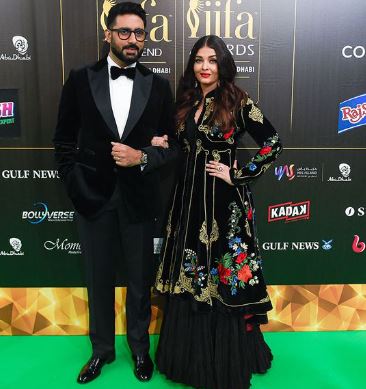 Abhishek Bachchan and Aishwarya Rai Bachchan brought the glitz and glamour from Cannes straight to Abu Dhabi. The power couple twinned in black with Rai Bachchan in a black Rohit Bal outfit with floral accents, while her husband sported a dashing black tux. 
Vicky Kaushal 
Looking dapper in a black suit and bowtie, Vicky Kaushal marked his solo appearance on the green carpet and shared that he missed his actress wife Katrina Kaif. "Life bhaut achi chal rhi hai… sukoon bhari ( Living the best life that is filled with peace). Katrina is very good. I am missing her presence today a lot. Hopefully, next year we make it to IIFA together," Vicky said. Later in the night, he marched off with the Best Actor award for 'Sardar Udham'. 
Shahid Kapoor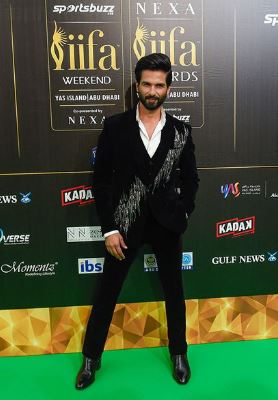 Wearing a Gaurav Gupta creation, Bollywood star Shahid Kapoor also made a bold fashion choice that paid off. The blazer featured quirky sequin detailing ensuring that the star stood out on the green carpet, in the best way possible.  
Stay tuned for more updates at this space TheNewsHamster