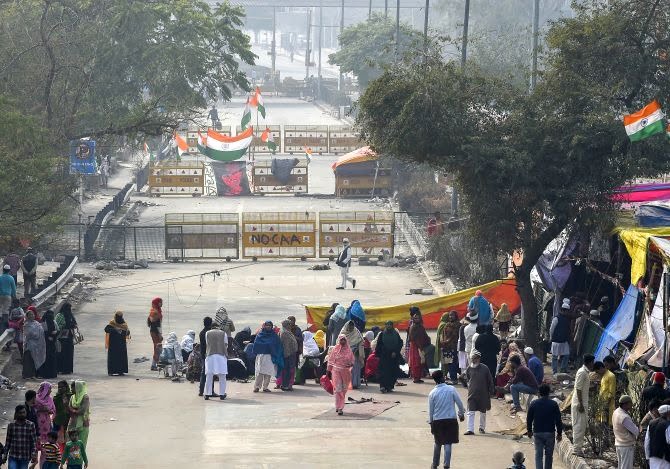 The #Supreme Court of India on Wednesday ruled that public spaces and roads cannot be occupied indefinitely by protestors and that dissent and democracy must go hand in hand. A bench headed by Justice S K Kaul passed the verdict on batch of petitions against the anti-#CAA protests in the national capital's #Shaheen Bagh. The court also said that authorities must ensure that such spaces are cleared.
"Dissent and #democracy must go hand in hand but protests should be confined to designated areas," said Justice SK Kaul. The top court order has come on pleas seeking removal of protesters from Shaheen Bagh area of the national capital that witnessed months of occupation of an arterial road, causing inconvenience to the commuters between Delhi and Noida.
Reserving the verdict, the Supreme Court on Monday had said that the right to protest needs to be balanced with the mobility of people on a public road, as a person has a right to move from one place to another and this right cannot be prejudiced by the blocking of public road to hold protest.
A bench comprising Justices Sanjay Kishan Kaul, Krishna Murari and Aniruddha Bose took up the matter in September after a gap of nearly seven months.
What was the issue?
The #Shaheen Bagh protest was a sit-in peaceful protest, led by women that began in response to the passage of the Citizenship (Amendment) Act (CAA) in both houses of Parliament on 11 December 2019 and the ensuing police intervention against students at Jamia Millia Islamia who were opposing the Amendment. Protesters agitated not only against the citizenship issues of the CAA, National Register of Citizens (NRC) and National Population Register (NPR), but also against police brutality, unemployment, poverty and for women's safety.
Mainly consisting of Muslim women, the protesters at Shaheen Bagh, since 14 December 2019, blocked a road in New Delhi using non-violent resistance for 101 days as of 24 March 2020. It became the longest protest against #CAA-NRC-NPR. As a precautionary measure #Delhi Police barricaded the neighbouring major highways around the area. Following the North East Delhi riots, police barricading and presence in the area increased with over ten companies, 1000 personnel, being assigned to Shaheen Bagh. The protests ended on 24 March 2020 as Delhi Police vacated the site due to coronavirus pandemic.
The top court observed today that protest are necessary in a democracy but that they should be carried out in a designated area
Where did the concept of #protests come from?
It is not surprising that the concept of protest was popularised during the freedom struggle some were violent some were peaceful the call for protests had one objective which was to ensure that the voice of the Indians was heard, to ensure that the British considered Indians as equals. Protests ranged from fasting to rallies to silent sittings where its objective was to make sure that the entire nation was appraised of the situation.
Times have changed, but methods remain the same
Protests to this day perform a function of what is called as a political pressure groups who ensure their influence in policy making or decisions of the government. However, the methods incorporated by these groups have extended to become vote bank issues and to progress a party's individual ideology which is a threat to democracy
During the freedom struggle when protests took place the British citizens who resided in India were affected by this and they in turn raised their voices so as to ensure smooth functioning.
However, today protests have become a trend, a PR opportunity, a must for every political aspirant, instead of trying to resolve issues with debates and discussions people consider it is much better if they disrupt public harmony but the fact is those sitting in government offices do not care, no one cares if a person was late to work because of a rally or a sit-in. Every individual has their own goals, agendas to complete.
So what is the solution?
As suggested by the court, protests are necessary to make your voice heard but that does not mean that you continue to disrupt and destabilise daily functioning of the society
· Allocate areas for a protest,
· Make your voice heard through #social media which is a much better forum and has the maximum outreach.
· Ask for open debates with leaders and policymakers
· Do not blindly go behind a leader shouting slogans instead raise questions
· Take part in protests which truly mean something rather than doing it just because its 'cool'
There exists a fine line between the fundamental right of freedom of speech and the duty of a citizen to ensure peace and harmony in the society
It is for us to decide of whether we wish to be branded as a miscreant or a True citizen.
-Bhargav B.V
-Bengaluru
References – https://en.m.wikipedia.org/wiki/Shaheen_Bagh_Protests
https://www.wionews.com/india-news/public-places-cant-be-occupied-indefinitely-by-protesters-supreme-court-on-shaheen-bagh-333088
Note: The views expressed in the article are the sole opinion of the writer. The intention is not to incentivise any form of hate or dissent against any group or individual.