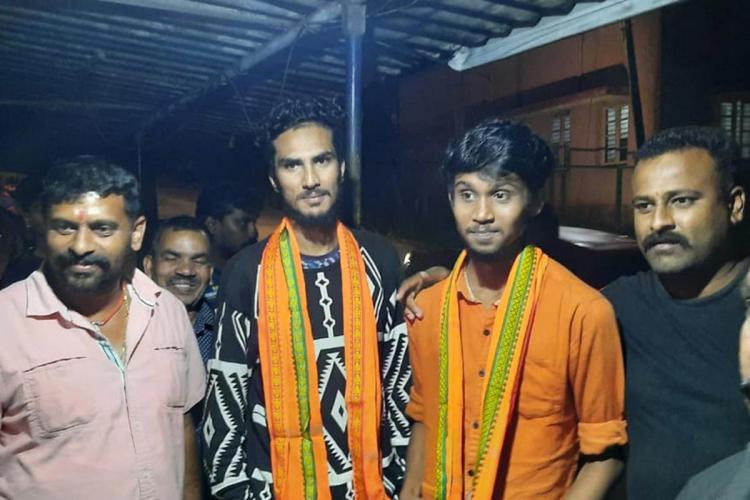 Two criminals, who harassed two Muslim school girls, draped in saffron shawls after their release (Image: TNM)
by Divyakshee K.
Two criminals were released from the Madikeri district prison in the Kodagu district of Karnataka on December 4th, after serving two weeks in prison for harassing two Muslim school girls in public. Just outside of the jail, a small gathering had assembled to greet them. The men, being treated like heroes, were carried in a waiting car to Shanivarasanthe, a tiny village in the northern section of Kodagu. BJP leader SN Raghu even posed for selfies with the grinning men, who were draped in saffron shawls.
Raghu erupted in praise of the two men, saying, "The youth were involved in the work of religion and this nation will bless them and help them prosper,". Raghu had even paid a visit to their families a week before and guaranteed them, "We will get your son back home. He has done this for the sake of the country… He did it for the sake of his religion. You won't have to pay anything since we'll take care of everything."
Prajwal and Kaushik, the two men in question, were sentenced to prison on November 18 for allegedly assaulting two underage Muslim girls at a photocopy shop in Shanivarsanthe. They were part of a group of 30 males who were enraged that these girls had given their burqa to a Christian classmate.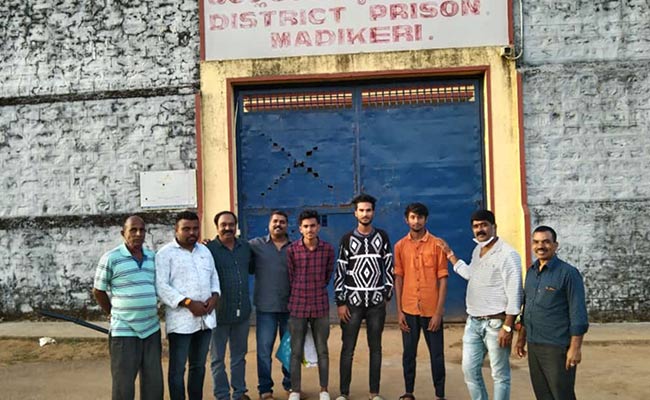 The attack was the latest in a month-long string of communal hate crimes in Kodagu. Residents in the district are concerned about the support that the males accused of assaulting school-aged children have received. However, people active in Hindutva organisations in Kodagu appear to have been working for this for years.
The police's handling of this instance has been questioned by local communities. "The main person who threatened my daughter — Madan — is still free," says Riyaz Pasha, the father of the Muslim girl who was beaten in public. They organised this ahead of time, trailed her to the bus stop with cameras, and harassed her. She was accused of doing 'Love Jihad' and other things she couldn't fathom at her age, but no one stepped up to assist her. This demonstrates that even the general people fear them (Hindutva organisations)."
"The police allowed Hindutva groups to hold a rally even though prohibitory orders were in place. This rally was led by SN Raghu, who was accused in the 'Pakistan Zindabad' video morphing case," journalist Haneef MM had added, while speaking to the News Minute.
Some individuals in Somwarpet believe that SN Raghu's recent acts have helped him gain popularity. "It is dangerous since it can encourage young people to carry out more mob attacks and people are silent when Muslims are attacked. But for Raghu, his prospects in the BJP will improve by doing this," says Shashidhar VP, a Congress spokesman in Kodagu.
Though the Shanivarsanthe police were rigorous in filing charges against both Hindu and Muslim officials, arrests were not always made. "We wanted to maintain communal harmony in our area. SN Raghu and Zakir Pasha's family were fighting, and SN Raghu was anxious that the Scheduled Castes and Scheduled Tribes (Prevention of Atrocities) Act be added in the allegations against Zakir Pasha's family. Even though we filed a case against SN Raghu, Hindutva groups went ahead with the bandh in Shanivarsanthe," a police official informed TNM.
Kshama Mishra, the Kodagu SP, refuses to comment on the recent happenings in the area. "We have registered cases against all of the accused persons," she told TNM.
Hindutva movements have always found supporters among Kodagu's powerful and land-owning classes. However, it wasn't until 2015 that a network of Hindutva organisations banded together to protest the then-Congress government's commemoration of Tipu Sultan's birth anniversary. "I remember being at the first Tipu Jayanthi protest and there was only a handful of us at the protest. Support for our cause has risen throughout Kodagu since then," says Vinay of the Madikeri-based Bajrang Dal.
In Kodagu, resistance to Tipu Sultan stems from Hindutva tales portraying him as a religious bigot who murdered Kodavas in 1785.
During the Tipu Jayanthi riots in 2015, a Vishwa Hindu Parishad (VHP) member was murdered after being stoned, leading to an outpouring of support for the protestors. The number of Hindutva supporters demonstrating against Tipu Jayanthi in Kodagu grew over the next several years until the BJP retook power in 2019 and ended the state-sponsored commemoration of Tipu's legacy.
According to Vinay, there were 20 Bajrang Dal units in Kodagu that year, but that number has climbed to 48 in the previous two years. Shanivarsanthe was among the towns where additional units were created. Since the 1990s, it has had a history of community disturbances.