Social media continues to maintain low standards of its reliability in context to news as a tweet circulated on the platform, Twitter claiming that the pre-release event for the Bollywood big shot, Brahmastra, was canceled due to a "lack of crowd." 
Brahmastra pre-release event in Hyderabad cancelled due to 'lack of crowd'😂😂😂😂

After massive #Boycott by North audience, South has also rejected Bollywood.#BoycottBramhastra #BoycottBramhastraMovie #BoycottBollywood pic.twitter.com/koeYGI7SQZ

— गायक अनुज धीमान (राष्ट्रभक्त🚩🇮🇳)🚩🚩🚩100%FB (@Anuj_2289) September 3, 2022
The release of Ayan Mukherjee's Brahmastra is nearing and at about the same, a pre-release event was to be hosted in Hyderabad. The event was supposed to be presented by SS Rajamouli while having Jr. NTR as the special guest. 
"Due to unforeseen circumstances, the pre-release event has been canceled. Inconvenience regretted," was the official statement for the event's cancellation.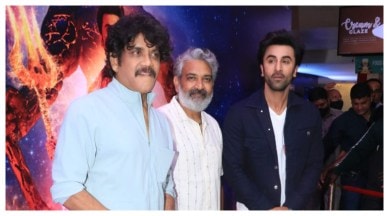 The Event In Hyderabad
The statements in the tweet were proved false by various news organizations as they reported that the pre-release event was canceled due to a delay in seeking police permission by the organizers. 
Unfortunately, several people had already gathered at the venue and there were plans for large-scale pyrotechnics and fireworks. 
According to police reports, the event was under-prepared in terms of security. A crowd of nearly 30,000 people showed up when the expected number of people was in the 10,000-20,000 range. 
Furthermore, the department has confirmed that the application was made last minute to the police. Therefore, the application was denied as the police could not spare the required number of personnel for the event. 
However, Shreya Media group, the organizers defended themselves by saying, "On 25th of this month, on behalf of Adyashree Infotainment (Shreyas Media) organization, we applied in the events department of Rachakonda CP office seeking police permission for the Brahmastra pre-release event. The acknowledgment copy was handed back on the 26th. It is not true that the application was made last minute. We applied as per the rules eight days ago."
"The local Circle Officer came to the event area two days ago to supervise the arrangements and advised some precautions. Based on past experiences, this time we arranged to deploy CCTV cameras along with barricades and a large number of bouncers to ensure that all the precautions mentioned by the CO are followed so that no mistakes are made," he added.
As a result, the organizers have incurred massive losses. Reports claim that the company suffered a loss of around Rs.2.25 crores due to last-minute cancellations.