Karan Johar's Bramhastra just found itself engulfed in another raging controversy. Enraged Social media users lashed out at Karan Johar, Alia Bhatt, and Ranbir Kapoor after a screenshot of a tweet made by BBC Hindi went viral on social media.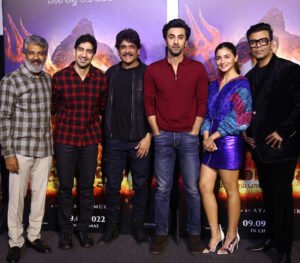 The tweet, allegedly written by the news channel British Broadcasting Corporation in Hindi, claimed that the producer of bramhastra Karan johar and actors Alia Bhatt and Ranbir Kapoor have donated huge sums of money as financial aid for flood-hit Pakistan.
#Alia_My_Foot has been trending on Twitter with netizens fuming over the film's star cast and producer's double standards and for being sympathetic towards Pakistan.
Claims
Not that i am going to watch brahmastra, but this is a fake news..https://t.co/ImoKR01qnn

— Jitesh Srivastava (@JiteshS53620887) September 2, 2022
The now-viral tweet in Hindi claimed Karen Johar, the producer of the film bramhastra, came forward to help with the floods in Pakistan and donated five crores while Alia Bhatt and Ranbir Kapoor donated one crore each.
Further claiming that Bollywood is an example of humility, the tweet also read that the film will donate an additional 51 crores if the film is a hit at the cinemas.
Angry netizens on Twitter, unaware of the credential of the tweet, brutally trolled the actors and called out to a complete boycott on the film.
What does our fact-check say?
We at NH have found inconsistencies in the written format of the tweet.
The date and time format as given in the tweet was inconsistent when compared to the format on Android and iOS.
Furthermore, the tweet did not carry a translating option even though the now-viral tweet was in Hindi.
It is also important to note that the tweet made a mistake, misidentifying Ranbir Kapoor, as Ranveer, who is not even part of the trilogy movie franchise.
The truth was revealed after a tweet was uncovered on the original BBC Hindi's Twitter account, which dismissed the claims and clarified that the screenshot on social media was fake.
"The tweet is fake and no such tweet or such news has been made by BBC Hindi," the tweet in Hindi mentioned.
Verdict
It had been clarified that the viral post circulating on social media is fake after it revealed inconsistent details about the format of the tweet.
BBC Hindi also shared a statement on Twitter that they didn't make any such claims which proved the fact that the post was fake.