Have you ever wished you could communicate to animals, the lost ones or the ones with you or even the dead animals? What if you could simply ask them what was wrong, how they feel or why they behaved the way they did, or what is bothering them or their health? Wouldn't you love to have a more direct connection with your pets? With the help of animal communication, this is possible and even more than that if done in the right way. It is unbelievable how effectively it works! As a matter of fact, the animals in our life try to communicate with us all the time. They want to tell us what's bothering them, what makes them happy, and how we can make their life easier, fun-filled and healthier together. Through the art of animal communication, we can understand their concerns while they can share their innermost thoughts and feelings. For example, have you ever noticed how your pet seems to disappear when it's time to go to the vet or take a bath? Or how they appear almost magically when you think about grabbing something good to eat? This isn't an accident or a coincidence. Since they always pay attention, they know what's going on with you. Similarly, if you learn how to pay attention, you will know what's going on with them too.
"Animal communication is a surreal mode of communication that enables one to not only learn about an animal and its surroundings but also about themselves," said Shrawani a fellow student who has telepathically connected with all kinds of animals as well as plants. The more I connect, the more I become subconsciously aware. We communicators can associate with a soul through an image, a description, or even a memory. It doesn't matter if they are far away, which is how communicating with lost animals becomes easy." Telepathic Animal Communication has always existed since the very start. It is a natural ability that all of us are born with but sometimes fail to recognise and acknowledge it. Since few of them are not aware of this entire process they assume that it's fake and not real!! One has to try to do this with an animal communicator to gain the trust in this process which will blow your mind.
Animal Communication is known widely and practiced worldwide. There are many perspectives that people have about so many things, to give an example people mocked the fact that the Earth is round and not flat which was a popular belief. We are all very conditioned to be left-brained and logical and hence, we question everything that cannot be proven in a lab. Having said that, there is a lot of research that is happening in the field of telepathy. While there are veterinarians who dismiss this, there are also those who are also learning it. I'd encourage people to research or read about it, there's ample material available on the net to know about it. Often you get a powerful feeling that your pet needs to tell you something important, but you just can't quite get it. It may surprise some, but they know more about you and your surroundings than you do yourself. "Souls from both the living and the dead can inform you about their physical conditions, health issues, or the reason for their passing respectively. Again, It may be amusing for a new person, but animals can also diagnose their health and prescribe for the same." According to her, telepathic communication has helped animals to heal, be free, be loved, and above all it has helped them gain an equal status amongst humans.' says Sonali Thite the Animal Communicator.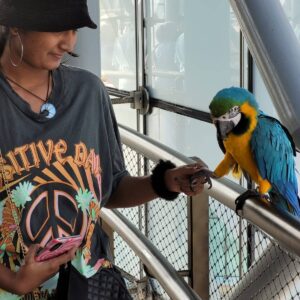 Everyone has intuitive abilities— it is a gift that is capable of being taught to anyone able and willing to learn. Animal communicators are trained to use tactics ranging from non-verbal cues and vocalisations to the use of language to tune in and connect energetically so they can hear their thoughts and converse with them. Studying communication not only gives us insight into the inner worlds of animals but also allows us to better answer important evolutionary questions. Moreover, it is important because people misunderstand animals all the time which gets them into interesting and sometimes awful predicaments. They regularly feel frustrated when we are unable to speak their language or consider their viewpoints.
In Animal Communication you can communicate with any animal or a plant or even a place. Well, few might be afraid to communicate with reptiles or wild animals, but that is really up to the individual on what aspect they appear to be scared of them. "It could be fear that they harbor the animal in physical, there really is nothing to be scared of because the beauty of telepathic communication is that one doesn't have to share physical space or close proximity to communicate with the animals", says Sonali.
Manali Nalavade, a 29 yr old computer engineer shares her experience with the same. "I do believe in animal communication because I have practiced it and have helped many animals with it. By the means of it, we can make ourselves familiar with the thoughts of animals and help them with whatever difficulties they are facing. For all one knows, It could be a behavioral issue, health problem, help communicate with a missing pet to try finding their way back home, or pass on information from those who are deceased. As an animal communicator, I have felt their emotions by touch and feelings by their thoughts. In my opinion, animals are good at guiding us and one can always learn from them."
Animal Communication has helped the animal lovers communicate with their lost pet and connect with them. "Though hiring an animal communicator does not guarantee that the animal will be found, or rather to put it out, finding the animal is just one of the outcomes. The important thing to remember is that animal communicator can only transmit messages of the human and animal to each other and not really bring the pet back if it has chosen to not want to return.The animals too have a choice and free will and know how to exercise it better than we humans do as we tend to think more from social acceptance perspective. Hence it is essential to first make the pet parents or humans associated with the animal of such perspectives." says Sonali.
Learning how to talk with animals and connect at a deeper, heart-centered level helps you become a better, balanced, kind, and considerate person. The process reveals who your animal really is and can completely transform the quality of your life and your relationships. 'Overall, telepathic animal communication has helped animals heal, be found, be free, to be loved and most of all it has helped them gain an equal status amongst us' says Shrawani.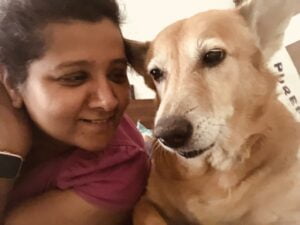 Well, are there any challenges and issues that animal communicators face? Let's hear it from Sonali, "Let's not call it a challenge but a perspective difference. We are so conditioned to look at animals, especially pets, in a way that requires us to be in command or control the pets' actions and take decisions on their behalf that some of the pet parents find astonishing with the kind of information that the animal shares. The fact that animals are just as much or maybe even more spiritually aware in a state of flow with life than we aspire to be is what some find it difficult to fathom or accept. There are pet parents who approach an animal communicator with a pet with behavior issues such as aggression and expect an animal communicator to communicate with the animal as to how they want their pet to behave with them, or people, or at places. This is where an animal communicator needs to explain to the pet parents that the behaviour issue could be its own OR the animal maybe mirroring one of the family members and that the animal's behaviour really depends on how they behave and hence self-correction will lead to behavioural changes in the pet as well."
Sonali takes a four-day class on Animal Communication."Firstly, there's no education needed as this is an innate ability, so when people register for theo workshops, I'm purely making them aware of it. It is extremely humbling to see the perspective shifts happening within them". Because of animal communication, we can get to know the thoughts of animals and help them with whatever difficulties they are facing. As an animal communicator, I have felt their emotions by touch, feelings, by their thoughts, and visions.
"I'd rather quote a tom cat, who once scolded me when I was working with him and his human. I was being extra empathetic towards the human, that's when the cat scolded me saying," Your job is to consider us, CONSIDER US!" meaning that as an animal communicator I am expected to be in a neutral space than take sides " says Sonali
https://instagram.com/talking.tails?igshid=YmMyMTA2M2Y=