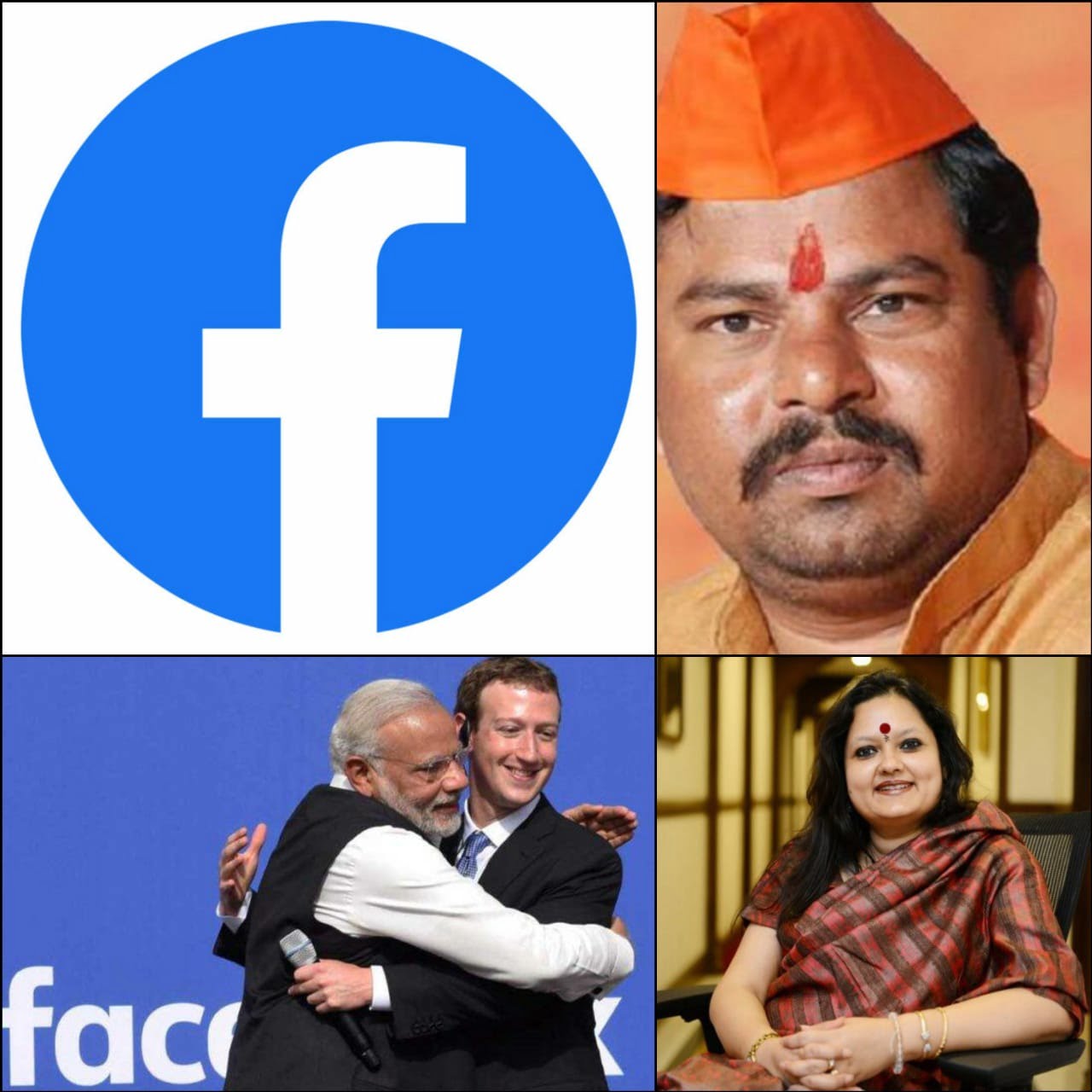 #Facebook has made it to the headlines and no, it is not to announce an update or acquirement. The social media giant is in news for being opposed to applying their hate speech rules to a certain BJP MP from Telangana and at least three other Hindu nationalist individuals and groups. According to a report published on US's Wall Street Journal on Friday (14th August), a few unnamed former and current employees of #Facebook have told that at the behest of Ankhi Das, Facebook's top public policy executive in India, they couldn't apply the site's hate speech rules to T Raja Singh's (Telangana's MP) Facebook posts. They also said that Ms Das told them that "punishing violations by politicians from Mr #Modi's party would damage the company's business prospects in the country. Further they said that this particular intervention was a part of broader pattern of favouritism by Facebook towards Mr #Modi's #BJP and Hindu hard liners.
The said post by #TRaja was attributed to his statement about Rohingya Muslim immigrants. Other posts by few BJP leaders had content which accused Muslims of intentionally spreading the corona virus, plotting against the nation and making a noise about love jihad. In response to the allegations, Mr Singh has said "Sometimes I go to public meetings and talk in style. My followers might have uploaded those videos" (on their pages which might have been taken down by Facebook). According to an article on BBC, when asked about why he would post such incendiary content, Singh replied "There are a lot of anti-socials in my area. I counter them in their language, sometimes it is communal".
This isn't the only allegation against #Facebook by its former employees. They have also said that Ms Das had provided #BJP with favourable treatment on election related issues. In April 2019, before general elections, Facebook had announced about taking down inauthentic pages linked with the Pakistan military and Congress party. But due to Ms Das's intervention, they didn't disclose anything about removal of pages with false news tied to BJP, the employees have said in the report.
The popular social media site's reservations weren't just meant for Mr Singh. They also didn't take down any posts by #BJP MP from Karnataka, Mr Anantkumar Hegde which were filled with anti-Muslim content. Facebook's contemporary social media behemoth, #Twitter suspended Mr Hegde's account following the hate mongering, but Facebook didn't do it. After an enquiry by WSJ, apparently, Facebook took down some of Mr Singh's as well as Mr Hegde's hate posts.
One of the factors which makes these reservations more problematic is Facebook's user base in India. The country is their biggest market with more than 340 million users on #Facebook and 400 million users on #WhatsApp and more than 80 million users on Instagram. This can also be a factor in why Facebook might be apprehensive about screening the ruling party people's content. In a series of articles by Cyril Sam and Parnajoy Guha Thakurta (prominent journalists), they had written that Facebook had established a "dominant position in India with more than a little help from friends of Prime Minister Narendra Modi and the BJP". (The article also discussed Congress's relations with the social media platform). Facebook has also recently invested 5.7 billion USD in Mukesh Ambani's Jio.
In a response to all the allegations, a Facebook spokesperson has issued a statement which says "We prohibit hate speech and content that incites violence and we enforce these policies globally without regard to anyone's political position or party affiliation. While we know there is more to do, we're making progress on enforcement and conduct regular audits of our process to ensure fairness and accuracy,".
With this information coming to light, political sparks soon began to fly in India. Congress leader Rahul Gandhi said "BJP & RSS control Facebook & Whatsapp in India. They spread fake news and hatred through it and use it to influence the electorate. Finally, the American media has come out with the truth about Facebook,". To which Union IT Minister, Ravishankar Prasad replied reminding Gandhi of their alleged involvement in the Cambridge Analytica and Facebook controversy. "Losers who cannot influence people even in their own party keep cribbing that the entire world is controlled by BJP and RSS." "You were caught red-handed in alliance with Cambridge Analytica and Facebook to weaponize data before the elections and now have the gall to question us,".
Needless to say, our politicians are doing what they do best, divert attention from the issue at hand to promote their parties and their agendas.
#ShashiTharoor, the head of the Parliamentary standing committee on Information Technology has said that the Committee would certainly wish to hear from Facebook about the reports and their proposition for tackling hate speech in India. The 31(NDA) members of the IT Committee are now seeking the removal of Mr Tharoor from the Chair as he violated rules and procedures to push the agenda of the Congress part in the panel.
In the meantime, Ankhi Das, has filed a complaint with the Delhi police alleging that she has been receiving violent threats to her life and her body ever since the report came out. She has also said that she is scared about the safety of herself and her family members. She also said that content maligns her reputation based on the article and she has also been subjected to name calling, cyber bullying and eve teasing on the internet. A FIR has also been lodged against Ms Das based on the complaint of Awesh Tiwari, a Raipur based journalist who also happens to be a member of Congress government's fake news committee for allegedly hurting religious sentiments and inciting communal violence.
While the Congress is all set to raise the issue in Parliament's monsoon session expected to take place in September, the ruling party and the government have discarded the demand for a parliamentary probe in the matter and has said that Congress needs to come clean about their previous Facebook scandal.
– Jahnavi TR
– Bengaluru
References – https://thewire.in/tech/facebook-hate-speech-bjp-wall-street-journal
https://www.indiatoday.in/india/story/facebook-hate-speech-controversy-bjp-congress-rahul-gandhi-ravi-shankar-prasad-ankhi-das-1712259-2020-08-17
https://www.bbc.com/news/world-asia-india-53803256
https://indianexpress.com/article/india/fir-filed-against-facebook-india-public-policy-director-ankhi-das-6559727/