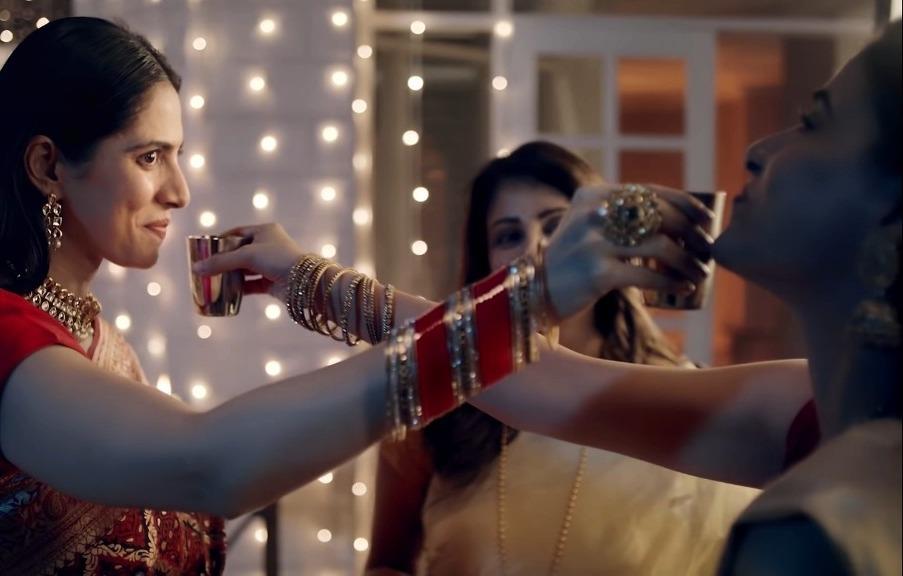 by Divyakshee K.
Following an overwhelming amount of online abuse, multinational consumer goods company Dabur is the latest brand to jump on the bandwagon of giving in to the pressure and taking down their advertisement. The commercial in question depicted two women who were implied to be a same-sex couple getting ready for the Karwa Chauth rite. Traditionally, this ritual calls for a woman to fast for her husband for a day and break it only after seeing the moon at night.
Hundreds of outraged citizens took to Twitter to criticise the brand for "mocking Hindu faith and Hindu festivals" in the commercial, which featured both ladies applying bleach to their faces while getting ready for the event. Many Twitter users were also offended by the ad's catchphrase, "Glow with Pride," and called for a boycott of Dabur products.
On Monday, the company issued an apology, saying that it "strives for diversity, inclusion, and equality," and that the intention was "not to offend any beliefs, customs, or traditions, religious or otherwise."
Despite the company's apologetic statement, Madhya Pradesh Home Minister Narottam Mishra stated on Monday that he has told the state police chief to inform Dabur India that the "objectionable" beauty product commercial must be removed and that if the ad is not removed, legal action will be taken.
In his statement to the reporters, Mishra said "I consider this a serious matter. More so because such advertisements and clippings are made on the rituals of Hindu festivals only. They (the advertisement) showed lesbians celebrating Karva Chauth and seeing each other through a sieve. In future, they will show two men taking 'feras' (marrying each other according to Hindu rituals). This is objectionable,".
Mishra's statement on this ad was made just after he vocally condemned Prakash Jha's latest project, which is still in the filming stages, taking to Twitter to declare that Jha's content is an "attempt to deliberately target Hinduism". This statement came a day after right-wing Bajrang Dal activists vandalized the set of the web series, which is named "Ashram-3". Videos taken on witnesses' phones showed the mob follow after the team, catching at least one of them and brutally hitting him with a metal light stand.
Mishra backed the group's demand to change the name of the web series, taking to Twitter to say that "In the name of the web series, an attempt is being made to deliberately target Hinduism for a long time. Considering the spirit of the majority society, Prakash Jha should consider changing the name of his web series Ashram."
On Wednesday, Dabur removed the ad from all of its social media accounts and issued an apology for the second time. On their official Twitter handle, they posted that "Fem's Karwachauth campaign has been withdrawn from all social media handles and we unconditionally apologise for unintentionally hurting people's sentiments,".
Dabur, however, isn't the first company to be involved in a dispute of this nature. Just this year, we have tyre manufacturer CEAT and clothing brands FabIndia and Manyavar receiving masses of abuse online for advertisements that allegedly "hurt religious sentiments".
Image Source: www.tribuneindia.com
Reference: http://thewire.in