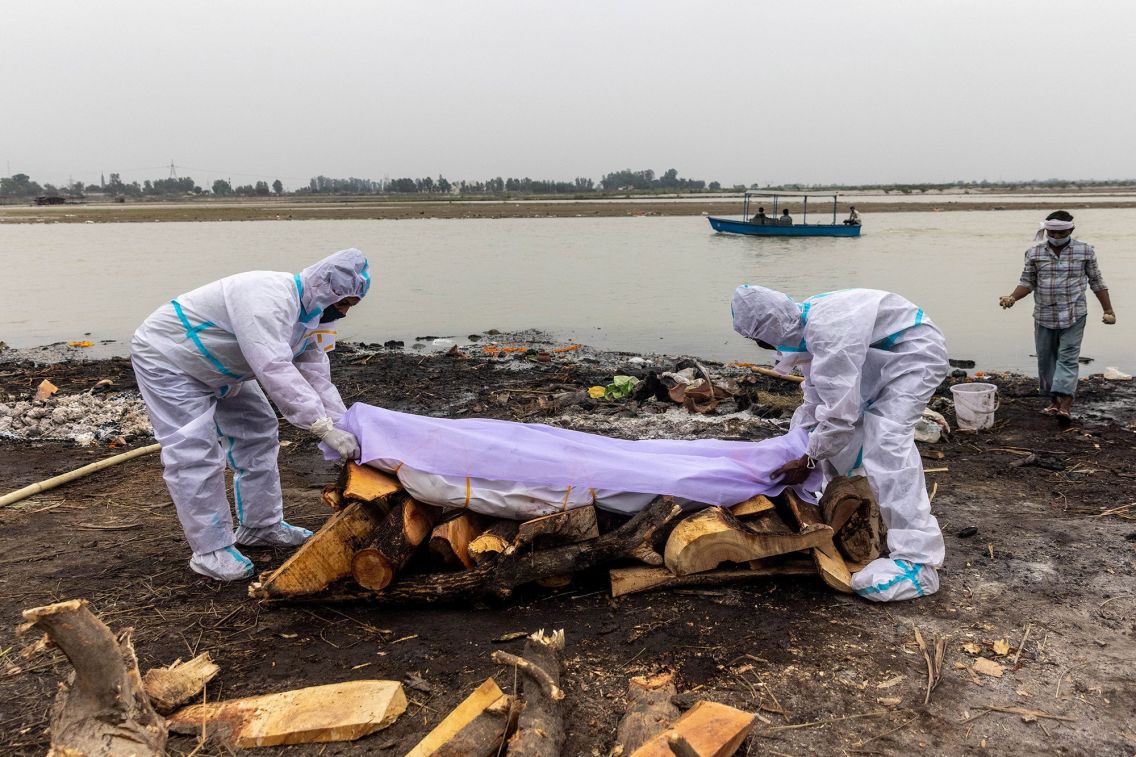 With the raging second wave of Covid-19 wreaking havoc all across the country, people have now resort to a much easier and convenient way of abandoning the deceased. The incident that has surfaced recently from Bihar and Uttar Pradesh is not only daunting but also shows the reluctant and callous attitude people have developed amid this COVID crisis.
Where every day people are grappling for basic medical supplies, helplessly watching their loved ones breath their last, this kind of a passivity is totally unjustified and unacceptable. The Bihar government on Tuesday said altogether 71 bodies have been fished out from the Ganges in Buxar district, where these were found floating in the river, triggering suspicion that the abandoned corpses could be those of COVID-19 patients.
Buxar District Magistrate Aman Samir has denied that the corpses are from his jurisdiction, claiming they floated downstream from UP's Ghazipur. However, Samir's counterpart in the UP district has denied this claim.
Bihar CM Nitish Kumar's close aide and state Water Resources Minister Sanjay Kumar Jha also said the bodies came from UP. He came out with a series of tweets, asserting that the bodies had flown downstream from neighbouring Uttar Pradesh.
A large number of bloated corpses were seen floating in the river bed in Chausa block of Buxar district on Monday, triggering shock waves. Chausa is about 10 km from the headquarters of the border district of Buxar, adjoining eastern Uttar Pradesh.
The villagers first spotted several bodies floating along the bank of the river on Monday morning and informed local authorities.
"Even as the district administration has been claiming that these bodies have come from adjoining UP districts of Varanasi and Ghazipur with the flow of water in the river, still a few of the bodies were seen tied with bamboos, which indicate that people have come here and abandoned the bodies for fear COVID-19 infections," Kalicharan Singh, a resident of Chausa block in the district, whose residence is nearby told The Tribune.
Though some news channels claimed these were of COVID-19 patients who might have been abandoned by resource- starved family members or dumped by callous officials, the local administration had strongly denied the same, asserting that none of the deceased was a local resident, and the bodies had flown downstream from adjoining UP districts.
The sight of corpses floating down the Ganga river is not unfamiliar to the residents of Chausa in Buxar district of Bihar, which borders Ghazipur district of Uttar Pradesh. There is a U-bend in the river at Mahadev Ghat, and a few bodies do wash up sometimes, owing to the current and the west-east direction of the wind.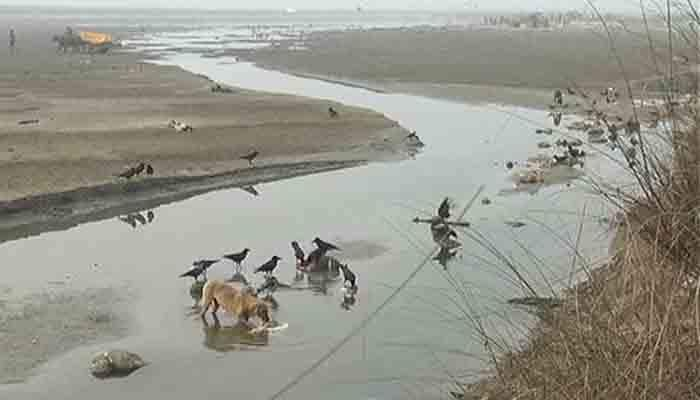 Sitaram Chaudhry, a fisherman from the neighbouring Misrolia village said, "We have seen bodies every year. Some float, and a fraction get washed ashore, but this time, it looked like all hell had broken loose."
Pandit Deen Dayal Pandey, who performs last rites at Mahadev Ghat, said he saw "more than 50" dead bodies wash up. "The scenes were enormously disturbing. Most of those corpses were decomposing, which made the entire ghat impossible to approach due to the stench," he said, adding he was sure that the bodies were of Covid-19 patients, because he has never seen as many corpses at one go.
"Nearly 30-40 dead bodies can be seen in the Ganga and there are stray dogs roaming around. Yes, most of them are likely to be those of COVID-19 victims," social activist and local lawyer Ashwini Varma told The Hindu.
According to Mr. Varma, the exorbitant cost of cremation could have forced the poor to jettison bodies in the river.
"It nearly costs ₹30,000-40,000 to cremate a body. So the poor people prefer to push bodies into the river Ganga," he said. "Stray dogs are devouring these bodies which could be of COVID-19 victims. It will spread the virus as well," he added.
Multiple bodies were found buried in sand in at least two locations along the Ganga river in Uttar Pradesh's Unnao district on Wednesday, NDTV reported. The incident came days after bodies of suspected Covid-19 patients were spotted floating in Bihar, and other parts of eastern Uttar Pradesh.
Visuals from the two locations show buried bodies with locals looking on. However, there was no confirmation if these bodies were of COVID patients.
Unnao District Magistrate Ravindra Kumar said, "Some people do not burn the bodies but bury them in the sand by the river. After I got information, I have sent officials to the spot. I have asked them to carry out an enquiry and we will take action."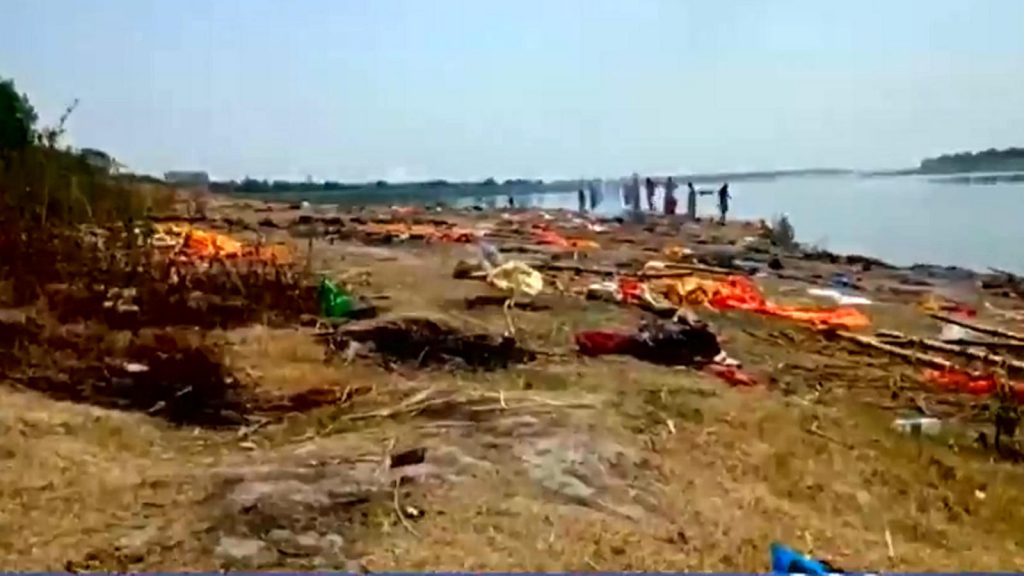 Authorities have not been able to confirm yet whether the bodies were of Covid-19 patients. District Magistrate Ravindra Kumar said that some of the bodies were found in an area far away from the river, ANI reported.
Hindus revere the Ganga as the holiest of rivers but consigning bodies to it is not part of any religion's traditions, including Hinduism.
Locals believe the shortage of wood for funeral pyres might be one reason why corpses are being abandoned in this manner. Many believe the abandoned bodies can be linked to deaths that have not made it to official COVID figures in what may be a proof of an escalating COVID crisis.
References:
Image Sources:
• ANI
• PTI
• Reuters
• Times of India