The much-awaited 'state of the art' M Visvesvaraya Railway Terminal in Bengaluru has now turned operational with the 7 pm Banaswadi Ernakulam Express on Monday, June 6.
The train departed at 7.55 pm after a 55 minutes delay, as 50 passengers had mistakenly landed at the Banaswadi Railway Station, from where the train usually runs. However, the officials arranged a BMTC bus and MEMU train to transport the passengers to the new terminal.
Bengaluru's Visvesvaraya Terminal to operate from June 6, three trains lined up#Bengaluruhttps://t.co/OlfyLJ9oEQ

— TheNewsMinute (@thenewsminute) June 6, 2022
The railway terminal, named after Bharat Ratna awardee M Visvesvaraya and modeled after the Kempegowda International Airport, has 21st Century facilities like spacious parking, a centralized water harvesting system, and a clean water recycling unit.
The terminal is equipped with first-class waiting rooms, a VIP lounge fortified with digital real-time passenger information, food courts by the IRCTC; along with QR codes to easily avail sign language videos explaining the infrastructure of the station, and multiple free charging points available at every level. There are six ticket counters, one of which is dedicated to differently-abled individuals. The terminal also has specialized parking spaces for buses.
Auto-rickshaw drivers often refuse to take passengers from the Baiyappanahalli Metro Station, which lies at a distance of just over 3 km from the terminal. Passengers have complained that the drivers sometimes ask for unreasonable payment. The struggle continues even while leaving the station, from where finding a ride can be a daunting task.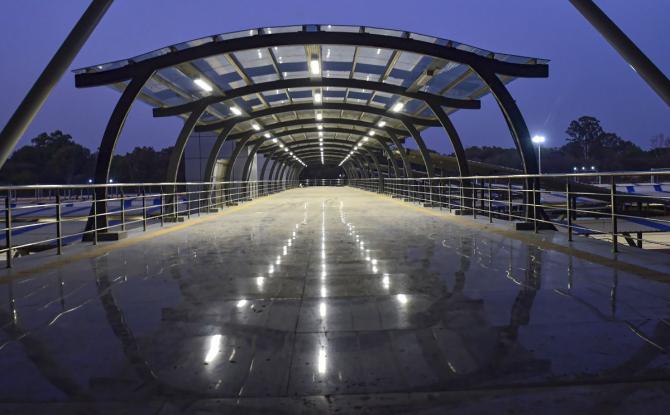 Credits: Rediff
To overcome this, the Railway Department has begun the provision of free buses from Banaswadi to the Sir M Visvesvaraya station. These buses will drop the passengers at the new terminal. Besides, to avoid further confusion, frequent announcements regarding the shift of the stations will be made both at the station and on the bus.
As Visvesvaraya is India's first centralized AC rail terminal and the third major terminal in the city, an atmosphere of happiness and joy emerged among the passengers, crew, and officials. While some were opening up their shops, others were visiting only to experience the 'airport aura' of the station on its first day, amidst tight security."It is definitely better than the other stations. Hopefully, this will do good to the Ministry of Railways," says passenger Ramesh Babu.
Credits: NDTV
Vineet, who owns the Shri Ganesh Hotel outside the railway station, opines that only when the number of trains increases and the terminal is fully functional will they get a better understanding of the station's operations and the public response towards it. An Army officer posted in Karnataka calls the station a "great one of the nation". But he adds that connectivity to the station is a major issue, but the government is working towards it.
If the limitations are fixed, the terminal would help in the sustainable economic development of the state and the nation at large.
Reference: The News Minute
Featured Image Source: Deccan Herald