In a heartwarming announcement, Information and Broadcasting Minister Anurag Thakur has declared that the esteemed Dadasaheb Phalke Award will be conferred upon the legendary Bollywood icon, Waheeda Rehman. 
At 85 years old, Waheeda Rehman stands as one of the most gifted and graceful actors in Indian cinema, celebrated for her remarkable contributions in iconic films such as "Guide," "Pyaasa," "Kaagaz Ke Phool," and "Chaudhvin Ka Chaand." Her impressive accolades include the Padma Bhushan and Padma Shri. The Dadasaheb Phalke Award, the highest cinematic honor in the nation, is bestowed by the government to recognize exceptional contributions to Indian cinema.
She has earned critical acclaim and captured the hearts of audiences across the nation. Her illustrious career spans over five decades, during which she portrayed her roles with unparalleled finesse. Notably, her portrayal as a clanswoman in the film "Reshma Aur Shera" earned her the prestigious National Film Award. With both the Padma Shri and Padma Bhushan in her list of achievements, Waheeda Rehman has exemplified dedication, commitment, and the strength of a Bharatiya Nari (Indian woman) who has reached the pinnacle of professional excellence through hard work.
Anurag Thakur, in a heartfelt post on social media, expressed his joy and pride in announcing Waheeda Rehman's well-deserved recognition with the Dadasaheb Phalke Lifetime Achievement Award. He highlighted her outstanding contributions to Hindi cinema, underscoring her pivotal roles in iconic films. In a career spanning more than half a century, Waheeda Rehman has continually displayed her exceptional acting prowess, leaving an indelible mark on Indian cinema. This award comes at a momentous time, coinciding with the recent passage of the historic Nari Shakti Vandan Adhiniyam (Women's Empowerment Act) by Parliament.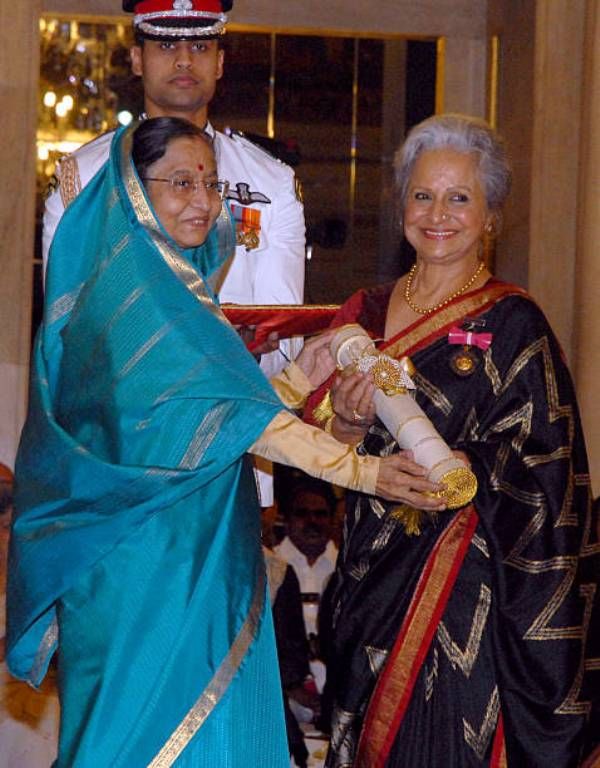 Waheeda Rehman's recognition is a fitting tribute to her status as one of Indian cinema's leading ladies. Beyond her cinematic achievements, she has dedicated her life to philanthropy and the betterment of society. Anurag Thakur extended his congratulations and heartfelt regards to her rich body of work, an integral part of India's cinematic heritage.
The announcement of the Dadasaheb Phalke Award for Waheeda Rehman holds special significance as it aligns with the centenary celebration of the late actor Dev Anand. Dev Anand, a celebrated actor in his own right, shared the screen with Waheeda Rehman in one of their most iconic collaborations, the 1965 film "Guide." Dev Anand himself was honored with the Dadasaheb Phalke Award in 2002, and had he lived, he would have celebrated his 100th birthday today. This serendipitous timing adds another layer of sentiment and remembrance to the recognition of Waheeda Rehman's outstanding contributions to Indian cinema.