The famous quote 'Not all heroes wear capes' rang deep in Bengaluru, as a surgeon ran for 3 km to save a patient's life after his car lay stuck in Bengaluru's brain-numbing traffic.
The doctor now has been on the receiving end of appreciation for being quick enough to work on his unusual decision, and for being an inspiration to all.
The city has been notorious for its horrendous eye-watering traffic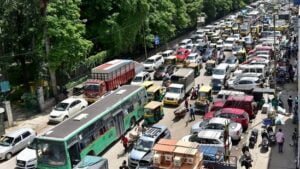 On August 30, Dr. Govind Nandakumar, a gastroenterology surgeon at Manipal Hospitals, was on his way to perform a crucial gallbladder surgery when he found himself stuck in a traffic jam on the Sarjapur Marathalli stretch.
Bengaluru at that time was bracing for one of the heaviest downpours of the season, eventually inundating roads and flooding low-lying areas.
The traffic in Bengaluru moves at a snail's pace, taking a lot of time to cover short distances.
The doctor, being aware of the consequence his female patient would face at the face of a delay in the surgery, jumped off the car and ran for 45 mins to reach the hospital on time.
He also posted a reel of his unusual run on his Instagram handle.
Dr. Nandakumar's team, on his arrival, swiftly induced anesthesia on the patient, who was suffering from a gall bladder-related illness, and began to perform the procedure. The surgery was successful and the patient was soon discharged.
"I commute every day from central Bangalore to Manipal Hospitals Sarjapur, which is in the southeast of Bangalore. I left home well in time of the surgery. My team was all set and prepared to perform the surgery as soon as I would reach the hospital. Looking at the huge traffic I decided to leave the car with the driver and ran towards the hospital without thinking twice." he added to media outlets.
Recently hundreds of videos posted on social media highlighted the state of the now rain-battered city, whose administration faced flak for apathy towards the development of the megacity. It is crucial for the State Government to ensure better infrastructure and improve the quality of life for those living in the city, however without which the flood situation in Bengaluru would only repeat, if not worse.