Amid the BharatPe audit, the company has fired Madhuri Jain Grover. She is the wife of co-founder Ashneer Grover and she is the Head of Controls. According to inside sources, she was fired from the company because she had allegedly misappropriated company funds and authorised inflated bills. Her name is said to have come up during an investigation into financial irregularities at BharatPe.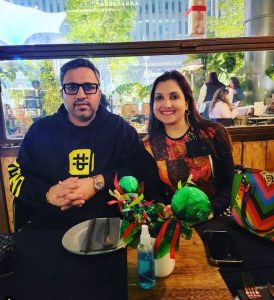 Moreover, a PTI report suggests that she had used company funds for her beauty treatments, buying fancy electronic gadgets and fund trips to the US and Dubai. In a recent turn of events, she has accused BharatPe's co-founder Shashvat and CEO Suhail Sameer of an alleged misdemeanour.
In a series of tweets, she claimed she was treated like an object and posted videos of BharatPe employees drinking and smoking in the office.
And treat women like objects like I've been treated in the whole episode with the male chauvinistic Board supporting you. @timesofindia @htTweets @chandrarsrikant @bharatpeindia @BhavikKoladiya @SuhailSameer14 @HarshjitSethi @mickymalka pic.twitter.com/Eh8ffbvSNO

— Madhuri Jain Grover (@madsj30) February 23, 2022
And drink and smoke in office and burn the place down ! For you have no pain for what @Ashneer_Grover built single handedly and you snatched !! @SuhailSameer14 @BhavikKoladiya @bharatpeindia @timesofindia @HindustanTimes pic.twitter.com/bFXIaootQe

— Madhuri Jain Grover (@madsj30) February 23, 2022
And these are the people @SuhailSameer14 sitting on Governance Review and passing judgement on me ! Great work by @sequoia and @HarshjitSethi and Chairman Rajnish Kumar for a perfectly executed witch hunt with your accomplices @sumeetsingh29 and @BhavikKoladiya. @bharatpeindia

— Madhuri Jain Grover (@madsj30) February 23, 2022
Along with her termination, Ashneer Grover has been sent on a three-month leave after allegations of using abusive language against a Kotak Mahindra Bank staff came to light. Additionally, He was accused of engaging in fraudulent business practices. He, on the other hand, has denied all of the allegations.
During an interview with Moneycontrol, he said that he was innocent and was forced to resign. He further said that he is the managing director (MD) of the company and he intends to run the company. However, if the Board thought he was unfit to run the company, they should buy his stake for Rs 4000 crore and give his post to someone else. He also gave an ultimatum, saying that he could either run the company or they could buy his stake; there was no third option.
References: India Times.