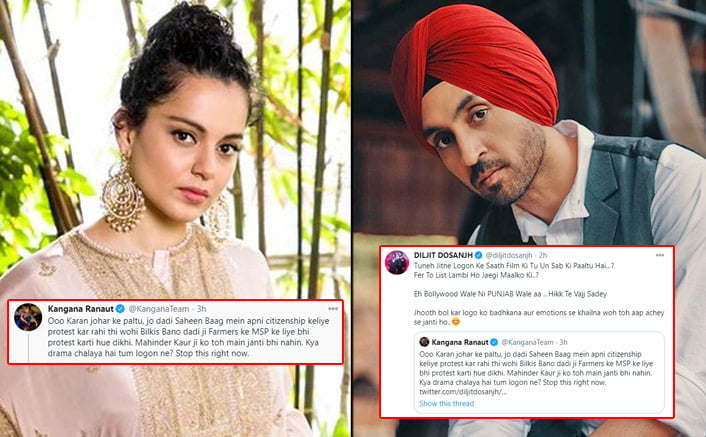 Another #Twitterati debate followed as Bollywood stars #DiljitDosanjh and #KanganaRanaut get into splat of words over the latter's misidentified allegations about '#BilkisBano' joining the #Farmers'Protest. As their fight turned uglier, several other celebrities like- #MikaSingh, #SwaraBhaskara, #GippyGrewal, #RanjeetBawa and #AmmyVirk supported Dosanjh.
The point of contention began on November 27 when Ranaut quoted a tweet claiming that 82-year-old Bilkis Bano, popularly known as the #ShaheenBaghDadi was also a part of the farmers' protest against the three farm bills.
"Ha ha ha she is the same dadi who featured in Time magazine for being the most powerful Indian….And she is available in #100Rupees. #Pakistani journo's have hijacked international PR for India in an embarrassing way. We need our own people to speak for us internationally," read Kangana's tweet, which the actor later deleted after realizing that the two women were not the same.
Replying to this seditious tweet, on Wednesday evening, Diljit Dosanjh re-tweeted a video of a BBC interview with 73-year-old #MohinderKaur, the woman who was misidentified by Kangana Ranut as Bilkis Bano. In the video, Mohinder talks about her association with the farmers' protest and also shuts down Kangana's claim that she could be "hired for Rs 100".
"Respected MAHINDER KAUR JI. Ah Sunn La Ni With Prood @KanganaTeam Bana Ena V Ni Anna Hona Chaida.. Kush v Boli Turi jandi aa .." (Translation: Listen to this proof, @KanganaTeam. One should not be this blind. She keeps says anything)."
To which, Kangana Ranaut calls Dosanjh as '#KaranJohar's pet', mostly referring to their 2019 collaboration the film '#GoodNewwz' and blatantly states that she has been talking only about Bilkis Bano and didn't even know Mohinder Kaur.
To which again, Dosanjh fiercely tweets that,
"Tuneh Jitne Logon Ke Saath Film Ki TU Un Sab Ki Paaltu Hain…? Fer to List Lambi HO Jaegi Maalko Ki…?
Eh Bollywood Wale NI #PUNJAB Wale aa.. Hikk Te Vajj Sadey
Jhooth bol kar logo ko badhkane aur emotionals se khailna who to aap achey se janti ho..:) "
Disappointed by many, Mika Singh tweeted that,
"I used to have immense respect for @kanganaranaut, I even tweeted in support when her office was demolished. I now think that I was wrong, Kangana being a woman you should show the old lady some respect. If you have any etiquette then apologize. #ShameOnYou…"
A thread of #backlashes followed Kangana's claims as many celebrities expressed their disdain over her words.
Twitterati aslo reminded Kangana that her tweet about the two women was days before Bilkis Bano actually went to Delhi to join the farmers' protest. While the #WarOfWords went on to become a heated debate, it was mainly limited to #Punjabi and left many clueless, especially with #Google missing out on accurate #translations.
While the several Twitter users attempted to translate Dosanjh's Punjabi tweets, even the non-Punjabi speakers had already discovered an accurate translation: Diljit Dosanjh was the #G.O.A.T- meaning #GreatestOfAllTime.
Meanwhile, Kangana's legal troubles are far from over yet. A Delhi Sikh Gurdwara Management Committee member has reportedly sent a notice to the actress over her tweets targeting ongoing farmers' protests. A petitioner has also filed a plea in the Bombay High Court for suspension of her Twitter account over '#extremist' tweets.
Sources:
Picture Sources:
Koimoi
Twitter