Former Punjab Chief Minister Amarinder Singh is all set to join the BJP in September. Meanwhile, Singh will also merge his newly formed party, the Punjab Lok Congress with the BJP on September 19.
Amarinder's fall from grace 
 
A former Congressman, Amarinder Singh was unceremoniously replaced with Charanjit Singh Channi in November 2021 after a row with the then State party chief Navjot Singh Sidhu. Humiliated, Singh bid adieu to Congress and formed his own party the 'Punjab Lok Congress'.
The PLC had contested the 2022 assembly polls alongside an alliance with the BJP and the Sukhdev Singh Dhindsa-led Shiromani Akali Dal (Sanyuk). The BJP had contested 65 seats followed by PLC on 37 ( the members wishing to contest on the BJP symbol) and on SAD with about 15 seats.
The election results seemed to usher in a new cry for better governance, as the AAP swept over the country, winning the majority seats,  whilst the BJP managed to crawl in a measly 2 seats. However, none of the PLC candidates could secure a single win at the elections, with Singh himself losing over his home turf, Patiala urban.
The situation on the ground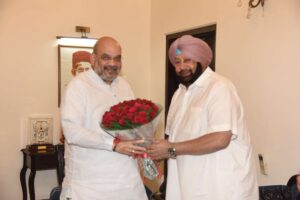 Verified reports claim that The two-time Chief minister had met Union home minister Amit Shah last week.
Reportedly, it has now been affirmed that Singh will be joining the BJP next week, merging his party PLC on September 19. Captain's son Ran Inder Singh, daughter Jai Inder Kaur, and grandson Nirvan Singh are also expected to join the BJP. The Captain is currently undergoing treatment in London after spinal surgery.
In an interview with The Indian Express, the BJP National executive member Harjit Grewal commented on the big political news saying that the PLC's merger with the BJP had already been decided before Singh flew to London. He also added that the merger would formally be announced after his return from the United Kingdom.