Iran is witnessing a massive anti-hijab protests by women after the death of 22-year-old Mahsa Amini who was detained by 'moral police' for not wearing a 'proper' Hijab. The recent death of a young woman who had been detained by Iran's "morality police" for violating the Islamic nation's conservative dress code has sparked massive protests around the country.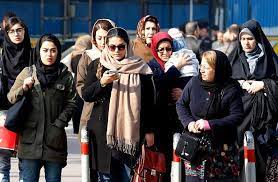 Mahsa Amini, the 22-year-old Kurdish woman from the north-western city of Saqez died last week after she was arrested for allegedly not complying with strict rules on head coverings for women. Other than the hijab rule, the police provided no explanation for why Amini was detained, said a report by the New York Times. Her mother told Iranian news outlets that her daughter was following the rules and wearing a long, loose robe. She claimed Amini was detained as she exited the subway with her brother, despite his pleas that they were visitors to the city.
She fell into the coma shortly after collapsing at a detention centre.There were reports that police beat Ms Amini's head with a baton and banged her head against one of their vehicles, Acting UN High Commissioner for Human Rights Nada al-Nashif said.
According to a statement issued by Iran's security forces, Amini suffered a heart attack at the detention center while receiving educational training on hijab rules. But her family disputed this claim, claiming she was perfectly healthy prior to her arrest. The victim's father also criticized the "slow response" of the emergency services, adding: "I believe Mahsa was transferred to the hospital late."
Following the 1979 Islamic Revolution, authorities in Iran imposed a mandatory dress code requiring all women to wear a headscarf and loose-fitting clothing that disguises their figures in public. The government was replaced with an Islamic republic under rule of Ayatollah Ruhollah Khomeini. After the Islamic revolution, the country came under strict sharia law which mandated several restrictions on women especially related to dress code.
 Morality police – known formally as "Gasht-e Ershad" (Guidance Patrols) – are tasked, among other things, with ensuring women conform with the authorities' interpretation of "proper" clothing. Officers have the power to stop women and assess whether they are showing too much hair; their trousers and overcoats are too short or close-fitting; or they are wearing too much make-up. Punishments for violating the rules include a fine, prison or flogging.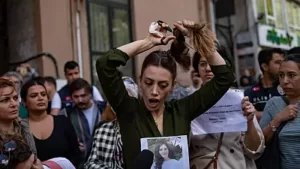 Over the years, such incidents in Iran have been reported time and again, with some documented. According to a report by the BBC in May 2018, in the capital Tehran alone, more than 35 female protesters have been arrested since December 2017. Women who take part in anti-hijab protests face up to ten years in prison, according to the police.
This incident has caused outrage and grief in Iran and across the globe. The hashtag #MahsaAmini has been trending on social media platforms such as Twitter and Instagram. Security forces tried to disperse the crowds using water cannon and batons. The Iranian government has come under increasing pressure to carry out a proper and transparent investigation and bring the culprits to justice.
On Wednesday, the rights groups in the country claimed that six protestors were killed by the Iran police. Rights group Article 19 said it was "deeply concerned by reports of the unlawful use of force by Iranian police and security forces" including the use of live ammunition.