Florida's sea turtle species are in grave danger. Recent global heatwaves and climate change have wreaked havoc on sandy beaches in Florida and elsewhere and unfortunately sea turtles have not been spared.
 Story In Brief
In a recent study, scientists were shocked to discover only female hatchlings in turtle nesting sites."Scientists that are studying sea turtle hatchlings and eggs have found no boy sea turtles, so only female sea turtles for the past four years" said Bette Zirkelbach, manager of the Turtle Hospital in Marathon, a city in the Florida Keys. Sea turtles usually spend most of their lives in the ocean, however, they return to tropical shores to breed. Unlike other species, a sea turtle's development into male or female has no relation to its chromosomes. "Instead of determining sex during fertilization, the sex of sea turtles and alligators  depends on the temperature of developing eggs." The National Oceanographic Atmospheric Administration  (NOAA) stated. In simple words, the heat radiating from the sand helps in incubating the eggs.
Why Do We Need To Worry?
A sea turtle's egg develops into a male hatchling if its incubated below 27.7 Celsius (81.86 Fahrenheit). The hatchlings are incubated at temperatures more than 31 Celsius(88.8 Fahrenheit) they will be born female, according to NOAA's  National Ocean Service Website. The climate crisis has led to increased temperatures, which have caused the sand on some beaches to get so hot that most of the hatchings develop into females.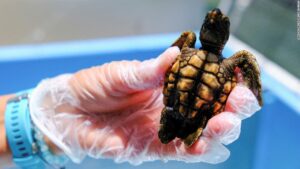 This trend indicates a disturbance of a delicate incubation window among male and female sea turtles. This has led to a sharp decline in the hatchlings of male eggs thereby leading to a significant imbalance in the sex ratio between the species.
"Over the years, you're going to see a sharp decline in their populations because we just don't have the genetic diversity. We don't have the male to female ratio needed in order to be able to have successful breeding seasons,"  said Melissa Rosales Rodriquez, a sea turtle keeper at a Turtle hospital at the Miami Zoo.
In his year alone the Northern Hemisphere witnessed record-shattering heat wave records. It's an understatement to imagine how drastically global climate change is and will affect species on different levels.