Eleven men convicted in the 2002 Bilkis Bano gang-rape and murder case were set free from the Godhra-sub jail by the Supreme Court. The SC had set up a committee to look into the matter when the convicted applied for a remission plea. The committee then decided to release them under the Gujarat government's remission policy.
Bilkis Bano was in the attempt of escaping the violence that blazed up in the aftermath of the Sabarmati train massacre in 2002 when she was brutally gang-raped by eleven men. The men proceeded to slaughter seven of her family members including her three children.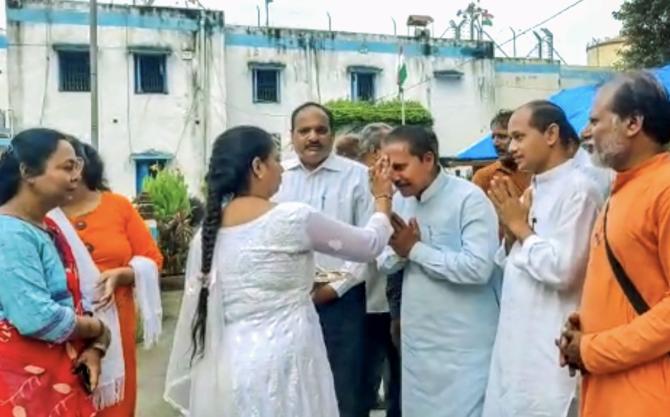 What was of utmost surprise was the reaction of the Vishwa Hindu Parishad (VHP) in the matter. The released by welcomed with garlands outside of the VHP's office in Gujarat.
The release of the eleven convicted were met with utmost condemnation and criticism. The twitter up roar over the matter described people's emotions well.
Late night musing: 4 days now since Bilkis Bano convicted rapists and murderers were freed. No one from Centre has said a word so far. Since its a CBI investigation, Centre go ahead is necessary for state govt before granting remission. Itna sannata kyon? #JusticeForBilkisBano

— Rajdeep Sardesai (@sardesairajdeep) August 18, 2022
Narendra Modi and Bilkis Bano: The haunting story of the oppressor and the oppressed
The Indian Prime Minister spoke about the emancipation and safety of women in his speech to mark the 75th anniversary of Indian independence yesterdays. #JusticeForBilkisBano pic.twitter.com/Pt4IQRy2E5

— Muhammad Anas (@anasofficial__) August 17, 2022
Nirbhaya got justice. But why not Bilkis Bano#JusticeForBilkisBano @asadowaisi @aimim_national pic.twitter.com/tgFcNUKPYC

— Meraj Ahmad Siddiqui (@meraj_aimim) August 17, 2022
This nation had better decide whether Bilkis Bano is a woman or a Muslim.

— Mahua Moitra (@MahuaMoitra) August 18, 2022
Zero tweets on Bilkis Bano rape case after convicts were released and garlanded in Gujarat. https://t.co/iV06L4u8RG

— Mohammed Zubair (@zoo_bear) August 18, 2022
Bilkis Bano's case is so horrifying -more I think about it, more traumatised I feel. She was gangraped & her family members were killed. Now convicts are free & being welcomed and celebrated for the rape! If this is not emboldening, what is? Guj Govt must roll back it's decision!

— Swati Maliwal (@SwatiJaiHind) August 18, 2022
It is Bilkis Bano today, it could be you tomorrow.
To all the women who are silent I ask – doesn't this trigger you? Having faced some kind or form of harassment from creeps who think they will get away, will your silence to convicted criminals being let go not embolden them?

— Priyanka Chaturvedi🇮🇳 (@priyankac19) August 18, 2022
Bilkis Bano's rapists shouldn't have been given remission, then garlanded like heroes. If the state doesn't, the SC that greenlighted an appeal by one of convicts allowing the state to set up a panel to free Bilkis's violators must now again step-in and send them back to jail.

— Rahul Shivshankar (@RShivshankar) August 18, 2022
Regardless of whether the accused are sent back to jail or not, their release stands as a situation of concern for women across the country. It is seen as a verdict not just against Bilkis Bano but every women who resides in the nation. Furthermore, it raises eyebrows over the actions of the BJP ahead of the Gujarat elections.